Redskins Cheerleaders Introduce 2009-10 Squad!
---
After week-long auditions that started March 28, the Redskins Cheerleaders announced the 2009-10 squad on April 5--and the new team's makeup consists of 31 returning veterans and 12 rookies.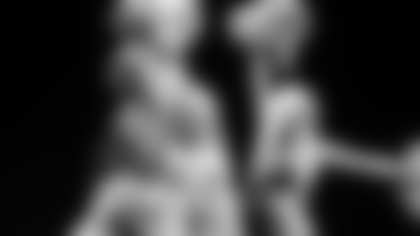 For the second year in a row, the Bethesda Theatre in Bethesda, Md., played host to the Final Auditions Show on April 5. Top candidates from a pool of 400 competed in the show.
The contestants competed for a roster spot after a week of auditions, photo shoots, dance rehearsals and a swimwear fashion show.
They performed advanced dance routines and a sideline routine to show if they had the personality it takes to obtain one of the spots on the 2009-10 squad.
After hours of deliberation, the 47th edition of the Redskins Cheerleaders was announced.
"The final auditions were a whirlwind of emotion and although I was filled with nerves, it was like a party culminating the past week of long hours and hard work," said Ashley W. of Stafford, Va, a rookie cheerleader. "The encouragement from both the veterans backstage and family and friends in the audience made my experience during the show extremely positive."
She added: "Looking around the stage at the gracious and equally ecstatic women were were going to be my new family, I knew I had found a perfect new home."
Many of the cheerleaders hail from the Washington, D.C., region, but others come from as far away as Boston and San Francisco.
And there's an international flavor with one cheerleader coming from Johannesburg, South Africa and another hailing from Tokyo, Japan.
2009-10 REDSKINS CHEERLEADERS
First Name
Year
Hometown
Abby
5
North Potomac, Md.
Amanda
R
Pittsburgh, Pa.
Ana
R
Falls Church, Va.
Ashley A.
R
Huntingtown, Md.
Ashley T.
R
Fairfax, Va.
Ashley W.
R
Stafford, Va.
Barbra
3
Pittsburgh, Pa.
Bethany
2
Oakland, Md.
Brittni
3
Alexandria, Va.
Buffy
2
Potomac, Md.
Chastity
4
Dale City, Va.
Chelsea
4
Stafford, Va.
Christi
2
Virginia Beach, Va.
Dawn
2
Cleveland, Ohio
Donna
R
Fairfax, Va.
Heather
6
Stafford, Va.
Jamilla
7
Newport News, Va.
Jaqui
3
Winston-Salem, N.C.
Jessica C.
3
San Francisco, Calif.
Jessica S.
2
Bowie, Md.
Katie
2
Boston, Mass.
Kelly
5
Marlboro, N.J.
Klohver
3
Germantown, Md.
Kristen
2
Boston, Mass.
Lacie
R
Brandon, Miss.
Lee-Ann
3
Johannesburg, S.A.
Malyndah
R
North Potomac, Md.
Megs
2
Stafford, Va.
Melani
2
Yardley, Pa.
Melanie
2
Woodbridge, Va.
Michelle B.
3
Fairfax, Va.
Michelle S.
7
Washington, D.C.
Nicole
3
Burtonsville, Md.
Noriko
2
Tokyo, Japan
Sabrina
4
Woodbridge, Va.
Sarita
R
Hilton, N.Y.
Sheridan
R
Alexandria, Va.
Stephanie
2
Baltimore, Md.
Talmesha
2
Bronx, N.Y.
Tecoya
R
Chicago, Ill.
Tequia
3
Carbondale, Ill.
Toccara
2
Ft. Washington, Md.
Tracey
R
Fairfax Station, Va.