With OTA sessions finally over, players streamed off the Redskins Park practice fields on Thursday afternoon, ready for a summer break from football.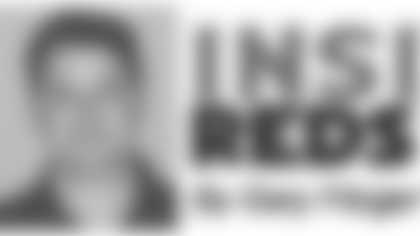 Next stop? Training camp.
Veterans aren't due back until July 19 when they report for the start of training camp.
Rookies are expected to spend another two weeks working out at Redskins Park in the team's strength and conditioning program.
Head coach Jim Zorn marked the team's progress in his post-practice comments.
"I think we came a long way in typing up some pages, drawing pictures on pages, and then putting it all together to have it executed by players on the field," Zorn said. "There were a lot of positive things."
Zorn is implementing the West Coast offense this offseason. He is borrowing the Redskins' run game from the last four years while changing the passing offense significantly.
"The run game is in and so is a really good portion of the passing game," he said. "Maybe 70 to 75 percent of the passing game concepts are installed."
Jon Jansen was among veterans who were also pleased with the progress of the offense.
"It's all about getting the timing down, getting a rhythm and getting a feel of moving the ball downfield," he said. "We have practiced a lot of pass protection because you can't be too physical without any pads on."
It's a different story for the Redskins' defense, who are mostly picking up from where they left off last year. The unit finished eighth in the NFL in total defense, fourth against the run and 16th against the pass.
"[You can see] a lot from the continuity standpoint," Fred Smoot said. "When you have guys that are used to playing with each other, we don't want to let the tempo go down. We want to keep the tempo at one stage and go higher.
"We take every rep seriously and never go out there just to go out there. We have a great veteran group here."
Shawn Springs was the only player to miss all eight of the team's OTA practices in June.
Clinton Portis and Cornelius Griffin were excused from practice this week. Santana Moss missed two days due to an illness.
Among injured players, Antwaan Randle El, Rocky McIntosh and Vernon Fox should be ready for the start of training camp. All three are recovering from knee surgery.
McIntosh participated in some OTA drills, but remained limited.
"Another week or two, and I think Rocky is going to be ready," Zorn said. "I expect Rocky to be ready as we start in training camp."
Also, rookie quarterback Colt Brennan, the club's sixth-round draft pick last April, should be full-go in 2-3 weeks.
Brennan had hip surgery in early April and spent most of the OTAs working on his conditioning.
Carlos Rogers is not expected to be ready for the start of training camp as he continues to rehab a knee ligament injury.
Erasmus James, Tyler Ecker and rookie draft pick Kareem Moore may also be sidelined at the start of training camp.
James is rehabbing from knee ligament surgery last December, Moore had a knee scope in late April and Ecker had surgery on his groin last Wednesday.
Asked about James's status, Zorn said: "What he has been doing [during OTAs] is drill work. He'll be very anxious to get out there, but we may need to hold him back a little bit. I know what I've seen of him [in the past]. I think he's eventually going to be a thoroughbred for us."
Regarding Moore, Zorn said: "He may not be ready until the second week of training camp, but we expect him to be ready and play in some preseason games. It may not be until the third or fourth [preseason game], but we expect him to play."
Ecker could be sidelined for up to eight weeks as he rehabs from his surgery. He has had a lingering groin injury since training camp last year.
In comments to the team on Thursday, Zorn stressed the importance for players to stay in shape, while also staying out of trouble.
"It is not only physical preparation, it is mental preparation that they have to continue," Zorn said. "They have to get themselves emotionally prepared and spiritually prepared, so there is a balance there."
Zorn also encouraged players to take a deep breath before getting involved in what he called "sticky situations."
"Hopefully in that moment they will be able to think about the decision they are trying to make," he said. "I don't expect anybody to be in that situation, to be honest. But it could happen.
"I just want them to know that we are concerned and they need to make a good decision."
With OTAs over, Zorn hopes to take a break from football as well. But his thoughts will never be far from Redskins Park.
"My mind is on this," he said. "I have things to do. I want to relax a little bit with my family, but I know what's coming. I am enthusiastic, but I know the seriousness of what I'm about to partake in. I know my coaches do as well."