Redskins players Lorenzo Alexander and Matt Sinclair joined 100 student-athletes on Oct. 28 to help launch Atlas & Athena, an anti-steroid and exercise education program.
Student-athletes who attended were from Ballou Senior High School (Washington, D.C.), Roosevelt Senior High School (Washington, D.C.), Fairmont Heights High School (Maryland), Central High School (Maryland), Robinson Secondary School (Virginia) and Park View High School (Virginia).
The event was held at Fairmont Heights High School in Capitol Heights, Md.
The Redskins continue their partnership with the six high schools to implement the NFL Atlas & Athena Schools Program, a nationally-acclaimed initiative designed to promote healthy living and reduce the use of steroids and other drugs among high school athletes.
During Atlas & Athena's inaugural year in the Washington Redskins market last year, 136 coaches and 3,150 student athletes participated in the program.
Participating schools were chosen based on interviews with program administrators and school-wide commitment from the principal, athletic director and coaches.
The Atlas & Athena programs focus on nutrition and exercise as alternatives to drug use.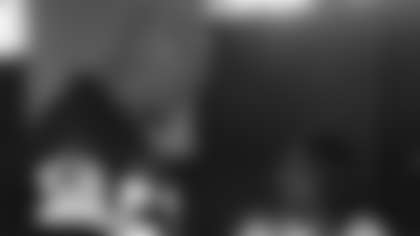 The Atlas program targets adolescent male athletes' use of anabolic steroids, human growth hormone, alcohol and other drugs and use of sport supplements, while improving healthy nutrition and exercise practices.
Athena is designed to reduce disordered eating and use of body shaping and other drugs among young women, while promoting healthy nutrition and exercise.
Throughout the football season, coaches and student-athletes trained as "Squad Leaders" to lead school sports teams in promoting sports nutrition and healthy behaviors. The weekly 45-minute sessions included role-plays, student-created campaigns and interactive games.
The program was created as a result of a $2.8 million grant from the NFL Youth Football Fund to Oregon Health & Science University (OHSU).
Washington Redskins Owner Daniel M. Snyder, his fellow NFL owners and the NFL Players Association all contribute to the NFL Youth Football Fund.
The NFL grant is one of a series of improvements to the NFL and NFL Players Association's policy and program on anabolic steroids and related substances. It will be used to disseminate Atlas & Athena to 36,000 high school athletes and 1,200 coaches in 80 high schools during the 2008-2009 school year.
Participating teams include the Arizona Cardinals, Baltimore Ravens, Chicago Bears, Green Bay Packers, Kansas City Chiefs, Miami Dolphins, Minnesota Vikings, Oakland Raiders, Pittsburgh Steelers, San Diego Chargers, San Francisco 49ers, Seattle Seahawks and St. Louis Rams.