](/news/article-1/papa-john-s-redskins-touchdown-special/048A1EB7-6061-49FD-958A-DAA6B0CAE730)
Redskins.com breaks down some of the key matchups to keep an eye on during Sunday's Redskins-Cowboys game at FedExField.
"Redskins-Cowboys: 4 Keys To the Game" is presented by Papa John's.
Every Monday, fans can order a large cheese pizza for only $9.99, plus for each TD that the Redskins score, fans get one free topping. And with a Redskins victory, fans get double the toppings.
Jason Campbell vs. Cowboys Pass Defense
In his only game against the Cowboys, Jason Campbell set career highs with 33-of-54 pass completions for 348 yards and two touchdowns.
He still thinks about his costly fourth-quarter interception to Terence Newman that ended a comeback effort.
The Cowboys have been stingy against the run in their first three games, but they are ranked 19th in the league in pass defense. Also, safety Roy Williams is out with an arm injury.
Dallas's defense has played West Coast offenses each of the last two weeks. Donovan McNabb threw for 281 yards and Aaron Rodgers passed for 290 yards, but the Cowboys won both games.
If Campbell has time in the pocket, or can use his mobility to escape pressure, then he should be able to complete passes downfield to Santana Moss and Chris Cooley, his top go-to receivers on offense.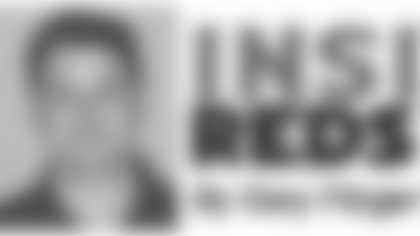 Redskins Secondary vs. Terrell Owens
Last time the Redskins faced off against T.O., he torched the secondary for four touchdowns.
The Cowboys will likely alternate Owens to the outside and the slot, so all of the Redskins cornerbacks have to be aware of Owens' presence.
Shawn Springs and T.O. will likely see plenty of each other, though. The two have been competing against each other since 1997, when Springs was in Seattle and Owens was in San Francisco.
Owens is off to a strong start this year, with 10 catches for 193 yards and three touchdowns.
Springs has been solid the last two games. He blanketed a similar style receiver in Anquan Boldin last week, limiting him to three catches for 25 yards.
Carlos Rogers is also playing at a high level in pass coverage after coming back from a knee ligament injury last year. He recorded his first interception of the season last Sunday.
Redskins Kickoff Coverage vs. Felix Jones
Year after year, Danny Smith's kick coverage units are among the best in the league.
In 2007, they allowed just 19.2 yards per return, third-best in the NFL. This year, they are ranked fifth in the league with a 19.5-yard return average.
In Dallas, the Cowboys have a rookie kickoff returner in Felix Jones who has been dynamic in the early going.
He has returned nine kickoffs for a 35.1-yard average. He returned a kickoff 98 yards for a touchdown in Week 2 vs. Philadelphia.
Jones appears to have great speed and cut-back ability, so the Redskins' defenders will need to maintain lanes to keep him contained.
Rocky McIntosh vs. Jason Witten
In three games this season, Rocky McIntosh has shown that he has overcome his knee ligament injury from last year.
McIntosh, 6-2 and 232 pounds, has improved in pass coverage this season. He kept Jeremy Shockey and Leonard Pope in check each of the last two weeks, while also forcing two fumbles.
He faces his toughest challenge this Sunday as he figures to cover Jason Witten, who is third in the NFC and first among tight ends with 20 catches for 273 yards.
Witten, 6-5 and 262 pounds, has had four consecutive Pro Bowl appearances. With defenses often putting an extra defensive back closer to Terrell Owens, Witten has benefited in the passing game.
McIntosh will need to shadow him, with help from LaRon Landry downfield. Witten is not incredibly fast, but he runs precise routes and is often Tony Romo's fall-back option when wide receivers are covered.