Redskins.com breaks down some of the key matchups to keep an eye on during Sunday's Redskins-Cowboys game at FedExField.
"Redskins-Cowboys: 4 Keys to the Game" is presented by Papa John's.
Every Monday, fans can order a large cheese pizza for only $9.99, plus for each TD that the Redskins score, fans get one free topping. And with a Redskins victory, fans get double the toppings.
Jason Campbell vs. Cowboys Pass Rush
With Clinton Portis uncertain due to a knee injury, Jason Campbell emerges as the Redskins' top offensive threat.
In two games against the Cowboys, both at Texas Stadium, Campbell has been solid.
In 2007, Campbell completed 33-of-54 passes for 348 yards, two touchdowns and one interception in a 28-23 loss. In Week 4 earlier this year, he was 20-of-31 for 231 yards and two touchdowns in a 26-24 win.
Campbell has been sacked just three times in those two games against Dallas.
Campbell is coming off a 23-6 loss to Pittsburgh in which the Steelers sacked him seven times. He knows full well that the Cowboys, who like the Steelers run a 3-4 defense, will study film of that game and try to mimic some of the blitzes.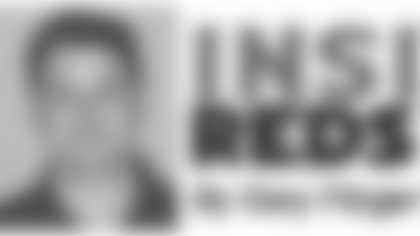 Dallas's 3-4 scheme is a little different from Pittsburgh's in that the pass-rushing linebackers are more similar to defensive ends.
Among linebackers, DeMarcus Ware leads the way with 10 sacks, while Greg Ellis and Bradie James have three apiece. Defensive tackle Jay Ratliff, who has four sacks, gets solid pressure up the middle.
Campbell has been sacked 23 times this season, 24th most in the league.
Redskins Secondary vs. Terrell Owens
It's T.O. time again. And this time, the Redskins have multiple options to cover him.
In his last three games against the Redskins, Owens has caught 22 passes for 320 yards and six touchdowns. That's remarkable productivity for the 6-3, 218-pound wide receiver and 13-year NFL veteran.
Despite Owens' statistics, the Redskins have won two of those three games, in part because the secondary has kept Owens in check in key situations.
In Week 4, with the Redskins holding a 26-17 lead in the fourth quarter, Carlos Rogers broke up three consecutive passes to Owens.
Rogers, who has emerged as a Pro Bowl-caliber corner in his fourth NFL season, could find himself again in a one-on-one matchup with Owens.
Shawn Springs remains slowed by a calf injury and his status is uncertain for Sunday's game. Springs and Owens have competed against each other since 1997, when Springs was in Seattle and Owens was in San Francisco.
The Redskins have added DeAngelo Hall to the mix. Hall, signed by the team on Nov. 8, has had two high-profile matchups against Owens, with mixed results.
The first time the two matched up against each other, Owens was in Philadelphia and Hall was in Atlanta. Although Owens grabbed seven passes for 112 yards in the game, Hall was credited with stopping Owens on several key third-down plays.
A year later, Owens was in Dallas and he caught five passes for 69 yards and two touchdowns against Hall.
Shaun Suisham vs. Nick Folk
Shaun Suisham is a former Cowboy, but he has established himself with the Redskins.
This season, Suisham is having a steady campaign, converting 18-of-23 field goal attempts including 9-of-12 from 40 yards or more.
In the Redskins' 26-24 win over Dallas in Week 4, Suisham connected on four field goals. It was one of four times this season that Suisham had three or more field goals in a game.
The Cowboys drafted Nick Folk in the 2007 NFL Draft, solidifying the position.
Folk, a Pro Bowler in his rookie year, has had fewer opportunities than Suisham this year. He has converted 9-of-11 field goals, including a 51-yarder and a 52-yarder. He is 4-of-5 from 40 yards or more.
Both the Redskins and Cowboys have steady defenses, so field goals could be a key factor in the game.
Santana Moss vs. Anthony Henry
Santana Moss is fast becoming a Cowboys-killer. He has caught 41 passes for 747 yards--an 18.2 yards-per-catch clip--and four touchdowns in seven games against Dallas.
In Week 4 earlier this season, Moss led the Redskins with eight catches for 145 yards. His biggest play was a 53-yard catch that beat Pro Bowl cornerback Terence Newman.
Most of the time on Sunday, Moss is expected to line up against Anthony Henry. An 8-year veteran, Henry has 28 career interceptions but none this year.
Dallas is ranked 11th overall in pass defense. They should get a boost this week with the return of Newman from an abdomen injury.