The Redskins had something to prove on Sunday.
They needed to rebound from a tough season-opening loss last week. They needed to rebound from an inconsistent offensive showing. They needed to generate excitement among Redskins fans in the FedExField home opener.
Turns out the Redskins may not have proven any of that against the St. Louis Rams.
In a closely contested matchup, the Redskins defeated the Rams 9-7 on the strength of a dominant defense and three Shaun Suisham field goals.
On offense, the Redskins did show signs of improvement, compiling 362 yards of total offense and 125 rushing yards.
Jason Campbell completed 23-of-35 passes for 242 yards and had was able to use his mobility to scramble for 28 rushing yards. Clinton Portis added 79 yards on 19 carries.
Struggles continued in the red zone, though.
The Redskins had to settle for field goals each time. Suisham connected on attempts of 21, 28 and 23 yards.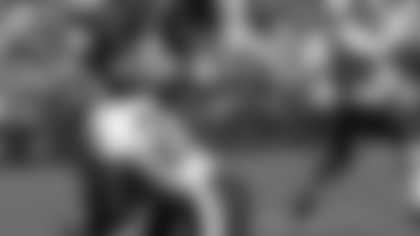 Late in the fourth quarter, with the Redskins leading 9-7, Jim Zorn opted to go for it on 4th-and-1 at the Rams' 2-yard line instead of settling for another field goal.
Clinton Portis took the handoff and rolled left, but he was stopped for a 2-yard loss.
"It was our No. 1 goal line play," Zorn said. "They won the line of scrimmage. I thought Clinton gave everything he could give on that play."
The Rams had 1:55 on the clock to drive downfield for a game-winning field goal.
The defense would not allow it.
Quarterback Marc Bulger tossed four incomplete passes, including a fourth-down toss deep to wide receiver Donnie Avery. The ball was under-thrown, but Chris Horton, in one-on-one with the speedy Avery, had tight coverage.
Horton, who finished with six tackles, a forced fumble and two passes defended, was among several Redskins defenders with strong games.
Cornelius Griffin had a strong game, recording four tackles, one sack and one pass defended and London Fletcher added nine tackles.
Overall, the Redskins' defense yielded just 245 total yards and 119 passing yards against a Rams offense thought to be among the worst in the league.
The Redskins arrived at FedExField on Sunday morning ready to put last week's disappointing 23-17 loss to the New York Giants behind them.
It was a chance for a fresh start in the home opener.
The Campbell-Cooley connection got on track early as the duo connected on 8-, 15- and 11-yard pass completions to move into Rams territory.
Then Campbell scrambled for 13 yards and Portis picked up 11 yards up the middle to get into scoring range.
Faced with a 3rd-and-goal at the Rams' 3-yard line, Campbell was pressured from both sides. He stepped up and fired a pass to Devin Thomas in the end zone, but Thomas could not hold on to the ball.
Suisham came on for a 21-yard field goal to give the Redskins a 3-0 lead.
On the Rams' subsequent drive, the Redskins' defense made its presence known.
First, Cornelius Griffin broke off a block and tackled running back Steven Jackson for no gain.
Then Rocky McIntosh forced a fumble on a short pass to running back Kenneth Darby and Andre Carter recovered. (The play was nullified after Jeremy Jarmon was flagged for a late hit on Bulger.)
Later, Griffin pulled down Bulger for a sack and then Horton pulled down Jackson on a swing pass well short of the first down marker.
Early in the second quarter, Campbell guided the Redskins into scoring range again.
He converted two clutch third-down plays on the drive. On 3rd-and-2, Campbell avoided pressure and raced for a 14-yard gain to the Rams' 29-yard line. Two plays later, Campbell tossed a 21-yard pass to Santana Moss to the Rams' 8-yard line.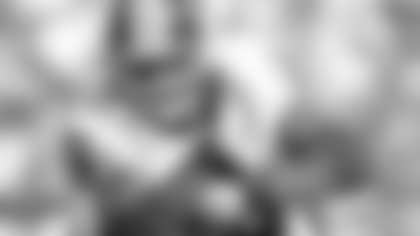 Again, the offense stalled.
Portis was shoved back for a 2-yard loss by Leonard Little on first down and Campbell's passes on second and third down were both incomplete. (Mike Sellers dropped what appeared to be a sure touchdown on second down.)
Suisham converted a 28-yard field goal to double the Redskins' lead to 6-0.
The Rams, scoreless through the first five quarters of their season, finally got some momentum midway through the second quarter.
Running back Steven Jackson found a hole to the right and burst into open field. Three Redskins defensive backs were left to chase Jackson, with Carlos Rogers finally shoving him out of bounds after a 62-yard run.
Bulger would guide the offense to the Redskins' 2-yard line. On 3rd-and-goal, he tossed a fade pass to wide receiver Laurent Robinson in the end zone.
DeAngelo Hall had one-on-one coverage. He appeared to fall down as he leaped up along-side the 6-2, 197-pound Robinson.
Robinson grabbed the ball and held on as he fell backward. His 2-yard touchdown catch gave the Rams a 7-6 lead.
Late in the first half, the Redskins moved into scoring range again, but Moss fumbled after a catch at the Rams' 30-yard line and cornerback Ron Bartell recovered.
In the third quarter, Campbell led the offense on another drive. He found Cooley open across the middle for an 18-yard pickup on a 3rd-and-10 play. Later, he converted another third-down pass to Randle El to the Rams' 7-yard line.
Guess what? Again, the Redskins were stopped short in the red zone.
Faced with a 3rd-and-goal, Campbell pitched to Portis, who drifted right on the halfback option play. Portis, who has three career touchdown passes to his credit, threw to Cooley in the end zone. Cooley was well covered and Portis ended up throwing too high for him to reach anyway.
Suisham converted a 23-yard field goal and the Redskins re-claimed the lead 9-7.
The Rams responded with an impressive drive of their own.
Bulger threw to wide receiver Keenan Burton for a 25-yard pickup and Robinson for an 11-yard gain.
It was 3rd-and-4 at the Redskins' 9-yard line. Bulger threw a quick pass to wide receiver Donnie Avery, who caught the ball and turned up-field.
Horton slammed into Avery and the ball popped loose. Rogers was there to pounce on the fumble for a critical turnover.
Midway through the fourth quarter, the Redskins launched what they hoped would be a game-clinching drive.
Ladell Betts caught a screen pass and raced 25 yards and Malcolm Kellly grabbed a 16-yard pass for another first down.
Later, Jim Zorn was faced with a 4th-and-1 at the Rams' 20-yard line. Kick the field goal for a 5-point lead with 3:47 left or go for the first down?
Zorn has a history of going for the first down in these situations. He did it again.
Portis picked up nine yards behind blocks by Derrick Dockery and Chris Samuels.
Zorn was tested again three plays later: 4th-and-1 at the Rams' 2-yard line. Kick the field goal for a 5-point lead with 2 minutes left or go for the first down?
This time, Portis was stopped.
It was up to the Redskins' defense.
On this day, the defense proved they were up to the task.
[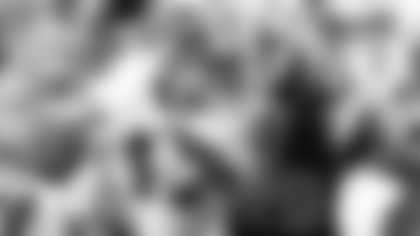 Photo Album: Redskins-Rams](/media-gallery/photos/week-2-redskins-rams/0F97529F-A3D9-410C-A127-2C79626E5F78)
---
The Redskins host the St. Louis Rams on Sunday, Sept. 20 in the regular season home opener at FedExField. Kickoff is 1 p.m. ET.
FedExField is a natural grass surface. The stadium seats 91,704.
The Redskins lost their 2009 season opener to the New York Giants 23-17 at the Meadowlands. The Rams also lost their season opener, by a 28-0 score to the Seattle Seahawks at Qwest Field.
It's the only game the Redskins play this year against the NFC West. Last year, the Redskins were 2-2 against the NFC West.
The Redskins-Rams game will be televised to a regional audience on FOX. Sam Rosen calls the play-by-play and Tim Ryan provides color analysis.
On radio, the game will be broadcast locally on the Redskins Radio Network. Larry Michael calls the play-by-play with former Redskins and Hall of Famers Sonny Jurgensen and Sam Huff adding color commentary. Former Redskin Rick 'Doc' Walker reports from the sidelines.
Jorge Andres and Mario Alfaro call the game in Spanish on ESPN Deportes 730.
---
PROJECTED STARTING LINEUPS
Official Redskins-Rams FlipCard (PDF)
OFFENSE
Pos.
Redskins
Rams
WR
89 Santana Moss
17 Donnie Avery
LT
60 Chris Samuels
70 Alex Barron
LG
66 Derrick Dockery
63 Jacob Bell
C
61 Casey Rabach
60 Jason Brown
RG
77 Randy Thomas
68 Richie Incognito
RT
74 Stephon Heyer
77 Jason Smith
TE
47 Chris Cooley
84 Randy McMichael
WR
12 Malcolm Kelly
11 Laurent Robinson
QB
17 Jason Campbell
10 Marc Bulger
FB
45 Mike Sellers
44 Mike Karney
RB
26 Clinton Portis
39 Steven Jackson
DEFENSE
Pos.
Redskins
Rams
DE
99 Andre Carter
91 Leonard Little
DT
96 Cornelius Griffin
71 Gary Gibson
DT
92 Albert Haynesworth
95 Clifton Ryan
DE
93 Phillip Daniels
72 Chris Long
SLB
98 Brian Orakpo
58 David Vobora
MLB
59 London Fletcher
55 James Laurinaitis
WLB
52 Rocky McIntosh
51 Will Witherspoon
LCB
23 DeAngelo Hall
20 Jonathan Wade
RCB
22 Carlos Rogers
24 Ron Bartell
SS
48 Chris Horton
37 James Butler
FS
30 LaRon Landry
21 Oshiomogho Atogwe
SPECIAL TEAMS
Pos.
Redskins
Rams
P
3 Hunter Smith
5 Donnie Jones
K
6 Shaun Suisham
3 Josh Brown
H
3 Hunter Smith
5 Donnie Jones
LS
67 Ethan Albright
45 Chris Massey
KOR
31 Rock Cartwright
17 Donnie Avery
PR
82 A. Randle El
19 Derek Stanley
---
Sunday's Redskins-Rams game at FedExField marks the 34th meeting between the two clubs. The Redskins have played the Rams throughout that organization's pro football tenure in Cleveland, Los Angeles and St. Louis.
Washington holds a 20-8-1 advantage in the regular season series, dating back to a 16-7 victory for Washington over the Cleveland Rams on November 21, 1937.
The Redskins have won eight of the last 13 meetings, but have lost the last two meetings, including 19-17 on Oct. 12, 2008, at FedExField.
In that contest, the Redskins fell behind 16-7 after safety Oshiomogho Atogwe recovered a fumble and raced 75 yards for a touchdown. Clinton Portis scored two TDs to give the Redskins the lead late in the fourth quarter, but the Rams won on a last-second 49-yard field goal by Josh Brown.
In the postseason, the Redskins and Rams have met four times, once when the Rams played in Cleveland and three times when they were in Los Angeles. The clubs have split their four playoff encounters.
In 1945, Washington faced off against the Rams in the NFL Championship in Cleveland. Playing in sub-zero temperatures, the Rams fended off the Redskins and won 15-14.
Joe Gibbs' Redskins played the Rams twice in the playoffs during the 1980s. On Jan. 1, 1983, the Redskins manhandled the Rams 51-7 at RFK Stadium. On Dec. 28, 1986, the Redskins again defeated the Rams 19-7 at RFK Stadium.
The other playoff game between the Redskins and Rams was on Dec. 22, 1974, when Los Angeles defeated the Redskins 19-10 at the Rose Bowl.
---
REDSKINS 2009 RANKINGS
Offense
Rank
Yards/Game
Total Offense
21
272.0
Rushing Offense
19
85.0
Passing Offense
20
187.0
Defense
Rank
Yards/Game
Total Defense
21
351.0
Rushing Defense
22
103.0
Passing Defense
21
248.0
 </tbody>

RAMS 2009 RANKINGS
Offense
Rank
Yards/Game
Total Offense
25
247.0
Rushing Offense
20
77.0
Passing Offense
24
170.0
Defense
Rank
Yards/Game
Total Defense
27
446.0
Rushing Defense
27
167.0
Passing Defense
26
279.0
---
FAMILIAR FACES ON THE RAMS
Head coach Steve Spagnuolo served as a Redskins player personnel intern in 1983.
General Manager Billy Devaney worked as a scout for the Redskins from 1983-1990. He worked alongside Joe Gibbs and Bobby Beathard during that time.
Scout Joel Pattenserved as a Redskins national scout from 2004-08.
---
REDSKINS-RAMS NEWS & NOTES
-- How the Redskins' Roster Was Built
The Redskins have 24 players on the roster that the team drafted, including 2009 first-round pick Brian Orakpo and 2009 supplemental draft pick Jeremy Jarmon. Draft picks account for 45.2 percent of the Redskins roster.
Chris Samuels is the longest-tenured Redskins. He has played for the franchise since 2000.
Washington has used free agency to acquire 23 players, including Mike Sellers in 2004, Casey Rabach in 2005, Andre Carter and Antwaan Randle El in 2006, London Fletcher in 2007, DeAngelo Hall in 2008 and Albert Haynesworth and Hunter Smith in 2009. Free agents account for 43.3 percent of the roster.
Three Redskins players were acquired as undrafted rookie free agents. This group includes starting right tackle Stephon Heyer.
The team has acquired two players via trade. Clinton Portis was acquired in a 2004 trade with the Denver Broncos and Santana Moss joined the Redskins as part of a 2005 trade with the New York Jets.
The Redskins have claimed just one player off waivers: Marcus Mason.
Fletcher played for the Rams from 1998-2001 and emerged as a standout at middle linebacker for the so-called "Greatest Show on Turf" in St. Louis.
He was the Rams' Rookie of the Year in 1998. A year later, he started for the Rams in Super Bowl XXXIV, a game they won 23-16 over the Tennessee Titans.
Fletcher played four seasons with the Rams before moving on to Buffalo in 2002. He played for the Bills for five seasons and then signed with the Redskins as an unrestricted free agent in 2007.
Asked to reflect on his tenure with the Rams, Fletcher said the Super Bowl season remains a "special memory."
"We had a great group of guys," he said. "What we were able to accomplish, in a three-year run, was phenomenal. We played an exciting brand of football. We loved playing with each other and we loved coming to work. I still have the memories and I still think about it from time to time."
Redskins secondary-cornerbacks coach Jerry Gray was a defensive back for the then-Los Angeles Rams from 1985-91.
Gray was a four-time Pro Bowl cornerback (1986-89) with the Rams, finishing with 28 career interceptions during his nine seasons in the NFL. (He also had stints with the Houston Oilers and Tampa Bay Buccaneers.)
He posted a season-high eight interceptions in 1986, just his second year in the NFL. He was also named the NFL's Defensive Back of the Year in 1989 and earned MVP honors in the 1990 Pro Bowl (following the 1989 season).
Gray has served as a Redskins assistant coach since 2006.
The Redskins have elected captains for the offense, defense and special teams.
For the offense, it's Jason Campbell and Chris Samuels.
For the defense, it's Cornelius Griffin and London Fletcher.
For special teams, it's Rock Cartwright and Mike Sellers.
Sellers is the newcomer of the captains this year. The other five were voted team captains in 2008.
Washington's strength of schedule for the 2009 season is in the middle of the pack.
The Redskins' strength of schedule is ranked 16th in the NFL at .492. Their opponents' 2008 cumulative record was 125-129-2. They play a total of seven games against 2008 playoff teams.
The Miami Dolphins have the NFL's toughest schedule at .594. Their opponents' 2008 cumulative record was 152-104.
The Chicago Bears have the NFL's easiest schedule at .414. Their opponents' 2008 cumulative record was 105-149-2.
Since 2000, the Redskins' defense has finished in the top 10 in yardage allowed seven times.
Last year, in Greg Blache's first season leading the defense, the Redskins were ranked fourth overall in the NFL. They were ranked eighth against the run and seventh against the pass.
The Redskins also finished fourth in 2000, 10th in 2001, fifth in 2002, third in 2004, ninth in 2005 and eighth in 2007.
Since 2004, when Blache joined the Redskins as defensive line coach, the Redskins have the NFL's fourth-ranked defense.
The Redskins are among 16 NFL clubs that have posted winning records in the month of September the last 10 years.
From 1999-2008, the Redskins are 17-15 in the month of September, a .531 winning percentage. Last year, the Redskins were 3-1 in September.
The New York Giants have posted a 20-13 mark in September--a .606 winning percentage--since 1999.
Best in the NFL in September wins since 1999? The Indianapolis Colts, with a 25-7 record. That's a .781 winning percentage.
St. Louis Rams defensive end Chris Long played college football at the University of Virginia. He was the Rams' first-round draft pick (second overall) in 2008.
As a rookie last year, Long posted four sacks for the Rams. In the Redskins-Rams game last year at FedExField, Long posted four tackles and no sacks.
Long has had some great tutors in his career, including his father Howie, a Hall of Fame defensive lineman. (Howie Long had five sacks in a game against the Redskins on Oct. 2, 1083.)
Chris Long has practiced against some top offensive tackles while at the University of Virginia, including D'Brickashaw Ferguson (New York Jets), Branden Albert (Kansas City Chiefs) and Eugene Monroe (Jacksonville Jaguars). All of them were first-round picks.
-- Bartell a Local Product
St. Louis Rams starting cornerback Ron Bartell played his college ball at Howard University in Washington, D.C.
Bartell visited Redskins Park in a pre-draft Rookie Camp in April 2005.
He was eventually selected by the Rams in the second round (50th overall) of the 2005 NFL Draft.
FedExField is the largest stadium in the NFL with 91,704 seats.
It is more than 11,000 seats ahead of the second biggest stadium, the new Cowboys Stadium. (Cowboys Stadium is expandabe with standing room only to about 110,000.)
The Redskins set a single-game attendance record--90,910--in a Dec. 30, 2007 game against the Cowboys.
The Redskins head to the Motor City for a Sept. 27 game against the Detroit Lions at Ford Field. Kickoff is 1 p.m. ET.
Washington and Detroit last squared off on Oct. 26, 2008 at Ford Field, with the Redskins prevailing 25-17.