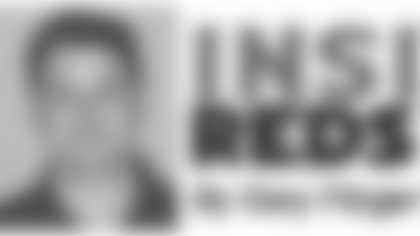 Sure, the Arizona Cardinals have a pair of elite wide receivers in Anquan Boldin and Larry Fitzgerald.
But as the Redskins study film of the Cardinals this week, it is becoming clear that slowing Boldin and Fitzgerald has to start with getting pressure on Kurt Warner.
Warner, 0-3 in Washington, D.C., in his 11-year NFL career, has re-emerged with the Cardinals. The two-time league MVP and Super Bowl XXXIV MVP beat out third-year player Matt Leinart for the Cardinals' starting job in preseason.
In two games this season, Warner has completed a remarkable 70 percent of his passes for 558 yards, four touchdowns and no interceptions.
Warner is susceptible to getting sacked, though. He has never had great mobility and he has been sacked times so far this season.
Andre Carter and Jason Taylor know what their task is this Sunday.
"Someone asked what the difference is between the Warner of now and the Warner of the St. Louis Rams, and honestly, there is no difference," Carter said. "He is very good at pinpointing receivers, but he'll hold on to that ball for as long as possible to make a play."
If he does, Carter and Taylor will have opportunities for sacks.
And sometimes quarterbacks do funny things when they are pressured in the pocket.
"It doesn't matter who the quarterback is, whether it's Tom Brady or a high school quarterback, when you get pressure a quarterback is totally different," Taylor said. "In practice, quarterbacks don't get touched. They don't get touched in training camp. You can't even sit with them in the lunch room. When you get around them on the field, they don't like it at all.
Added Taylor: "[Warner] will hold on to the ball and let things develop downfield. It depends on his protection, his confidence level and how he's feeling. It's incumbent on us to get pressure on him."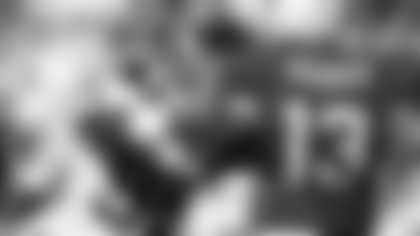 The Redskins have recorded four sacks--one by Taylor--so far this season.
In the Redskins' 21-19 win over the Cardinals last year, Warner was sacked just once. Carter got to him midway through the fourth quarter and forced a fumble, ending a Cardinals scoring opportunity.
Warner's quick release creates problems for pass rushers as well.
Said Carter: "He can get the ball out quick, and it's important to engage the offensive linemen and get our hands up to try to bat down balls."
And what about those wide receivers, Boldin and Fitzgerald?
The Redskins' secondary must do its part when Warner gets his passes off.
Cornerbacks could try to jam Boldin and Fitzgerald at the line of scrimmage whenever possible.
Boldin has 14 catches for 222 yards and three touchdowns this season, while Fitzgerald has nine catches for 184 yards and one touchdown.
"If we let these guys run their routes, they are going to beat you," defensive coordinator Greg Blache said. "Warner is going to find them in the zones and throw the ball. He is making some throws that most quarterbacks won't throw because he has those wide receivers. He's playing with great confidence.
"He's hot, but we have to find a way to cool him off."
Of the receivers, Blache said: "Boldin is more of a possession receiver and they move him around a lot. He's very tough to tackle and he has great run-after-the-catch ability. Larry Fitzgerald is more of an acrobatic-type receiver. He can make some phenomenal leaping catches one on one with a corner."
Smoot has watched film on Fitzgerald and commented that it appears he has improved his route-running.
"We have to make [Warner] uncomfortable at the line of scrimmage first, and then we have to jam the receivers at the line of scrimmage," Smoot said. "You have to do what they don't like to do. Big, strong receivers like to get on into their routes.
"When receivers aren't as fast as a guy like Santana [Moss], you can get in between them and the ball. Then you can make a play."