ATLANTA – One mistake piled up on top of the next. Each error complicates life just a little bit more. A little hill of gaffes and goof-ups grows, blotting out the sun.
Think of it as Mt. Error-rot, where the Redskins' battered ark has come to rest.
How can they win when the other team is almost as determined to beat the Redskins as they are? Their worst enemy lies not on the other sideline but in the mirror. Failures to block, to throw, to build on the rare good play, to tackle, to cover, to show discipline all make up the formidable peak called Mt. Error-rot.
The Redskins lost 31-17 on Sunday to the Atlanta Falcons and might as well be buried in the shadow of the mountain they made.
The offense, which still struggles to score touchdowns, compounds that felony by giving up touchdowns. It turned a takeaway by the defense into a turnover and a touchdown, making matters worse. It turned a 47-yard pass play from Jason Campbell to Mike Sellers into nothing but another field goal, the play to Sellers carrying to the Atlanta 28 but the drive skidded forward only another four yards.
The Falcons' last drive of the first half netted only a field goal but was kept alive by a personal foul on the Atlanta sideline by safety LaRon Landry for a hit so late it might have happened tomorrow. That converted one third down, and a roughing the passer penalty against Lorenzo Alexander took care of another.
The Redskins trailed 24-3 at halftime. That would be bad for the most obvious reasons, including their need to score three touchdowns just to tie when they can barely manage two in an entire game. But wait, there's more. They gained just 69 yards in the first two quarters. They made three first downs. They allowed five sacks.
"We were horrible offensively in the first half," coach Jim Zorn said.
Atlanta had won six consecutive games at home and was 10-1 in two seasons under the dual guidance of coach Mike Smith and quarterback Matt Ryan.
The Falcons came in 13-4 when they scored first (which they did), 15-1 when they led at halftime, 15-1 when ahead at the start of the first quarter. And those scores go up another notch.
Some holes are too deep. Some mountains too high.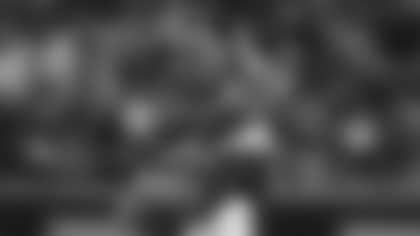 Give the Redskins a little credit. Without Clinton Portis (head injury) since early in the game and with Campbell playing through a chest contusion, the team showed a bit of fight. The Redskins took the opening kickoff and assembled exactly the kind of drive Campbell had talked about earlier in the week – lengthy, time-consuming, short on deep attempts but steady as she goes.
The Redskins ate up the first 7:10 of the second half driving 80 yards on 13 plays, with Ladell Betts plunging in from the 1-yard line on fourth down. That brought the Redskins, who were 10-point underdogs, to within two touchdowns.
Yes, river deep and mountain high. Formidable to ford or climb. Except they did it again.
Another drive of 13 plays, this one covering 81 yards and taking 6:50, crossing over from the third quarter to the fourth. The Falcons ran only three plays in the third quarter.
Here was something new for the Redskins, even though it came late – momentum. Here was offensive rhythm, a growing sense of confidence, a positive meeting between will and skill.
"We didn't do a lot of different things," Zorn said. "We executed. There were plays to be made and we made them."
Then the defense got into the act. Or out of it. Two missed tackles and Michael Turner, the Atlanta burner, had himself a 58-yard touchdown run, his second such sprint of the day. Here, where the defense needed to get a stop and let the offense build momentum, came another crushing failure. On the same page? This team isn't even in the same book.
By the time the game rolled deep into the final quarter, Campbell sat on the sidelines with an ankle injury, as did right tackle Mike Williams. Todd Collins came in for Campbell, D'Anthony Batiste for Williams.
With about six minutes left, the Redskins faced a fourth-and-one at the Atlanta 44. They called a timeout to talk it over and then came back with a play that had Collins selling the run, rolling to the right and dumping a short pass to Sellers.
Uh uh. Linebacker Mike Peterson popped Sellers, knocked him back for a 2-yard loss and the ball went over to the Falcons. A stadium that never quite filled up to back the Falcons, now 5-3, emptied quickly.
Same scenario a few minutes later. With Campbell back in, the Redskins moved from their 10 to their 42 and stalled. Fourth-and-two and Campbell scrambled left, looking, looking, looking. Clobbered as he delivered, his pass bounced in front of Malcolm Kelly and the Falcons had held again.
So the Redskins got stuck, like some nutty blackjack dealer, on 17 again. Lost for the sixth consecutive time on the road, the third this season. Lost their fourth straight game. Dropped to 2-6, which, paired with their 2-6 close in 2008, looks a lot like 4-12.
Dig a hole and mound up the dirt until it looks like something tall enough to have ski lifts.
"These are tough guys," Zorn said. "The game starts at 1 p.m. or whatever and that's when we need to start being tough."
Their offense enjoyed some brief moments, showed what it might accomplish when executed properly and clicking. Then it faded away again, hidden in the shadows cast by Mount Error-rot.
---
Larry Weisman covered professional football for USA TODAY for 25 years and now joins the Redskins Broadcast Network and Redskins.com to bring his unique viewpoint and experience to Redskins fans. Go to Redskins.com for the Redskins Blitz column and NFL Blitz on Friday. Larry also appears on The Jim Zorn Show on WRC-TV on Saturday night, on Redskins Nation, airing twice nightly on Comcast SportsNet, and on ESPN 980 AM radio, all in the Washington, D.C. area. Read his blog at redskinsrule.com and follow him on Twitter.com/LarryWeisman.