Points were hard to come by for the Redskins and Cleveland Browns on Sunday at FedExField.
After a scoreless first half, offenses finally came to life.
Late in the fourth quarter, the Redskins led 14-11, but the Browns managed to get in position for a long field goal to tie the game.
Kicker Phil Dawson's 54-yard attempt had the distance, but the ball sailed wide right. No good.
The Redskins had won a taut defensive battle to improve their record to 5-2 on the season.
It was an impressive performance by the Redskins' defense, who limited the Browns to 236 total yards of offense and 134 passing yards.
Cleveland quarterback Derek Anderson was befuddled most of the game. He was 14-of-37 for 136 yards and one touchdown pass.
London Fletcher led the defense with 12 tackles, including several stops on a goal-line stand in the fourth quarter.
Overall, the Redskins' defensive linemen batted away four Anderson passes and Andre Carter recorded a sack.
On offense, Clinton Portis recorded his fourth consecutive 100-yard effort, rushing for 175 yards on 27 carries. His 3-yard touchdown run in the third quarter provided the first points of the game.
After a sluggish start, Jason Campbell turned in a solid game, completing 14-of-23 passes for 164 yards and one touchdown.
Santana Moss caught four passes for 75 yards, including an 18-yard touchdown in the fourth quarter in which he avoided two tacklers to skip into the end zone for the score.
The game started with the Redskins and Browns testing each other's strengths and weaknesses. The two clubs are unfamiliar opponents--they have faced each other just twice since 1991.
The Redskins' defense impressed early on, forcing three 3-and-outs on Cleveland's first four possessions.
Chris Horton broke up a third-down pass to running back Jerome Harrison to end one drive.
Carlos Rogers broke up a third-down pass to wide receiver Braylon Edwards to end another.
The Browns returned the favor by shutting down the Redskins' offense, too.
Defensive tackle Shaun Rogers proved to be a disruptive force in the middle of the Browns' defense. He recorded four tackles and a sack in the game.
New Redskins punter Ryan Plackemeier, signed last week to replace Durant Brooks, had plenty of work as the offense was forced to punt on four its first five possessions.
Portis started to find running room late in the first half. He picked up 20 yards on a run behind Jon Jansen and Randy Thomas to move into Browns' territory.
With 24 seconds left in the first half, Campbell completed an 8-yard pass to Antwaan Randle El to pull the Redskins within field goal range.
But Shaun Suisham's 36-yard attempt hit the right upright, and the game stayed scoreless at the halftime break.
It was the first time since 1981 that the Redskins and an opponent were scoreless at halftime of a game. The Redskins and New York Giants had a scoreless first half on Sept. 13, 1981, in a game the Giants would go on to win 17-7.
Midway through the third quarter, Moss turned in a spectacular play when he caught a pass on an out pattern. Moss spun inward to avoid a pair of tacklers. He found running room across the field and picked up 35 yards.
Later, Campbell found Randle El on a pass across the middle for a 13-yard pickup to the Browns' 3-yard line.
On the next play, Portis squeezed behind blocks by Thomas and Jansen for a 3-yard touchdown run.
Finally, there were points on the scoreboard.
Down 7-0, the Browns responded with a drive of their own.
Edwards grabbed a 19-yard pass from Anderson and then running back Jamal Lewis broke free for a 22-yard run.
On 3rd-and-8 at the Redskins' 17-yard line, Anderson could not avoid Carter's pass rush and was sacked.
The Browns had to settle for Dawson's 37-yard field.
Early in the fourth quarter, the Redskins started a drive at Cleveland's 49-yard line--good field position.
Portis ran behind strong blocking by Chris Samuels and skipped over a tackler to break into open field. He went out of bounds after a 27-yard gain.
On the next play, Campbell threw to Moss near the goal line. Moss pulled in the pass, cut inside two tacklers and raced into the end zone for an 18-yard touchdown grab.
"We got the coverage we were looking for," Campbell said. "Santana did such a good job of getting himself open. His eyes were so big, and the one thing you didn't want to do is miss it. He did an outstanding job of catching the ball and getting into the end zone."
FedExField was rocking, but the Browns responded again.
After a 43-yard kickoff return by Gerard Lawson, Anderson completed passes of 14 yards to Edwards and 10 yards to tight end Steve Heiden to move the ball to the Redskins' 19-yard line.
Then Lewis pulled in a screen pass and raced 18 yards to the Redskins' 1-yard line.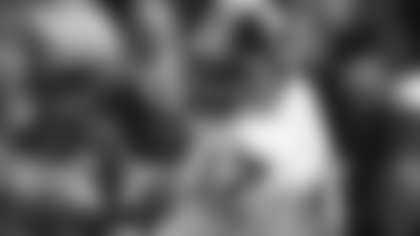 Redskins-Browns](/media-gallery/photos/week-7-redskins-browns/57611BD1-6885-4A39-B7CE-8307377D04FD)

Time for a defensive stand.
Lewis was stopped by Fletcher, who dove across the line to make the tackle.
Then Anderson threw a pass in the flat to fullback Charles Ali, but Fletcher was there again for a tackle and a 2-yard loss.
Taylor batted Anderson's third-down pass, forcing an incompletion.
On fourth down, the Browns opted to go for it.
This time, Demetric Evans got a hand on Anderson's pass, and the ball fluttered to the ground incomplete.
Evans raced off the field, arms raised in celebration.
On the next play, Portis took a handoff and raced around right end for a long gain. But the ball popped loose from his grasp and Browns safety Brandon Pool scooped it up at the Redskins' 29-yard line.
Two plays later, the Browns were back at the Redskins' 1-yard line.
The defense stuffed the Browns two more times, but on third down Anderson found wide receiver Josh Cribbs wide open in the end zone for a 1-yard touchdown pass.
The Browns went for the 2-point conversion, and Anderson tossed a completion to Edwards in the end zone to narrow the Redskins' lead to 14-11.
Cleveland got the ball back with 1:51 left on the clock and no time outs.
Anderson stayed in rhythm. He completed an 18-yard pass to Stallworth and a 9-yard pass to tight end Kellen Winslow, Jr., to get the Browns into scoring range.
It was up to Dawson from 54 yards away.
On a day where points were hard to come by, Dawson's kick was a true long-shot.
Overtime was averted when the kick sailed wide right.
The Redskins could finally celebrate a hard-fought win.
---
The Redskins host the Cleveland Browns on Sunday, Oct. 19 at FedExField. Kickoff is 4:15 p.m. ET.
The game is presented by the Loudoun Convention and Visitors Association.
FedExField is a natural grass surface. The stadium seats 91,704.
It's the first of four AFC North games that the Redskins will play this season. Last year, the Redskins were 2-2 against the AFC East.
The Redskins are 2-1 at FedExField this season, having defeated the New Orleans Saints and the Arizona Cardinals at home in Weeks 2 and 3 and lost to the St. Louis Rams in Week 6.
Washington enters Week 7 following a 19-17 loss to the previously winless Rams.
Cleveland defeated the New York Giants 35-14 on Monday Night Football.
The game will be televised on CBS. Ian Eagle handles the play-by-play, with Solomon Wilcots adding color analysis.
On radio, the game will be broadcast locally on ESPN 980. Larry Michael handles the play-by-play with color commentary by Hall of Famers Sonny Jurgensen and Sam Huff. Rick "Doc" Walker serves as sideline reporter.
---
PROJECTED STARTING LINEUPS
OFFENSE
Pos.
Redskins
Browns
WR
89 Santana Moss
18 Donte Stallworth
LT
60 Chris Samuels
73 Joe Thomas
LG
66 Pete Kendall
65 Eric Steinbach
C
61 Casey Rabach
66 Hank Fraley
RG
77 Randy Thomas
70 Rex Hadnot
RT
76 Jon Jansen
77 Kevin Shaffer
TE
47 Chris Cooley
80 Kellen Winslow, Jr.
WR
82 Antwaan Randle El
17 Braylon Edwards
QB
17 Jason Campbell
3 Derek Anderson
FB
45 Mike Sellers
47 Lawrence Vickers
RB
26 Clinton Portis
31 Jamal Lewis
DEFENSE
Pos.
Redskins
Browns
DE
99 Andre Carter
99 Corey Williams
DT
96 Cornelius Griffin
92 Shaun Rogers
DT
64 Kedric Golston
91 Shaun Smith
DE/LB
92 Demetric Evans
55 Willie McGinest
LB
53 Marcus Washington
54 Andre Davis
LB
59 London Fletcher
52 D'Qwell Jackson
LB
52 Rocky McIntosh
95 Kamerion Wimbley
LCB
24 Shawn Springs
24 Eric Wright
RCB
22 Carlos Rogers
22 Brandon McDonald
SS
48 Chris Horton
20 Mike Adams
FS
30 LaRon Landry
21 Brodney Pool
SPECIAL TEAMS
Pos.
Redskins
Browns
P
1 Ryan Plackemeier
15 Dave Zastudil
K
6 Shaun Suisham
4 Phil Dawson
H
1 Ryan Plackemeier
5 Donnie Jones
LS
67 Ethan Albright
15 Dave Zastudil
KOR
31 Rock Cartwright
16 Josh Cribbs
PR
82 A. Randle El
16 Josh Cribbs
---
Sunday's game marks the 44th regular-season meeting between the Redskins and Browns. Cleveland holds the series lead of 33-9-1, including a 16-3-1 mark at Washington.
This will be the first regular season meeting between the clubs at FedExField. The Browns and Steelers are the only teams to have not visited the venue in the regular season.
Sunday's game is only the second overall matchup between the Redskins and Browns since 1991.
The only other matchup in that 16-year span was a 17-13 victory by Cleveland on Oct. 3, 2004.
Turnovers cost the Redskins in that game. Clinton Portis's third-quarter fumble led to the Browns' first touchdown. Late in the fourth quarter, with the offense trying to mount a comeback, Laveranues Coles fumbled after a catch, ending the Redskins' final drive--and last chance at victory.
The Redskins and Browns have only met seven times since 1970, making them each other's least common opponent (excluding Houston, Jacksonville and Carolina) since the merger.
---
REDSKINS 2008 RANKINGS
Offense
Rank
Yards/Game
Total Offense
7
354.0
Rushing Offense
3
152.3
Passing Offense
17
201.7

Defense
Rank
Yards/Game
Total Defense
8
285.8
Rushing Defense
7
83.8
Passing Defense
13
202.0
BROWNS 2008 RANKINGS
Offense
Rank
Yards/Game
Total Offense
28
259.4
Rushing Offense
23
98.4
Passing Offense
26
161.0

Defense
Rank
Yards/Game
Total Defense
17
325.0
Rushing Defense
25
137.0
Passing Defense
11
188.0
---
FAMILIAR FACES ON THE BROWNS
Linebackers coach Mike Haluchak served in the same capacity with the Redskins from 1994-96.
Offensive lineman Lennie Friedman played for the Redskins from 2003-05. Friedman is currently on the Browns' injured reserve list.
---
REDSKINS-BROWNS NEWS & NOTES
-- Zorn's First Season As Head Coach
Jim Zorn is 4-2 in his first six games as head coach. He is aiming to lead the Redskins to their third winning season in the last four years.
Zorn is looking to become the seventh Redskins head coach to record a winning record in his first year at the helm.
The list of first-year head coaches with winning records includes Ray Flaherty (7-5 in 1936), Dutch Bergman (6-3-1 in 1943), Dudley DeGroot (6-3-1 in 1944), Dick Todd (5-4 in 1951), Vince Lombardi (7-5-2 in 1969) and George Allen (9-4-1 in 1971).
Seven first-year head coaches finished their rookie campaign with a .500 mark, while 12 finished with a losing record.
Clinton Portis leads the NFL with 136 carries and 643 rushingyards, while his six rushing touchdowns are second in the league.
Portis has accounted for 35 first downs on the ground this season, which also leads the NFL, as do his 14 in the fourth quarter of games this season.
With 145-yard and 129-yard performances against the Eagles and Rams the last two weks, Portis has two of the top 11 single-game rushing totals in the NFL this year.
Center Hank Fraley grew up in Gaithersburg, Md., and attended Gaithersburg High School. He helped Gaithersburg High School reached the Maryland state championship game in 1995.
Wide receiver Josh Cribbs grew up in Washington, D.C., and attended Dunbar High School. Playing quarterback, Cribbs led Dunbar to the DCIAA West Division title and the city championship with a 9-3 record.
The Redskins have elected six players as captains for the 2008 season. They wear a black "C" on their jersey during games.
On offense, Jason Campbell amd Chris Samuels are the captains.
On defense, Cornelius Griffin and London Fletcher are the captains.
On special teams, Rock Cartwright and Khary Campbell are the captains.
FedExField is the largest stadium in the NFL with 91,704 seats. It is more than 11,000 seats ahead of the second biggest stadium, Giants Stadium.
The Redskins set a single-game attendance record--90,910--in the Dec. 30, 2007 game against the Dallas Cowboys.
The Redskins travel to Detroit to take on the Lions at Ford Field. Kickoff is 1 p.m. ET.
It's the Redskins first visit to Detroit since the 2004 season, when they defeated the Lions 17-10.