Free agency starts Friday, so it's time to gas up the engines of Redskins One and take off to points across the country.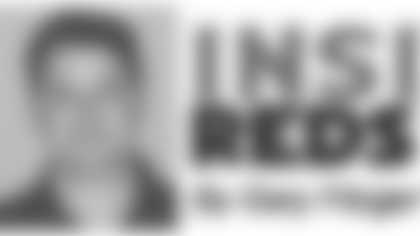 "Free agency is not something we're going to be a big part of," executive vice president of football operations Vinny Cerrato said.
From Jeremiah Trotter to London Fletcher, the Redskins have usually been aggressive this decade in pursuing talent in free agency.
So it has to come as a surprise to hear team officials downplaying the NFL's annual free agent frenzy.
A new approach at Redskins Park?
"First, we're coming off the playoffs and we feel pretty good about where we're at with our football team," Cerrato told Larry Michael and Bram Weinstein on Redskins Radio on Thursday.
"Then, after evaluating free agency, there's not anybody that we feel like we have to have, that we're in love with, who's going to come in and help us for what they would want financially."
It sounds like the Redskins will be less active than last year's measured approach. They netted London Fletcher and Fred Smoot on the first weekend of free agency last year.
This year, the Redskins want to wait for the market to settle before venturing into free agency.
"We'll probably wait in free agency for the market to come back," he said.
"You're always evaluating the trade market to see if that's a viable option," he said.
Cerrato emphasized that, even though the Redskins are under the league-mandated salary cap, the team does not want to overspend for free agents.
"When you see some deals that come out [in the first few days of free agency], you're going to say, 'Who is that and how did they get that much money?'" Cerrato said. "So the money [spent] is going to be crazy. A lot of teams have a lot of money to spend, and there are so few guys available. If you want one, you're going to have to pay a lot of money."
Meantime, the Redskins continue to negotiate with their own free agents
Quarterback Todd Collins and running back Rock Cartwright, the two biggest names on the Redskins' list, appear set to test the market.
Cerrato said the team has "reached out" to wide receiver Reche Caldwell.
Caldwell emerged as a clutch, third-down receiver late last season. The 7-year veteran finished the season with 15 catches for 141 yards.
"I think Reche wants to see what his value is out there," Cerrato said. "A lot of times with free agents, you want them back but they want to see what their value is. If they can get a phenomenal deal, then more power to them. If they see what we feel like the market is, then we'll work something out."
The Redskins will likely look to the draft to provide depth along the offensive line, Cerrato said.
"You want to develop someone [at offensive line]," he said. "With free agency, you don't want a 30-year-old guy to develop. You're looking more for a younger guy to bring along, because they're a lot cheaper."