The Redskins continued to upgrade their defensive line this offseason, selecting pass rusher Brian Orakpo with the 13th overall pick in the first round of the NFL Draft.
Orakpo, 6-3, 263 pounds and nicknamed "Rak," is regarded as the elite defensive end in the draft. He posted 23 career sacks at the University of Texas, including 11 last year.
Orakpo had a sterling senior season, winning the Nagurski Trophy given to college football's top defensive player, the Lombardi Award given to the top defensive lineman and the Hendricks Award given to the top defensive end.
He also earned All-American first-team and Big 12 Defensive Player of the Year honors.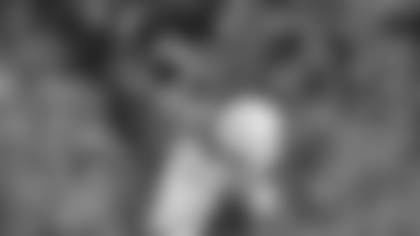 "We feel very fortunate to get Orakpo at No. 13," Zorn said. "We feel like he is going to be an outstanding Washington Redskin."
A two-year starter at Texas, last season Orakpo logged 40 tackles (32 solo), including 17.5 tackles for a loss, two pass break-ups and 15 QB pressures to go along with his 11 sacks.
For his career, he started 21-of-49 games at Texas, registering 103 tackles (75 solo), 34.5 tackles for a loss, six pass break-ups and 36 quarterback pressures.
The Redskins expect to play Orakpo at left defensive end, opposite Andre Carter and next to free agent newcomer Albert Haynesworth.
Orakpo has the versatility to play outside linebacker as well.
With the NFC East boasting some big-sized offensive tackles like Flozell Adams and Jason Peters, Orakpo's speed is expected to help apply pressure.
"If you are a slow-footed tackle, you're going to have to be reaching because of his initial explosion," head coach Jim Zorn said. "He can turn the corner and he can change directions quickly. He has done a nice job chasing plays down. He has great acceleration."
With the Redskins choosing Orakpo at No. 13, it marks the highest pick the Redskins have ever used on a defensive lineman since the first AFL-NFL Draft in 1967.
Orakpo is the first defensive lineman the Redskins have selected in the first round since they chose Miami defensive end Kenard Lang at No. 17 in 1997.
Zorn said Orakpo will see playing time as a rookie.
"When you look at all of his games [at Texas], when you look at all the things that he did, he actually played both sides of the defensive line," Zorn said. "They even slid him down into a three-technique."
Orakpo is not a finished product, however.
Zorn said that Orakpo would need to develop his skills as a run defender.
"That wasn't his forte [in college]," Zorn said. "He was really an edge rusher. Those are some of the things that we are going to be working on with him...It's not that he's going to be weak at that point but I think there is going to be a learning curve there."
Orakpo hails from Houston and attended Lamar High School. (Lamar's sports nickname is the Redskins.)
When he arrived at the University of Texas, he spent considerable time in the weight room and developed a reputation as a workout warrior. He recently bench pressed 515 pounds, with a 600-pound squat.
Orakpo was among the draft prospects who visited Redskins Park in the weeks leading up to the NFL Draft.
"He had a good temperament," Zorn said. "We liked the way he understands football. This wasn't out of his comfort zone. He was looking for the right place to come as well."