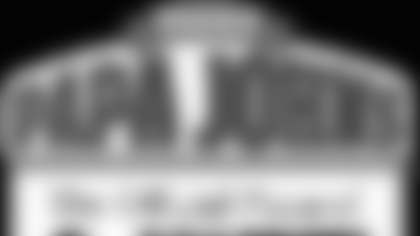 ](/news/article-1/papa-john-s-redskins-touchdown-special/048A1EB7-6061-49FD-958A-DAA6B0CAE730)
Every Monday, fans can order a large Cheese Pizza for only $8.99, plus for each TD that the Redskins score, fans get one free topping. And with a Redskins victory, fans get double the toppings!
Redskins.com breaks down key matchups to keep an eye on during Sunday's Redskins-Eagles game at FedExField:
OFFENSE
Jason Campbell vs. Eagles Pass Defense
The Redskins emphasized the run in last week's win over the New York Jets, and certainly Joe Gibbs and company will continue to use Clinton Portis as the primary offensive threat.
Philadelphia's defense has proven to be solid against the run, though. The unit is ranked seventh in run defense, allowing 92.9 rushing yards per game.
The Eagles are 21st against the pass after allowing 324 yards to Tony Romo and the Cowboys last week. Jason Campbell may need to have success throwing the ball, particularly on third downs, to help the Redskins win.
The Redskins' receivers, held without a TD catch all season, will need to step up.
In the Redskins' 20-12 win over the Eagles in Week 2, Campbell had success throwing to Santana Moss, who caught a team-high six passes for 89 yards, including a 48-yard reception. Chris Cooley had a clutch touchdown catch late in the first half.
Pro Bowl cornerback Lito Sheppard returns for Philadelphia--he missed the first game between the two clubs--but he has been slowed by a knee injury.
Pro Bowl free safety Brian Dawkins is back after missing five games, but the Eagles lost strong safety Sean Considine for the season due to a shoulder injury.
DEFENSE
Redskins Pass Rush vs. Donovan McNabb
In eight games this season, Philadelphia run the ball 204 times and passed 287 times. So as running back Brian Westbrook has emerged as the top offensive threat, the Eagles still rely on their passing game to move the ball downfield.
In the Week 2 matchup won by Philadelphia, the Redskins were able to get consistent pressure on McNabb, who completed 28-of-46 passes for 240 yards.
He was sacked three times, as Gregg Williams used linebacker and safety blitzes to get to McNabb. Marcus Washington and Rocky McIntosh had one sack apiece, and LaRon Landry and Cornelius Griffin combined for the third sack.
McNabb has been sacked 28 times this season, second-most in the NFL. He is one year removed from knee ligament surgery, so he may not have the same mobility he has had in previous seasons.
Andre Carter leads the Redskins with six sacks. If Washington cannot play due to a hamstring injury, look for defensive end Chris Wilson to get plenty of playing time as a pass-rushing replacement.
SPECIAL TEAMS
Rock Cartwright vs. Eagles Kick Coverage
After missing Week 8 against New England with a quad injury, Rock Cartwright returned to action last week against the New York Jets. He had four returns for a 26-yard average, below his 28.6-yard season average.
In November and December, as the weather turns cold, field position becomes a key to every game. Now that Cartwright is fully healthy again, he'll need to help set up Jason Campbell and the Redskins' offense.
Among players with 10 or more kickoff returns, Cartwright is ranked fifth in the NFL in kick return average. He may not be lightning-quick, but he makes up for it with smarts and decisiveness in following blockers.
The Eagles' kick coverage units have been solid this season, ranked 11th in the NFL. They do not have a player on their roster with more than nine teams tackles.
1-ON-1
Chris Samuels vs. Trent Cole
A third-year player, Trent Cole has emerged as an elite pass rusher. He is tied for the league lead in sacks with nine.
Cole, at 6-3 and 270 pounds, has bulked up in recent years, but he remains a top speed rusher.
Samuels handled Cole in the Redskins' first matchup with the Eagles. Cole had just two tackles and no sacks against Samuels, who comes in at 6-5 and 310 pounds. Last year, in two matchups, Samuels shut down Cole both games, allowing just three tackles and no sacks.
If the trend continues, Jason Campbell should have solid protection from his blind side.