](/news/article-1/papa-john-s-redskins-touchdown-special/048A1EB7-6061-49FD-958A-DAA6B0CAE730)
Redskins.com breaks down some of the key matchups to keep an eye on during Sunday's Redskins-Eagles game at Lincoln Financial Field.
"Redskins-Eagles: 4 Keys To the Game" is presented by Papa John's.
Every Monday, fans can order a large cheese pizza for only $9.99, plus for each TD that the Redskins score, fans get one free topping. And with a Redskins victory, fans get double the toppings.
Jason Campbell vs. Eagles Pass Rush
Jason Campbell is 1-2 in games against Philadelphia, with the one win coming at Lincoln Financial Field last September.
Campbell seems to have a good feel for the Eagles' blitz-happy defense, though. He was sacked just twice by the Eagles in two games last year.
He has been able to use his mobility to escape pressure this season. He has been sacked just seven times in four games.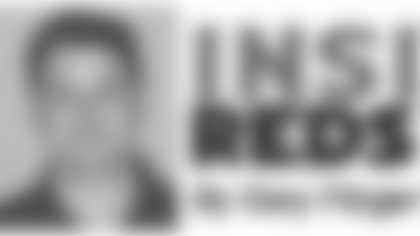 The Eagles have sacked quarterbacks an NFL-best 17 times, including nine in one game against the Pittsburgh Steelers.
Most of their sacks have come from the defensive line, though. Juqua Parker leads with 3.5 sacks, Darren Howard has 2.5 and Trent Cole and Dan Klecko have two each.
The Eagles like to bring blitzes from every direction, so look for frequent cornerback and safety blitzes.
Clinton Portis, Mike Sellers and Ladell Betts have been effective blockers in the pass rush, and they will be needed to help slow the Eagles' blitzes.
Redskins Pass Rush vs. Donovan McNabb
With Brian Westbrook uncertain due to an ankle injury, the Redskins' focus shifts to stopping Donovan McNabb.
McNabb directs an Eagles' passing game that is ranked fifth in the NFL.
He has been sacked 10 times this season. He is two years removed from knee ligament surgery and it appears his mobility is back to where it was earlier in his career. The difference is that McNabb elects to throw the ball more than run with it.
The Redskins' defense is off to a solid start, but the defensive line could be without Jason Taylor and the secondary could be without Shawn Springs. Both have calf injuries.
If there's one area the defense needs to improve on, it's sacks. The Redskins have just six sacks in four games and are ranked 28th in the NFL.
Andre Carter has just one sack this season. He faces off against the Eagles' Tra Thomas, a tough but aging left tackle and three-time Pro Bowler.
If the front four can't generate enough pressure, then Marcus Washington and LaRon Landry may be called on to blitz. Washington recorded a sack and Landry a half-sack in the Redskins' win over the Eagles at Lincoln Financial Field in 2007.
Redskins Punt Return Coverage vs. DeSean Jackson
Rookie DeSean Jackson has great speed and elusiveness, and he should be a test for Danny Smith's group.
Jackson is averaging 9.8 yards per punt return, which is ranked 15th in the league.
Washington yielded a 55-yard punt return to Reggie Bush in Week 2, but otherwise they have been solid.
The Redskins' coverage unit is ranked 20th in the league.
A lot depends on rookie punter Durant Brooks getting off booming punts. He has improved in recent weeks, but he is still ranked 31st with a 40.4-yard average.
Santana Moss vs. Sheldon Brown
Santana Moss is among league leaders with 27 catches for 421 yards and three touchdowns this season.
He has had some solid games against the Eagles, including a six-catch, 89-yard game last year. He has never scored a TD against the Eagles in a Redskins uniform, though.
Moss goes against Brown, a solid cover corner and 7-year veteran. He has 13 career interceptions.
Watch for Moss to periodically shift to the right, where he'll match up with Asante Samuel. Moss has produced two big plays--including a 67-yard touchdown--lining up on the right.