Redskins.com breaks down some of the key matchups to keep an eye on during Sunday's Redskins-Eagles game at FedExField.
"Redskins-Eagles: 4 Keys to the Game" is presented by Papa John's.
Every Monday, fans can order a large cheese pizza for only $9.99, plus for each TD that the Redskins score, fans get one free topping. And with a Redskins victory, fans get double the toppings.
Clinton Portis vs. Eagles Run Defense
Early in his Redskins tenure, Clinton Portis struggled against a stout Philadelphia run defense. It appears he has turned the corner in his last two outings.
In a 2007 contest, Portis rushed for 137 yards on 30 carries against the Eagles. Then in Week 5 earlier this season, Portis rushed for 145 yards and a touchdown on 29 carries.
That's a 4.8 yards per carry average in his last two games against Philadelphia.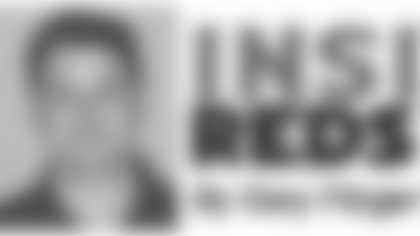 The run game was a key in the Redskins' 23-17 win over Philadelphia in Week 5. The team compiled 203 rushing yards and posted an 8-minute advantage in time of possession.
As a team, the Redskins are ranked eighth in the NFL on the ground, averaging 132.0 yards per game.
Most of the season, the Eagles defense has been strong against the run. The unit is ranked fifth overall in that category, allowing an average of 90.5 yards per game.
Middle linebacker Stewart Bradley has improved his game and he is second on the defense in tackles with 136. Defensive end Trent Cole is also active in run defense, recording 88 tackles.
Redskins Linebackers vs. Brian Westbrook
If there's anyone who has a gripe about a Pro Bowl snub, it's London Fletcher. The 11-year veteran, who has 125 tackles this season, was passed over again for the Pro Bowl.
Will he take it out on Brian Westbrook, the Eagles' do-everything running back?
Fletcher made one of the best defensive plays of the season in Week 5 when, in the fourth quarter, he tackled Westbrook short of a first down on a third-down pass.
Westbrook has not had very many big games at FedExField, a surprise given that he grew up in the Washington, D.C., region and his brother Byron is on the Redskins' practice squad.
Last year, Westbrook had perhaps his best game against the Redskins when he had 20 rushes for 100 yards and a touchdown. He had five receptions for 83 yards, including a screen pass that he turned into a 57-yard touchdown catch-and-run.
Westbrook is shifty and always keeps his feet moving, so Redskins linebackers will need to bottle him up quickly when he gets the ball in his hands.
Redskins Punt Coverage vs. DeSean Jackson
When last the Redskins played the Eagles, rookie DeSean Jackson returned a punt 68 yards for a touchdown.
It was a controversial play at the time because it appeared there was a penalty on the Eagles for blocking Khary Campbell in the back, but no flag was thrown.
The Redskins shrugged off the score and won 23-17. And they bottled up Jackson the rest of the game on three punt returns.
Jackson is averaging 8.7 yards per punt return this season and the Eagles are ranked 20th in the NFL in that category. Jackson has 47 punt returns this season, tops in the league.
The Redskins have improved in punt coverage since allowing two early season returns for touchdowns. The unit is ranked 27th in the league in punt coverage, allowing an average of 11.2 yards per return.
Stephon Heyer vs. Trent Cole
Stephon Heyer steps in for six-time Pro Bowler Chris Samuels. A natural left tackle, Heyer makes his third NFL start at the position after seeing action at right tackle earlier in his career.
Trent Cole, 6-3 and 270 pounds, is the Eagles' top pass rusher. He has 33.5 career sacks in four NFL seasons. Cole is also solid against the run, recording 88 tackles.
Samuels has really handled Cole through the years, though. Cole has just one sack in seven games against the Redskins. In Week 5 earlier this season, he posted four tackles.
Cole is a classic speed rusher, and the 6-6, 314-pound Heyer must maintain his leverage and make sure he has proper footwork to keep Cole in front of him.