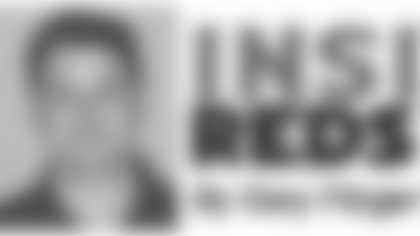 The Redskins are getting to know the numbers three and four pretty well.
Here's another number: five.
That's how many times the Redskins will have faced a 3-4 defense following Sunday's game against the Baltimore Ravens.
Of the teams that run the 3-4, the Redskins have faced some of the league's best this season.
The Pittsburgh Steelers, Dallas Cowboys and Ravens all have defenses in the top 10 in the league.
In four games against the 3-4, including two against Dallas and one each against the Cleveland Browns and Steelers, the Redskins have posted a 2-2 record.
At its base, the scheme requires three defensive linemen--including a massive nose tackle--and four linebackers adept at stopping the run, dropping back into coverage and rushing the passer.
Every 3-4 defense is different, Redskins players were quick to point out.
"They are different based on personnel," Jason Campbell said. "We played Dallas twice and they have big linebackers with DeMarcus Ware and Greg Ellis. When you talk about Pittsburgh, you talk about their fast linebackers like [James] Harrison.
"When you look at Baltimore, you're talking about [Terrell] Suggs, guys coming off the edge, and Ray Lewis making plays up the middle. Ray has a lot of freedom to roam and make plays. And on top of that, they have a great safety in Ed Reed."
The Ravens have the NFL's second-ranked defense, allowing just 253.3 yards per game. They are third against the run (78.3 yards per game) and second against the pass (175.0 yards per game).
The Ravens' linebackers are bigger than the norm, head coach Jim Zorn said. The Redskins will have to adjust their leverage when blocking them.
Lewis is 6-1 and 250 pounds, Suggs is 6-3 and 260 pounds and Jarret Johnson is 6-3 and 265 pounds. Bart Scott is the lightest at 6-2 and 240 pounds.
"They're like linemen," Zorn said. "They can really go. They're super hyped-up, too. I don't look at [the Ravens] like they are a pure 3-4 defense, where these guys are dropping back and they're covering people. These guys bring the heat. They're good athletes."
Added Pete Kendall: "I think you can draw a comparison between Suggs and Ware. I think they list both guys as linebackers but they really have the skill set of a defensive end. They move them around, too.
"It's a really tough matchup for offensive tackles, and even running backs that have to help out in pass protection."
Running the ball is always a tough task against a 3-4, although Clinton Portis has had some success this season.
In his first two games against 3-4 defenses, Portis had a combined 48 rushes for 296 yards in wins over Dallas and Cleveland. In subsequent losses to Pittsburgh and Dallas, Portis had just 28 carries for 119 yards.
Regarding the Ravens' defense, Portis said: "Football is mindset, and I think that their mindset is to stop the run."
Pass protection will be at a premium as well.
Campbell has been sacked 13 times in four games against 3-4 defenses, including seven times by the Steelers in Week 9.
Like Portis, Campbell has had some success against 3-4 defenses, though.
Overall, Campbell has completed 80-of-131 passes--61 percent--for 763 yards, four touchdowns and three interceptions. His best game was in Week 4 at Dallas, where he was 20-of-31 for 231 yards and two touchdowns.
Baltimore has totaled 26 sacks, 11th best in the league through 12 games. Suggs leads with 5.5 sacks, and Johnson is second with five sacks.
"We do have some familiarity with an aggressive, attacking 3-4 scheme," Kendall said. "Pittsburgh, Baltimore, even Dallas--they play a lot of one-gap principle where it's an attacking front. If it were a traditional 3-4, they would just try to get a wall [of tacklers] in front of you."
The Ravens' opportunistic secondary leads the NFL with 20 interceptions. Reed, Lewis and cornerbacks Chris McAlister and Samari Rolle have three each. (McAlister is on injured reserve with a knee injury.)
Five of their interceptions have been returned for touchdowns this season.
"Their defense is part of their offense," head coach Jim Zorn said. "They score on defense, too."