And so it has ended, like many Redskins games this season.
Frustration. Heartbreak. Defeat.
The Redskins closed out the season with a 23-20 loss to the San Diego Chargers on Sunday at Qualcomm Stadium.
The Redskins turned an early 13-0 deficit into a 20-16 lead heading into the final minutes of the game. Then backup quarterback Billy Volek tossed a 2-yard touchdown pass to fullback Mike Tolbert with 38 seconds remaining to give the Chargers the win.
The Redskins' long, joyless season ends with a 4-12 record.
It's the Redskins' worst record since 1994 when they finished 3-13 under Norv Turner, who is now the head coach of the Chargers, ironically enough.
What next for the Redskins?
And the aftermath could be significant upheaval--including a change at the head coaching position.
General manager Bruce Allen, hired by the Redskins on Dec. 17, has plenty of decisions to make in the coming days.
On Sunday in San Diego, the Redskins faced off against a Chargers team that won the AFC West and earned a first-round bye.
They played their starters for two series before second- and third-stringers entered the game en masse.
Playing against backups, the Redskins were able to score a pair of second quarter touchdowns to take a 14-13 lead heading into halftime.
Jason Campbell, in what could be his last game in the burgundy and gold, threw a 2-yard touchdown pass to Todd Yoder and a 3-yard touchdown pass to Mike Sellers to give the Redskins the lead.
Campbell finished the game with 28-of-42 pass completions for 281 yards, to go along with the two touchdowns passes.
Malcolm Kelly set up one of the scores with an 84-yard catch-and-run to the Chargers' 4-yard line. He finished the game with five catches for a career-high 109 yards.
London Fletcher led the defense with eight tackles, Kedric Golston had a sack and Rocky McIntosh recorded his second interception of the season.
J.T. Tryon nearly had a game-sealing interception on the Chargers' final drive, but he let the ball slip through his fingers.
Such is the fate of the Redskins.
While other NFL teams rested starters in the season's final week, San Diego opened with quarterback Philip Rivers, running back LaDainian Tomlinson and tight end Antonio Gates in the starting lineup.
Rivers was efficient on the Chargers' opening drive, completing a 25-yard pass to wide receiver Malcolm Floyd. The big play set up a 47-yard field goal by kicker Nate Kaeding and San Diego took an early 3-0 lead.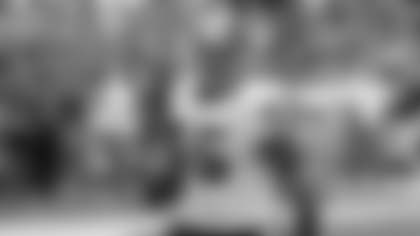 On the Chargers' next possession, Rivers led another methodical drive, completing passes of 12 and 9 yards to Floyd to move into scoring range. Then, on 4th-and-1 at the Redskins' 19-yard line, Rivers and Floyd connected again for a 6-yard pickup.
Three plays later, Rivers threw to Gates, who beat coverage by Carlos Rogers and Kareem Moore to grab a high-arching 12-yard touchdown pass.
For the third game in a row, and ninth time this season, the Redskins found themselves in a first quarter deficit.
San Diego kept the pressure on the Redskins on their next drive, even with Volek replacing Rivers.
Floyd burst past DeAngelo Hall on a deep route and caught Volek's pass for a 50-yard completion to the Redskins' 30-yard line.
Volek led the offense to the 6-yard line, but his third-down throw to Floyd was too high. So Kaeding converted a 24-yard field goal to increase the Chargers' lead to 13-0.
In the early going, Campbell and the Redskins' offense struggled to generate momentum.
That changed midway through the second quarter, with Campbell completing a pair of third-down passes--12 yards to Antwaan Randle El and 19 yards to Rock Cartwright--to move the offense into Chargers territory.
Then Santana Moss made a juggling catch of a Campbell pass for 16 yards and Kelly turned a screen pass into a 12-yard gain pickup.
Two plays later, Campbell tossed the touchdown pass to Yoder, who was left uncovered in the back of the end zone. The score narrowed the Chargers' lead to 13-7.
Suddenly, the Redskins had momentum.
Late in the second quarter, Campbell threw to Kelly again, this time on a deep route across the middle of the field. Kelly pulled in the pass ahead of a defender, burst past a tackler and raced into open field.
He was tripped up at the Chargers' 4-yard line after an 84-yard gain, certainly the longest of his 2-year career.
Two plays later, Campbell faked a handoff to Quinton Ganther and threw to Sellers in the flat. Uncovered, Sellers waltzed into the end zone for his touchdown.
And the Redskins went into halftime with a surprising 14-13 lead.
Early in the third quarter, Randle El broke out of a season-long slump returning punts with a 43-yard return to midfield.
Campbell quickly threw to Moss for a 14-yard pickup. Then, on a 3rd-and-1 play, Campbell connected with Fred Davis for another 14 yards to the Chargers' 10-yard line.
The drive stalled after Campbell's third-down pass sailed out of the end zone, so the Redskins had to settle for a 22-yard field goal by Graham Gano.
The Chargers, so effective with Rivers leading the charge, were struggling to find rhythm with Volek at quarterback and second-stringers in on offense. It was Volek's first regular season action this season.
All they could muster was a 45-yard field goal by Kaeding early in the fourth quarter, narrowing the Redskins' lead to 17-16.
The Redskins responded with a time-consuming drive, sparked by Marcus Mason's 17-yard run to the Chargers' 48-yard line.
Then Campbell completed a 15-yard pass to Davis to the 12-yard line. Another 12 yards were added on to the play after free safety Paul Oliver was flagged for a face mask penalty.
The offense moved to the Chargers' 1-yard line--on the precipice of putting the game away.
On a 3rd-and-goal play at the Chargers' 1-yard line, Ganther was stuffed for no gain.
And the Redskins opted to go for it.
Alas, Derrick Dockery was flagged for a false start before the play even started, pushing the Redskins back five yards.
This time Gano came on for a 25-yard field goal to extend the Redskins' lead to 20-16 with 4:25 left in the game.
A short kickoff by Gano was returned 22 yards to the 42-yard line, giving San Diego decent field position for its game-winning drive.
Volek was suddenly in rhythm, completing third-down passes to wide receiver Buster Davis and Floyd to move the ball to the Redskins' 32-yard line.
After the 2-minute warning, running back Michael Bennett took a handoff up the middle for 14 yards to the 18-yard line.
Next play, Volek threw to Davis across the middle and he had a head of steam heading toward the end zone. Moore made a touchdown-saving tackle at the 1-yard line.
One play later, Tolbert was uncovered in the flat and Volek threw soft to the Chargers' fullback as he crossed the end zone.
Tolbert cradled the ball for the touchdown.
It was a fitting end to the Redskins' season.
Frustration. Heartbreak. Defeat.
[
Photo Album: Redskins-Chargers](/media-gallery/photos/week-16-redskins-chargers/80D7E3FD-632A-4991-941E-9D8C10B44D85)
---
The Redskins wrap up the 2009 season on Sunday, Jan. 3 with a West Coast trip to San Diego to take on the Chargers at Qualcomm Stadium. Kickoff is 4:15 p.m. ET.
Qualcomm Stadium is a natural grass field. The stadium seats 71,294.
It's the Redskins' first visit to San Diego since Sept. 9, 2001.
The Redskins are 1-6 in road games this season. They won their last road game, a 34-13 win over the Oakland Raiders, after opening the season with six straight road losses.
The San Diego game is Washington's fourth and final contest against AFC West foes. The Redskins are 2-1 against the AFC West, with victories over the Raiders and Denver Broncos and a loss to the Kansas City Chiefs.
The Redskins-Chargers game will be televised to a regional audience on FOX. Ron Pitts calls the play-by-play and John Lynch serves as color analyst. Nischelle Turner reports from the sidelines.
On radio, the game will be broadcast locally on the Redskins Radio Network. Larry Michael calls the play-by-play with former Redskins and Hall of Famers Sonny Jurgensen and Sam Huff adding color commentary. Former Redskin Rick 'Doc' Walker reports from the sidelines.
Jorge Andres and Mario Alfaro call the game in Spanish on ESPN Deportes 730.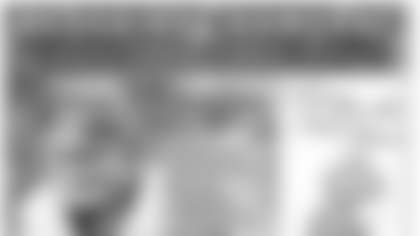 ---
PROJECTED STARTING LINEUPS
OFFENSE
Pos.
Redskins
Chargers
WR
89 Santana Moss
80 Malcolm Floyd
LT
76 Levi Jones
73 Marcus McNeill
LG
66 Derrick Dockery
68 Kris Dielman
C
61 Casey Rabach
61 Nick Hardwick
RG
63 Will Montgomery
65 Louis Vasquez
RT
74 Stephon Heyer
62 B. Dombrowski
TE
86 Fred Davis
85 Antonio Gates
WR
12 Malcolm Kelly
83 Vincent Jackson
QB
17 Jason Campbell
17 Philip Rivers
FB
45 Mike Sellers
22 Jacob Hester
RB
35 Quinton Ganther
21 L. Tomlinson
DEFENSE
Pos.
Redskins
Chargers
DE
99 Andre Carter
74 Jacques Cesaire
DT
96 Cornelius Griffin
98 Ian Scott
DT
92 Albert Haynesworth
93 Luis Castillo
DE/LB
93 Phillip Daniels
95 Shaun Phillips
LB/DE
98 Brian Orakpo
54 Stephen Cooper
LB
59 London Fletcher
59 Brandon Siler
LB
52 Rocky McIntosh
56 Shawne Merriman
LCB
23 DeAngelo Hall
23 Quentin Jammer
RCB
22 Carlos Rogers
31 Antonio Cromartie
SS
30 LaRon Landry
25 Kevin Ellison
FS
41 Kareem Moore
32 Eric Weddle
SPECIAL TEAMS
Pos.
Redskins
Chargers
P
3 Hunter Smith
5 Mike Scifres
K
4 Graham Gano
10 Nate Kaeding
H
3 Hunter Smith
5 Mike Scifres
LS
67 Ethan Albright
50 Dave Binn
KOR
11 Devin Thomas
43 Darren Sproles
PR
89 Santana Moss
43 Darren Sproles
---
Sunday's Redskins-Chargers game is the ninth matchup between the two franchises. The Redskins hold a 6-2 edge in the series, but they have lost the last two games.
The last matchup was on Nov. 27 2005, at FedExField. The Chargers won 23-17 in overtime after the Redskins surrendered a 17-7 fourth quarter lead.
Santana Moss caught a 22-yard touchdown pass and Rock Cartwright had a 13-yard touchdown run for the Redskins.
The Chargers were led by running back LaDainian Tomlinson, who had 184 rushing yards and three touchdowns on 25 carries.
His 32-yard touchdown run in the fourth quarter tied the game.
In overtime, it took the Chargers two plays to win. First, quarterback Drew Brees threw a 24-yard pass to tight end Antonio Gates. Then Tomlinson broke loose on a 41-yard touchdown run.
In San Diego, the Redskins are 2-1 all-time against the Chargers. They lost to the Chargers 30-3 on Sept. 9, 2001, in their last game in San Diego.
---
REDSKINS 2009 RANKINGS
Offense
Rank
Yards/Game
Total Offense
23
311.3
Rushing Offense
27
96.3
Passing Offense
16
215.0
Defense
Rank
Yards/Game
Total Defense
11
316.7
Rushing Defense
20
116.6
Passing Defense
5
200.1
 </tbody>

CHARGERS 2009 RANKINGS
Offense
Rank
Yards/Game
Total Offense
11
359.8
Rushing Offense
29
91.5
Passing Offense
5
268.3
Defense
Rank
Yards/Game
Total Defense
15
326.1
Rushing Defense
23
121.2
Passing Defense
10
204.9
---
FAMILIAR FACES ON THE CHARGERS
Head coach Norv Turnerwas the Redskins' head coach from 1994-2000. He compiled a record of 49-59-1 and his 1999 squad won the NFC East, the only time Turner made the postseason with the Redskins.
Assistant secondary coach Cris Dishman played cornerback for the Redskins in 1997-98.
---
REDSKINS-CHARGERS NEWS & NOTES
Former Redskins head coach Norv Turner--now the San Diego Chargers' head coach--faces off against his former team on Sunday for the second time.
Turner was Oakland's head coach in 2005 when the Raiders beat the Redskins 16-13 at FedExField.
Turner finished his Redskins stint with a 49-59-1 record. His 1999 squad won the NFC East, the only time Turner made the postseason as Redskins head coach.
That year, the Redskins defeated the Detroit Lions 27-13 in the first round of the playoffs, but lost to the Tampa Bay Buccaneers 14-13 in the second round.
In 2000, Turner was fired by the club 13 games into the season. He was replaced by Terry Robiskie on an interim basis.
Fullback Mike Sellers and left tackle Chris Samuels are the only two players on the Redskins' roster who played for Turner.
"Norv was real quiet," Sellers recollected. "He was a great guy and a great coach. He gave everybody a fair opportunity to do their job. He gave us every opportunity to play, and play well. It was sad when he got fired, but that's the life of an NFL coach, I guess.
"I thought we had a great offense back then--we just didn't have a great defense. He got a lot of criticism, but I respected him as a coach and a lot of the players respected him."
-- 'Tough Men' On the D-Line
The Redskins lead the league in defensive linemen with torn biceps tendons.
Both Phillip Daniels and Andre Carter have suffered the injury this season--and continue to play through it. The nature of their injuries is such that they cannot aggravate the injury further, but they will likely undergo off-season surgery.
Carter suffered his torn biceps in Week 15 vs. the Giants. He played his first game with the injury last Sunday vs. Dallas.
Daniels has played with his torn biceps since Week 5. He recorded his first sack of the season in the Dallas game.
"This game is played by tough men," Jim Zorn said of Carter and Daniels. "I'm amazed sometimes at what they can do. They even practiced [last week]. They could just sit around all week, but they get out there and work. With a torn biceps tendon--a fresh torn biceps tendon in the case of Andre--it's incredible.
"It's hard to say I'm really proud of them for sacrificing because it's just part of their makeup, part of their grit. You could certainly understand if they took a break, but they won't do it. They want to play."
Fred Davis caught touchdown passes in four consecutive games from Weeks 13-16. He became the first Redskins player to have a touchdown catch in four consecutive games in the same season since Chris Cooley accomplished the feat in 2007.
Since taking over for the injured Cooley in Week 7, Davis has registered 35 catches for 418 yards and six touchdowns.
In his previous 17 professional games, he had just 10 catches for 72 yards and no touchdowns.
"I would say he is our most improved player," Jim Zorn said recently. "He really has had some tough games, and competed well both as a blocker and a pass catcher. He has learned his assignments and doesn't make many errors.
"I have been very impressed with his effort from the start of the game to the end of the game. He wants the ball and he wants to do well. It's important to him."
Brian Orakpo has 11 sacks this season, tied for the Redskins team lead with Andre Carter. He leads all NFL rookies in sacks.
Orakpo has broken the Redskins rookie sack record of six held by Dean Hamel (1985) and Andre Collins (1990).
Orakpo has become just the 13th NFL rookie over the last 15 years to record a double-digit sack season.
Seven of those players won the Defensive Rookie of the Year award, while nine of the 12 went on to earn at least three Pro Bowl selections in their careers.
Orakpo was the Redskins' first-round draft pick (13th overall) in the 2009 NFL Draft. He played college football at Texas.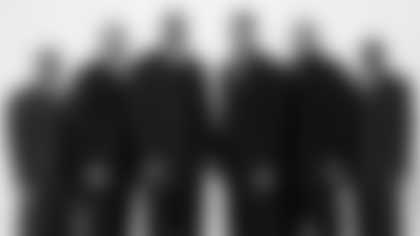 -- Redskins Team Captains
The Redskins have elected captains for the offense, defense and special teams.
For the offense, it's quarterback Jason Campbell and left tackle Chris Samuels.
For the defense, it's defensive tackle Cornelius Griffin and linebacker London Fletcher.
For special teams, it's running back Rock Cartwright and fullback Mike Sellers.
Sellers is the newcomer of the captains this year. The other five were also voted team captains in 2008.
The Redskins' defense remains the league's best when it comes to fourth downs.
Last Sunday night vs. Dallas, they stopped the Cowboys offense on two fourth-down attempts in the third quarter.
Overall this season, the Redskins' defense has stopped 3-of-16 fourth-down attempts, an 18.7 percent clip that is tops in the league.
The Indianapolis Colts are ranked second with a 31.5 percent clip. They have stopped 6-of-17 fourth-down attempts.
Washington's strength of schedule for 2009 was ranked 16th in the NFL at .492. Their opponents' 2008 cumulative record was 125-129-2.
The Redskins play a total of seven games against 2008 playoff teams, with four of those games against NFC East foes Philadelphia and New York.
The Miami Dolphins had the NFL's toughest schedule at .594. Their opponents' 2008 cumulative record was 152-104.
The Chicago Bears had the NFL's easiest schedule at .414. Their opponents' 2008 cumulative record was 105-149-2.
The Redskins will travel 16,356 miles in 2009, the 21st most in the NFL. They have the shortest travel schedule in the NFC East.
The Seattle Seahawks travel 29,054 miles, most in the NFL. The Cleveland Browns travel 7,554 miles, least in the NFL.
The total distance traveled by all NFL teams is 578,912 miles. This is 18,128 fewer miles than 2008, when teams traveled a total of 597,040.