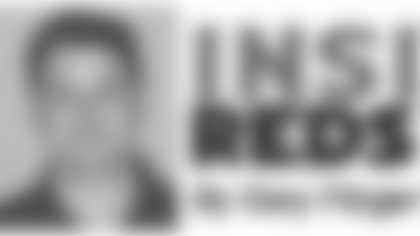 The Redskins paid tribute to one of their all-time greats on Sunday. The team honored the late Sammy Baugh before the Redskins-Eagles game at FedExField.
Baugh passed away last Wednesday, Dec. 17, at a hospital in Rotan, Tex. He was 94.
At pre-game, the Redskins held a moment of silence for Baugh and played a three-minute video on the JumboTron at the stadium.
In addition, players wore a No. 33 logo on the back of their helmet for the game.
Baugh did not visit the Washington, D.C., area in the last decade, preferring to live out his life at his home in Texas.
Few fans knew him personally, but he remained a beloved figure in franchise history for all he accomplished on the football field.
Baugh arrived in Washington as the Redskins' first-round draft pick in 1937. He found instant success as he guided the franchise to an NFL championship in his first year in Washington. He led the Redskins to a second NFL championship in 1942.
Baugh was a three-way player, serving as a quarterback, defensive back and punter. Known as "Slingin' Sammy," he was the first NFL quarterback to make the forward pass a key component of his game.
Baugh set numerous NFL and Redskins passing records in 16 seasons with the Redskins.
He played in 165 career games and completed 1,693-of-2,995 passes for 21,886 yards, 187 touchdowns and 203 interceptions.
As a defensive back, he recorded 31 career interceptions. And as a punter, he had a 45.1 career punting average.