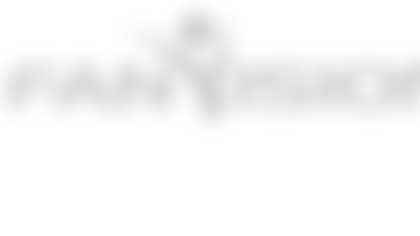 ---
Frequently Asked Questions
Q. What is FanVision?
A. FanVision is a wireless hand-held device. The device gives you never-before-seen freedom in shaping your sports fan experience. You will be able to access live video feeds, replays and highlights, angle cams that get you close to the action, intense audio feeds that bring you behind the scenes, sports stats and scorecards updated in real-time and much more.
Q. Who will get this device?
A. FanVision will be an amenity for all Premium Club Season Ticket Holders and Suite members.
Q. Is there a monthly fee?
A. No. All fees and charges are complimentary as part of your 2010 Premium Club membership.
Q. Do I need to do anything in order to get the device?
A. Simply fill out the information on this page in order to confirm vital information for shipping purposes.
Q. When can I expect the device?
A. Shipment is scheduled for the week of September 6. If you have not received your device by Thursday, September 9, please call (301) 276-6800.
Q. Can I use the FanVision hand-held device at the stadium?
A. Yes, the device will work on stadium property including the parking lots.
Q. How long does the battery last?
A. The battery lasts up to 6 hours as long as the unit is fully charged. The unit comes with a battery charger.
Q. What happens if my device doesn't work?
A. The device will only work when you are on stadium property. If it doesn't work or if it malfunctions in any way, please go to the nearest FanVision kiosk or stop by the Premium Member Services table on the Club Level.
Q. Do I have to return the unit after every game?
A. No, you will be able to keep the unit through the entire season.
Please fill out the information below:
Terms and conditions: If you decide not to renew your Club Seats in 2011 or beyond, you will be responsible for returning the unit(s). If you do not return the unit(s) after you have made your renewal decision, you will be charged for the retail cost of the device ($259.99) if not returned by March 1st, 2011. You may return the device(s) to your Premium Sales Manager, Premium Member Service tables on game day located at sections 305 or 326 or mail back to the following address:
Washington Redskins Premium Member Services
1600 FedEx Way
Landover, MD 20785