The Redskins finalized their 53-man roster on Saturday, and as always there were some surprises in who was let go.
This year, the biggest surprises may be in who made the roster.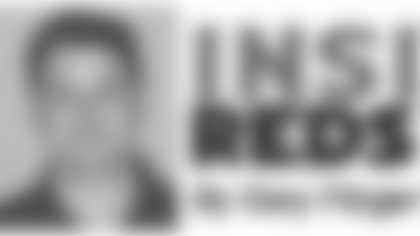 The final 53 includes all 10 draft picks and three players--Jason Taylor, Alfred Fincher and Justin Hamilton--who weren't even on the team at the start of training camp.
The Redskins opted to keep just five wide receivers and 24 players overall on the offensive side of the ball. Defensively, the team decided to keep 10 defensive linemen, five safeties and five cornerbacks.
In the course of the next few days, the names of the final 53 could change as the Redskins consider players cut by other teams.
For now, the Redskins have compiled a group of players who made it through a rigorous training camp and five-game preseason.
Here's a look at the roster, position by position.
Jason Campbell enters the regular season as the Redskins' starting quarterback. It's a big season for Campbell, who is learning a new offense for the third time in four NFL seasons.
He is backed up by 14-year vet Todd Collins, who proved to be more than capable in leading the Redskins to the playoffs last year.
Colt Brennan, a sixth-round draft pick, showed enough promise in preseason to be named the Redskins' third quarterback.
-- RUNNING BACKS / FULLBACKS (4)
Clinton Portis is fast emerging as one of the best running backs in Redskins franchise history. He is ranked fourth in team annals in rushing yardage.
Ladell Betts remains a quality backup. He rushed for 1,154 yards in 2006. He could start for several other teams in the NFL.
Rock Cartwright is another solid running back, but his specialty is kick returns and special teams play. He beat out second-year player Marcus Mason for the job.
Sellers, the only fullback on the roster, is in his eighth NFL season and seventh in Washington. The 6-3, 284-pounder has proven durable, missing just three games in the last three years.
In perhaps the biggest surprise of the final 53, the Redskins opted to keep just five wide receivers on the roster. Billy McMullen, Anthony Mix and Maurice Mann were impressive in preseason, but it wasn't enough in the end.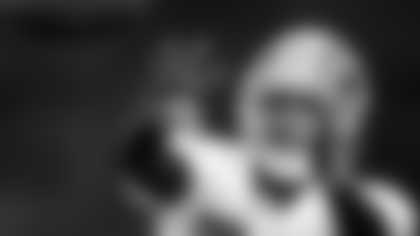 Santana Moss returns for his fourth season in Washington to lead the wide receiver corps. Moss enters the season fully healthy, which is a key.
Antwaan Randle El continues to progress as a wide receiver; he is coming off a season in which he posted a career-best 51 catches for 728 yards.
James Thrash re-emerged in training camp and preseason and should step in as the No. 3 wide receiver. He has 281 career receptions in his 12-year career.
Devin Thomas, the Redskins' top draft pick, was slowed early in preseason with a hamstring injury. He continues to work his way into the lineup.
Malcolm Kelly did not play in preseason due to a knee injury. His playing status is uncertain, but his presence on the roster signals the team thinks he can contribute.
Chris Cooley is coming off a Pro Bowl season and is one of the stars of the team. In four NFL seasons, he has caught 27 touchdowns passes, most on the team in that span.
Todd Yoder is a 9-year NFL veteran who provides a strong blocking presence up front. He also caught seven passes for 97 yards and a touchdown last season.
Rookie Fred Davis, a second-round draft pick, played extensively in preseason, grabbing 10 passes for 85 yards. He could see action as a rookie in two wide receiver sets.
Pro Bowler Chris Samuels returns to anchor the Redskins' offensive line at left tackle. He is in his ninth NFL season.
Pete Kendall is slated to start at left guard. He is a 13-year veteran and his experience makes up for his lingering knee soreness.
Casey Rabach is at the center of the offensive line. In his fourth season with the Redskins, Rabach remains a steadying influence on the line.
At right guard, Randy Thomas returns from an injury plagued 2006 season. His blocking in the run game was missed last year.
Long-time right tackle Jon Jansen returns from a broken ankle suffered in Week 1 last year. He started four of the five preseason games.
Stephon Heyer is the top backup at tackle, and could eventually unseat Jansen. Heyer, in his second season out of Maryland, started five games and a playoff game at right tackle last year.
Jason Fabini has the versatility to play either guard or tackle. The 11-year veteran has played tackle most of his career, but he started 13 games at right guard for the Redskins last year. The presence of Fabini, as well as Heyer's emergence, made veteran Todd Wade expendable.
Chad Rinehart, the Redskins' third-round draft pick last April, is a promising rookie who could eventually earn a starting job once he refines his skills. He can play either guard or tackle.
Justin Geisinger earned a roster spot primarily as a backup center, but he can also play guard. He spent time on the Redskins' practice squad last year. He beat out undrafted rookie Andrew Crummey for the job.
Jason Taylor headlines the Redskins' defensive line. He was acquired on July 20 in a trade with the Miami Dolphins. The six-time Pro Bowler is rehabbing a knee injury and his status for Week 1 is uncertain.
Andre Carter joins Taylor to provide a one-two punch at defensive end. Carter, a speed rusher like Taylor, had 10.5 sacks last season.
Demetric Evans is in his fifth season in Washington. Evans' value is in his versatility. He is the only defensive lineman who can play both end and tackle.
Erasmus James saw his first action of preseason on Aug. 23 after missing all of the offseason and most of training camp rehabbing a knee ligament injury. He showed enough to earn a roster spot. The team acquired James, a former first-round draft pick, in a trade with Minnesota in May.
Rob Jackson, a seventh-round draft pick last April, showed enough potential in preseason to make the final roster. Jackson started two preseason games and logged two sacks.
Chris Wilson struggled in preseason and was on the bubble heading into the preseason finale on Aug. 30. He had a sack in the game. The uncertainty over Taylor's injury may have helped his roster standing.
Cornelius Griffin returns for a fifth season in Washington. When healthy, Griffin can be dominant inside, both as a run stopper and pass rusher.
Kedric Golston started all five preseason games at defensive tackle and appears to be in line to start opposite Griffin. Golston has inside speed, something that coaches want from the defensive tackles.
Anthony Montgomery, a starter last season, competed with Golston for the starting job in preseason. No matter who starts, Montgomery should see significant time as part of a rotation.
Lorenzo Alexander beat out Ryan Boschetti for the final roster spot at defensive tackle. Alexander had a solid preseason, recording one sack. He can also play on the offense line in a pinch, something he proved he could do last year.
As middle linebacker, London Fletcher is the signal-caller and anchor of the Redskins' defense. His role is to make a difference in the run game. He has logged 150-plus tackles each of the last eight years.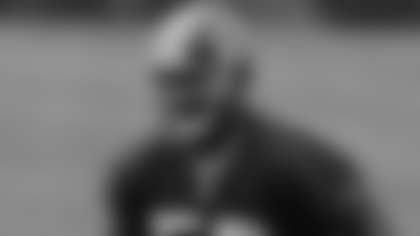 London Fletcher (Don Wright Photo)


Marcus Washington is on the strong side. He returns to play a more traditional linebacker role after lining up at defensive end on third downs last season.
Rocky McIntosh, returning from a knee ligament suffered last December, starts on the weak-side. He is in his third NFL season, second as a starter.
Khary Campbell has the versatility to play all three linebacker positions if called upon. He remains one of the Redskins' top special teams players, however.
H.B. Blades can also play across the board at linebacker, but his natural position is in the middle. He opens the season as the backup to Fletcher.
One of the surprise additions to the roster is Alfred Fincher, who joined the Redskins on July 31. Fincher was seemingly all over the field in the Redskins' preseason finale last Thursday, leading the defense in tackles. He backs up Washington at strong-side linebacker.
Shawn Springs headlines the Redskins' secondary. He is the most experienced player in the defensive backfield and, when healthy, can be a shut-down cornerback.
Carlos Rogers has rebounded nicely from a devastating knee ligament injury last October. He returns to the lineup ahead of schedule, but it remains to be seen whether he has full mobility in his knee yet.
Fred Smoot can start in case Rogers is not fully healthy yet. The 8-year veteran and former Redskins second-round draft pick has 20 career interceptions.
Leigh Torrence proved last season he can be a quality nickel or dime cornerback. His best attribute is his speed and he can stay in stride with the game's speediest wide receivers.
Rookie J.T. Tryon rounds out the cornerbacks. The fourth-round draft pick struggled at times in preseason, but he showed enough potential to warrant a roster spot.
LaRon Landry appears ready to emerge as an elite-level free safety. He missed all of preseason, so there's some concern he may be rusty in the first few games. He has the talent and athleticism to make up for it, though.
Reed Doughty is expected to start at strong safety. He replaced the late Sean Taylor in the lineup last December. A 2006 sixth-round pick, Doughty makes up for what he lacks in athleticism with all-out hustle.
Rookie Kareem Moore, a sixth-round draft pick, was slowed by a knee injury early in training camp and a hamstring injury late in preseason. In between, he started two games at free safety and made his presence known by registering several big hits.
Rookie Chris Horton, a seventh-rounder, made an impact early on by logging two sacks in the Hall of Fame Game on Aug. 3. He is expected to back up Doughty at strong safety.
First-year player Justin Hamilton signed with the Redskins on Aug. 7, but he spent time with the club last offseason. He came on strong late in preseason to earn a roster spot.
Rookie Durant Brooks beat out four-year veteran Derrick Frost for the Redskins' punting job. A sixth-round draft pick, Brooks averaged 42.8 yards per punt and 34.5 net yards in preseason.
Shaun Suisham did not have any competition in training camp, so he had the place kicking job nailed down. He made his field goals during preseason, but he also displayed a booming leg on kickoffs.
And 14-year veteran Ethan Albright, steady and sure as long snapper, rounds out the Redskins' 53-man roster.