Three hundred area youth were recognized for their hard work, dedication and community spirit at the seventh annual Redskins All Stars Awards Ceremony on Friday, May 4 at FedExField.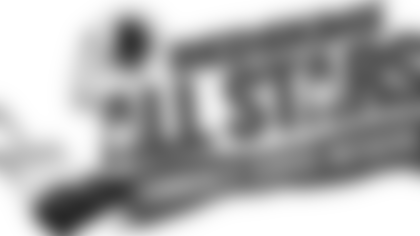 Offensive lineman Ross Tucker and Redskins alumni Ray Brown joined the Redskins Charitable Foundation and the Freddie Mac Foundation to present charitable grants totaling $100,000 to area nonprofit organizations.
In addition to receiving a grant through the Washington Redskins Charitable Foundation and the Freddie Mac Foundation that will enable them to continue performing good work in their community, the dedicated area youth were also rewarded with a "day of fun" from Dwight Schar, a local businessman and CEO of NVR.
Schar purchased 5,100 one-day admission tickets to Six Flags America to reward each young "all-star" finalist.
"I am proud to be able to make a contribution that rewards conscientious and deserving youth for the innovative ways in which they unselfishly give back to their community," Schar said. "I truly believe that the 5,100 finalists of today are the business leaders and entrepreneurs of tomorrow, and in recognition of their accomplishments, their vision and dedication to good works, I am delighted to offer them a day of fun and enjoyment at Six Flags America."
In addition to the incentive grants and the day of fun, Deloitte provided Community Coaching teams comprised of Deloitte employees to the top five grant recipients to assist them in developing a financial plan in order to help maximize and make the greatest possible impact on the community with their grant.
As a direct result of the support from the Freddie Mac Foundation, Deloitte, and the Washington Redskins Charitable Foundation, the 27 nonprofit organizations will reinvest more than $100,000 and immeasurable sweat equity into the greater Washington, D.C., area through continued service in the community.
The Redskins All Stars program is designed to recognize and encourage community service and teamwork among area youth. Groups of children between the ages of 5 and 18, along with their youth leaders, coaches, teachers, and parents, are eligible to participate in the program.
The nonprofit organizations honored were selected from hundreds of area organizations. The organizations receiving grants demonstrated creativity, uniqueness and the spirit of community service.
Since 2002, more than 120,000 area youth have participated in the Redskins All Stars initiative. With the help of the Freddie Mac Foundation, more than $750,000 has been awarded in community grants.
The Redskins All Stars program is an initiative of the Washington Redskins Charitable Foundation. The Charitable Foundation, the nonprofit philanthropic arm of the team, combines the influence and popularity of the Washington Redskins with the resources and assets of 33 Washington area corporations.
Founded by Redskins owner, Daniel M. Snyder, the Charitable Foundation is guided by its Leadership Council that consists of 33 CEOs who help shape and define the philanthropic efforts of the Redskins to achieve a measurable impact on communities throughout the region in the areas of literacy, youth development, education, community service and health and wellness.
The Freddie Mac Foundation is the title sponsor of the Redskins All Stars program and is a member and supporter of the Washington Redskins Charitable Foundation. Created by Freddie Mac in 1991, the Freddie Mac Foundation is dedicated to creating hope and opportunity for children, youth, and their families.
$15,000 -- Good Ground Good Life, Inc. (Washington, DC)
Seventy-five teens promoted education, awareness, and safety concerning HIV/AIDS using a Mobile Talent Show as a communication vehicle. The show's primary focus was to promote HIV/AIDS awareness, while simultaneously having community fun. They visited low-income communities in Washington, D.C., and hosted a talent show partnering with local radio stations and newspapers. The program began in December and will continue with one talent show each month for 10 months.
$10,000 -- St. Ambrose Catholic School (Annandale, VA)
The project established a "Broom Closet and Community Closet" at the Arlington Alexandria Coalition for the Homeless (AACH). The goal was to ease the burden on the families transitioning out of the homeless shelter into private housing by providing them with household supplies that would be found in a broom closet and clothing in the form of a community closet for these families. The "Broom Closet and Community Closet" was of substantial benefit to 22 AACH families transitioning from the shelter who were able to "setup house" in their new homes as a direct result of their donations.
$10,000 -- The House, Inc. (Woodbridge, VA)
One hundred youth created an evening for students with disabilities and their families. They dubbed the night "Cinderella Ball" and it enabled many students who could not participate in their school social activities a night to be honored and celebrated. The grant money will be used to double the amount of youth that are able to attend the event.
$7,500 -- Teens Opposing Poverty, Inc. (Bluemont, Va.)
"Impact the Valley" repairs homes for people (mostly elderly and disabled) living on limited incomes. In August 2006, over 80 volunteers worked on 5 homes with work ranging from mowing grass to large scale water damage repairs from Hurricane Isabelle. The costs were kept low for participants ($50 voluntary donation per person) by generating financial and material support from the community. In addition to the primary week of work, several groups have done follow-up work on two of the homes and will continue that work throughout the year.
$7, 500 -- Helping Hands Ministry (Poquoson, VA)
Helping Hands Ministries has a camp during the summer for youth (7th-12th graders) to participate in. During the day, the youth were divided into teams to go out with adult volunteers and make repairs to homes at no charge to the homeowner, many of who would not be able to make the repairs themselves. This small group of 14 was able to complete nine projects in five days.
$5,000 -- Yorktown Elementary School (Bowie, MD)
Yorktown Elementary School coordinated a community effort to put together book bags for children ages 0-18 years old that are suddenly placed in emergency foster homes. They filled 75 book bags with personal toiletry items, new clothes, books, art supplies, games, toys, and personal letters written from Yorktown Elementary School students. The grant money will be used to continue the book bag project.
$5,000 -- Colmar Manor Bible Church (Colmar Manor, MD)
They collected 100 toys for boys and girls of incarcerated adults at Prince George's County Correctional Center. They also collected 200 cookies for inmates as well as a case of Bibles and monetary donations.
$5,000 -- Harrisonburg High School Key Club (Harrisonburg, VA)
The Harrisonburg Children's Museum's (HCM) goal is to offer educational, hands-on learning opportunities to area youth. In an effort to ensure all families have access to the museum, HCM seeks to provide monthly free admission events on the First Friday evenings of each month. The Harrisonburg Key Club supported this effort by contributing as volunteers to assist the families and children. In addition, they worked with the museum and the local Kiwanis Club to raise the funds to ensure that First Fridays Free is available to all children. The grant money will be used to continue First Fridays Free at HCM.
$5,000 -- Habitat for Humanity of Montgomery County (Gaithersburg, MD)
The 1st Annual Lego Blitz Build was proposed and organized by nine middle school students with the intent to increase awareness for Habitat for Humanity of Montgomery County, Maryland's (HfH-MC) programs and services. More specifically, the Lego Blitz Build, a team competition for middle school students in Montgomery County, kicked off HfH-MC's Youth Volunteer program. The Build provided an opportunity for 70 middle school students to build a Lego Habitat house, increase awareness, and raise funds for HfH-MC.
$2,500 -- DC Preparatory Academy (Washington, DC)
DC Preparatory Academy students partnered with Case Trees and Crispus Attucks Park Association to plant trees and flowers at the nearby Crispus Attucks Park. In total, they had over 200 volunteer participants that took part in the tree planting and park beautification projects, which resulted in the planting of 50 trees and over 200 flowers.
$2,500 -- Cherry Hill Middle School Peer Mediator Club (Elkton, MD)
Cherry Hill Middle School's "Food for Thought" service project consisted of several sub-projects including (1) the Peer Mediator Club organized and sponsored a Cherry Hill Middle School 7th grade food drive/collection to help the Cecil County "Help Center" and local women's shelters, (2) the Peer Mediator Club adopted local needy families for the holidays and had students purchase, wrap, and deliver gifts to the families in addition to preparing food baskets that were delivered to local families, and (3) various representatives from local agencies came to the school to talk to the students about issues related to food, hunger, and nutrition as it relates to various teenagers, the elderly, local needy families, the homeless, and women and their families served by the local shelters.
$2,500 -- Alternatives, Inc. (Hampton, VA)
The KICK (Kids Involved in Community Kindness) program at YH Thomas Community Center of Hampton, VA began in March 2006. The boys determined that the basketball court was in need of some work because it was not a safe place for young people to play. They took pictures, talked with other youth in their community, and created a presentation to present to the YH Thomas Adult Board of Directors. The board was receptive and in August, Ferguson Enterprises adopted the project for the Family Volunteer Day in November. HJ Paint had some employees paint the court in December and the Parks and Recreation Department of Hampton delivered two benches to the Community Center. The YH Thomas youth also installed new backboards and cleaned up around the community center.
$2,500 -- Lorton Community Action Center (Lorton, VA>
The 11 youth participated in a storm drain marking project. They labeled about 100 storm drains with markers alerting the public about the drains flowing directly to the Chesapeake Bay. They also distributed flyers in three neighborhoods to about 363 households.
$2,500 -- Anacostia Watershed Society (Bladensburg, MD)
The Anacostia Watershed Society (AWS) educated and involved 134 DC metro area students (76 Pre-K to 12th grade and 58 college students) in the restoration of the native habitat of the Anacostia Watershed. AWS held six separate native tree planting events for these youth, who represent students from four area schools. Altogether these students planted and cared for 229 native trees at the confluence of the Anacostia and Potomac rivers, in Garfield Park/DC, and the Northeast Branch and Northwest Branch of the Anacostia River/MD.
$2,500 -- Community Services YMCA of South Hampton Roads (Norfolk, VA)
YMCA Healthy Kids Day 2006 at Campostella Elementary School is a national YMCA event that focuses on improving the health and well-being of the nation's youth. The goal of the community service project was to celebrate healthy and active lifestyles, help kids make healthy choices, and introduce a broad range of family-friendly programs found at YMCA's and in the local community.
$2,500 -- Girl Scout Troop 512 (Stuart, VA)
The Patrick County Developmental Center is a facility for physically and mentally handicapped adults. The project partnered each scout to serve as a "pal" to one of the clients of the center. This involved each scout making crafts, sending cards and letters, and visiting as a group and individually.
$2,500 -- John Burroughs Elementary School (Washington, DC)
Their community service project emphasized the importance of taking personal responsibility in order to create a meaningful change in the world. Approximately 75 students in grades 3-6 researched the history, geography, and current condition of the Anacostia River and Chesapeake Bay. They decided to do something to educate their school and community about what they learned. The students wrote letters and designed flyers to educate the community about Anacostia River/Chesapeake Bay Conservation. They sponsored a River Clean-Up Day and picked up trash in their schoolyard and surrounding block. Finally, they stenciled nine storm drains surrounding their school block with the message: "Anacostia River Drainage ? Don't Dump."
$1,000 -- Lovettsville Elementary School PTO (Lovettsville, VA)
Lovettsville Elementary School PTO in conjunction with Mount Olivet United Methodist Church conducted a children's shoe drive from October 1-20, 2006. Students and local families were challenged to donate 200 pairs of shoes for distribution to children in need. Community families brought various sizes of children's shoes (new and gently used) to the three drop-off locations in Lovettsville. The Shoe Shine Party at Lovettsville Elementary School was the conclusion of the youth community service project. The party allowed the shoes to be cleaned and prepped for distribution (pairs matched and bagged). At the party, all children were required to shine at least three pairs of shoes before earning a community service badge. The badge was the ticket they needed to run the obstacle course that was setup by the school's athletic director. More than 50 children earned badges at the party and the mayor of Lovettsville arrived to help shine the shoes.
$1,000 -- Paul H. Cale Elementary School (Charlottesville, VA)
The entire school at Paul H. Cale Elementary School participated in a health fair that taught about the importance of good nutrition, the importance of good dental hygiene, daily physical activity, and how to help prevent the spread of germs. The grant will be used to create a community garden at the school that will be run by the fourth-grade students.
$1,000 -- King William High School FFA (King William, VA)
FFA members designed and constructed a memorial garden and outdoor classroom for the community in memory of a former principal. The project resulted in the construction of a stage with seating and lighting, the building of two large flowers bed, six plant boxes, and two park benches, and the planting of 60 flowers and an 1/8 acre of Falcon Fescue grass.
$1,000 -- Boy Scout Troop 298 (College Park, MD)
The troop provided services to a double amputee that had not been able to access her back porch or backyard for 12 years. This project included construction of a ramp, redirecting of rainwater by creating an underground drainage system from the house downspouts under the walkway and away from the house, re-guarding of a portion of the backyard, and the creation of a new larger paved walkway that had been eroded by the water runoff from the downspouts.
$1,000 -- Project Mend-A-House (Manassas, VA)
Youth groups working with the Group Workcamps Foundation came to Prince William County to help residents that had flooded basements and water damage from the heavy July rains. The volunteers went to a woman's house to assist her with the work. The woman has endured many personal tragedies and hardships in recent years and is no longer able to retain a job and has to rely on disability income. As a result, her house and yard began to suffer--broken down appliances beyond repair, broken windowpanes, overgrown yard, and peeling paint. The youth were able to come in and make many of the needed repairs.
$1,000 -- National Council of Negro Women: FAME (Silver Spring, MD)
The 17 youth participating completed numerous service projects including (1) National Public Lands Day--teens picked up trash and branches from the park and spread wood chips, (2) Coats for the Homeless--providing 22 coats to families at Stepping Stones Shelter, (3) Operation Christmas Child--filled 102 shoeboxes with various supplies and gave to children ages 2-14, (4) Infant Car Seats--purchased 10 infant car seats for Montgomery County Child Welfare Services, (5) Shepherd's Table donations--provided toiletries and undergarments to homeless shelter, and (6) Health Workshop--held a workshop for the community to teach about healthy eating and active lifestyles.
$1,000 -- Spingarn Senior High School (Washington, DC)
The Spingarn Senior High School Key Club initiated a Toys for Tots drive for underprivileged children and the Hospital for Sick Children in Washington, D.C. The students contacted staff, administrators, and each homeroom teacher and asked them to help make the project a success by donating a toy to the drive. The key clubbers spent 2-3 hours a day seeking the support of the Spingarn family via written and oral communications. Flyers were placed in mailboxes and posted throughout the school. The club collected toys on a daily basis.
$1,000 -- Hampton Roads Community Care (Virginia Beach, VA)
The youth completed an "extreme makeover" of J. J. Roberts Elementary School (Dreamkeepers Academy), a Title I low-income school in Norfolk, Va. The project resulted in 75 new lights installed, two dumpsters filled with trash and debris, two new playgrounds, and one new swing set installed.
$1,000 -- Speedwell Elementary School (Speedwell, VA)
The youth established a recycling site at their school and encouraged community participation. Initially, their goal was to recycle aluminum cans; however, everyone was so excited by the idea of recycling that they began collecting everything. More than 80 pounds of aluminum was collected in the first month, 30 pounds of magazines, and 60 pounds of plastic.
$1,000 -- Best Buddies (Germantown, MD)
Best Buddies is a club that pairs students who receive special education services with students who receive general education services. The focus of their club is to give students a chance to form friendships that they would not necessarily otherwise form. The students wanted to do something that the whole school would benefit from. They chose to plant a tree in front of Seneca Valley High School and wanted to put up a plaque so that everyone who saw the tree would see that Best Buddies had planted it. The day they planted was great because students with disabilities and those without worked closely to dig a large hole and then mulch the tree once it was in the ground.