---
One hundred area youth were recognized for their hard work, dedication and community spirit at the eighth annual Redskins All Stars Awards Ceremony on Saturday, April 5 at Redskins Park.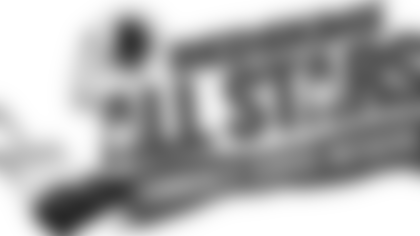 Kicker Shaun Suisham and defensive lineman Ryan Boschetti joined the Redskins Charitable Foundation and the Freddie Mac Foundation to present charitable grants totaling $7,500 to $15,000 to the top five nonprofit organizations.
As a direct result of the support from the Freddie Mac Foundation and the Redskins Charitable Foundation, a total of 31 nonprofit organizations will reinvest $100,000 and immeasurable sweat equity into the greater Washington, D.C. region through continued service in the community.
The Redskins All Stars program is designed to recognize and encourage community service and teamwork among area youth. Groups of children between the ages of 5 and 18, along with their youth leaders, coaches, teachers, and parents, are eligible to participate in the program.
The nonprofit organizations honored were selected from hundreds of area organizations. The organizations receiving grants demonstrated creativity, uniqueness and the spirit of community service.
Since 2000, more than 120,000 area youth have participated in the Redskins All Stars initiative. In 2007, youth participating in the program completed 25,585 volunteer hours.
With the support of the Freddie Mac Foundation, more than $664,400 has been reinvested into the community through grants since 2000.
The Redskins All Stars program is an initiative of the Washington Redskins Charitable Foundation. The Charitable Foundation, the nonprofit philanthropic arm of the team, combines the influence and popularity of the Washington Redskins with the resources and assets of Washington-area corporations.
Founded by Redskins owner, Daniel M. Snyder, the Charitable Foundation is guided by its Leadership Council that consists of CEOs who help shape and define the philanthropic efforts of the Redskins to achieve a measurable impact on youth development in the areas of literacy, youth development, education, community service and health and wellness.
The Freddie Mac Foundation is the title sponsor of the Redskins All Stars program and is a member and supporter of the Washington Redskins Charitable Foundation. Created by Freddie Mac in 1991, the Freddie Mac Foundation is dedicated to creating hope and opportunity for children, youth, and their families.
2007 Redskins All Stars Grant Recipients
$15,000 -- Jeremiah Project (Williamsburg, Va.)
Middle school students from across Virginia came to Winchester, Va., from June to August to help 74 families make their homes warmer, safer, drier and more accessible. These residents were either unable to afford the cost of their own projects due to low income or because of a physical or mental disability.
$10,000 -- Cherry Hill Middle School (Elkton, Md.)
As part of the "Service to Our Military and Veterans" project, students organized several projects that included: care packages containing over 5,000 items and 400 letters sent to soldiers overseas, a Veteran's Day luncheon and awards ceremony honoring 22 veterans, and visits to veteran's hospitals and homeless shelters.
$10,000 -- Teens Opposing Poverty, Inc. (Bluemont, Va.)
The "Impact the Valley" project repaired homes for people (mostly elderly and disabled) living on limited incomes. In June
2007, more than 80 volunteers worked on four homes and a store-front church with work ranging from painting to large scale
water damage repairs from Hurricane Isabelle. In addition to the primary week of work, several groups have done follow-up work on two of the homes and have met other needs for the families.
$7,500 -- Helping Hands Ministry Mission Camp (Ordinary, Va.)
Helping Hands Ministries held a "Faith in Action" camp during the summer for 26 youth. During the week, youth completed eleven different projects that included painting a home, replacing steps and a deck with a handicap ramp, and cleaning an acre lot covered in garbage.
$7, 500 -- Carroll County High School Rotary Interact Club (Hillsville, Va.)
More than 50 high school students encouraged Carroll County elementary schools to read and appreciate education by celebrating the national Read Across America initiative with themed Dr. Seuss skits for each school along with reading books and presenting PowerPoint presentations to the classrooms. In addition, students teamed up with the Big Brown Box project to donate supplies to underprivileged schools in Sierra Lione.
$5,000 -- Good Ground Good Life (Washington, D.C.)
Between Nov. 1-Dec. 15 of last year, 25 youth collected food, clothes and toys for low-income families and homeless persons. After the merchandise was collected, the youth packaged the items in gift bags and used a glass truck to distribute them during the holiday season.
$5,000 -- Good Knight Child Empowerment Network (Beltsville, Md.)
More than 1,300 students came together to make the community more aware of the Super Safety/Mothers Against Predators Initiative. Educational material was given out to more than 800 families and their children to teach them how to stay safe and the deceptions criminals use to lure children into danger.
$5,000 -- Harrisonburg High School Key Club (Harrisonburg, VA)
The Key Club worked with the Harrisonburg Downtown Renaissance to select a location in downtown Harrisonburg that
would function as a teen recreational center for teenagers who have no place to go after school and a place they could call their own. The entire community came together to provide a clean and safe environment for students to feel at home.
$5,000 -- Kid Enjoy Exercise Now (Bethesda, Md.)
Kids Enjoy Exercise Now (KEEN) provides one-to-one recreational opportunities for children and young adults with mental and physical disabilities. Teen volunteer coaches work with their athletes in a variety of sports including basketball, soccer, track, bowling and tumbling to help break down the physical and attitudinal barriers that keep people with disabilities from participating in their communities.
$5,000 -- St. Ambrose School (Annandale, Va.,)
More than 500 youth continued their "Community Broom Closet Collection" partnership with the Arlington Alexandria Coalition for the Homeless by holding a community collection that helped ease the burden of 25 families transitioning from shelters to private housing. The youth also worked with Fairfax County police and Toys ?R Us to collect 225 toys for seriously ill children hospitalized during the holiday season.
$2,500 -- The House, Inc. (Woodbridge, Va.)
Youth held their 3rd annual "Cinderella Ball" for disabled students in the greater Washington, DC area. The Cinderella Ball highlights the community's awareness of disabled students, their parents, and their need to be appreciated and recognized with positive acceptance. Media attention surrounding the event has given companies the opportunity to donate their services by providing free adjustments and/or repairs on wheelchairs to students to help with their safety.
$1,000 -- Boys & Girls Clubs of Harrisonburg and Rockingham County (Harrisonburg, Va.)
$1,000 -- DC Creative Writing Workshop (Washington, D.C.)
$1,000 -- Drew Elementary School (Washington, D.C.)
$1,000 -- Girl Scout Troop 190 (Avenue, Md.)
$1,000 -- Girl Scout Troop 2105 (Haymarket, Va.)
$1,000 -- Girl Scout Troop 3264 (Gaithersburg, Md.)
$1,000 -- Grace Apostolic Church (Washington, D.C.)
$1,000 -- Habitat for Humanity of Montgomery County (Gaithersburg, Md.)
$1,000 -- Hampton Roads Community Care (Virginia Beach, Va.)
$1,000 -- Hopewell High School Beta Club (Hopewell, Va.)
$1,000 -- National Council of Negro Women (Silver Spring, Md.)
$1,000 -- Project Mend-a-House (Manassas, Va.)
$1,000 -- Rural Retreat High School (Rural Retreat, Va.)
$1,000 -- Salem Children's Trust (Frostburg, MD)
$1,000 -- Spingarn Senior High School (Washington, D.C.)
$1,000 -- St. Thomas More Catholic Church (Washington, D.C.)
$1,000 -- Volunteer Hampton Roads (Norfolk, Va.)
$1,000 -- Westview on the James Camp & Retreat Center (Goochland, Va.)
$1,000 -- Women in Film & Video DC (Washington, D.C.)
$1,000 -- Yorktown Elementary School (Bowie, Md.)