Redskins.com breaks down some of the key matchups to keep an eye on during Sunday's Redskins-Giants game at FedExField.
"Redskins-Giants: 4 Keys to the Game" is presented by Papa John's.
Every Monday, fans can order a large cheese pizza for only $9.99, plus for each TD that the Redskins score, fans get one free topping. And with a Redskins victory, fans get double the toppings.
Jason Campbell vs. Giants Pass Defense
Jason Campbell feels like a "completely different" quarterback than he was in Week 1, when he struggled against an aggressive Giants defense.
Campbell dealt with pressure from the Giants early on, but he eventually settled down. For the season, Campbell has completed 64.1 percent of his passes for 2,113 yards, 10 touchdowns and three interceptions.
The Redskins are 7-2 this season when Campbell does not throw an interception in a game.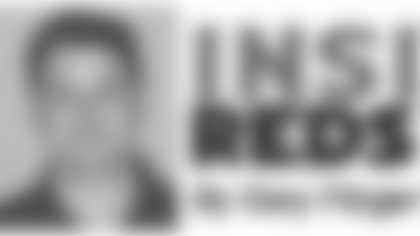 New York has the NFL's fifth-ranked defense. Against the pass, they are ranked eighth in the NFL, allowing an average of 190.5 yards per game.
The Giants' secondary, which includes young, emerging cornerbacks Corey Webster and Aaron Ross, plays aggressive because the front four often gets good pressure on the quarterback.
The Giants have recorded 15 interceptions, fifth-most in the league.
Still, the defense has yielded 29 or more points three times this season, including 31 by the Philadelphia Eagles in Week 10. The Eagles run a similar-style offense as the Redskins.
Redskins Run Defense vs. Giants Running Backs
The Redskins are ranked seventh in the NFL in run defense, allowing just 89.3 yards on the ground. They are 6-2 in games where they hold opposing running backs to less than 100 yards.
The defense has been tested in recent weeks, though. Dallas's Marion Barber rushed for 114 yards in Week 11 and Seattle's Maurice Morris had 103 yards last week.
And the Redskins may have to rely on their depth on defense, as tackle machine London Fletcher is slowed by a foot injury this week.
The Giants' top-ranked rushing attack employs a three-headed monster, led by bulldozing back Brandon Jacobs. The 6-4, 264-pounder has 879 yards and is averaging 5.4 yards per carry and is a load to take down.
Derrick Ward, who is sturdy at 5-11 and 220 pounds, has 600 rushing yards this season. Speedster Ahmad Bradshaw comes in late in games for a change of pace. He has 310 rushing yards and a 6.3 yards-per-carry average.
Jacobs has a knee injury and Bradshaw has a neck injury and their availability could have an impact on the game.
The Redskins must fend off blocks by a solid--if not spectacular--Giants offensive line and maintain leverage. And they must swarm to running backs and match their physicality.
Rock Cartwright vs. Giants Kickoff Coverage
In a late November game between two teams with top defenses, field position could be critical.
That's where Rock Cartwright comes in.
Cartwright is once again turning in a solid season as a kick returner. He has 32 returns this season for a 25.0-yard average, sixth-best in the NFL.
He is at his best when he follows his blocks and gets past the first wave of tacklers. He may not have game-breaking speed, but he consistently gives the offense great field position.
The Giants' kick coverage unit is ranked 11th in the NFL, allowing 22.4 yards per return.
Santana Moss vs. Corey Webster
When the Redskins' offense is operating at peak efficiency, Santana Moss is always a factor. He has 53 catches for a team-high 773 yards and five touchdowns this season.
In the Redskins' 16-7 loss to the Giants in Week 1, Moss turned in a strong effort, catching five passes for 37 yards and one touchdown.
Moss has had some big games against the Giants. He grabbed six passes for 103 yards and a touchdown in a 2006 game. He caught five passes for 160 yards and three touchdowns in a 2005 matchup.
Webster is a fourth-year player emerging as a top-level cover cornerback. He became a regular starter in the Giants' Super Bowl run last year, recording two interceptions.
This year, Webster--who stands at 6-0 and 202 pounds--leads the Giants with three interceptions.