Sunday night's Redskins-Cowboys game at FedExField had a sartorial surprise.
The Redskins wore burgundy jerseys and gold pants, a uniform combination used by the team from 1961-78.
Burgundy jerseys and gold pants were especially popular during the 1970s under head coach and future Hall of Famer George Allen.
The Redskins wore the uniform combination in Super Bowl VII against the Miami Dolphins in January 1973.
In 1979, the Redskins started to wear white jerseys and burgundy pants for home games and burgundy jerseys and white pants on the road.
This year, the Redskins' general manager is Bruce Allen, George Allen's son. Bruce has emphasized the Redskins' rich history and in terms of the team's uniform, the franchise is going back to the past, for one night at least.
The first hint that the Redskins would wear a different uniform combination was at pre-game on Sunday night.
Guard Derrick Dockery was the first to walk out on the field wearing gold pants. The pants had burgundy and white stripes down the sides. The outfit included burgundy and white striped socks as well.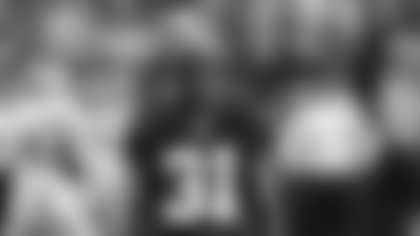 Later in pre-game, kicker Graham Gano raced onto the field wearing the full uniform, which included the burgundy jersey.
He was carrying the traditional Redskins helmet with the Native American logo that the team has used since 1972.
The last time the Redskins wore the burgundy jersey, gold pants combinations was in 2002 for the team's 70th Anniversary celebration.
The team also wore the uniform combination in 1994 as part of the NFL's 75th anniversary.
The last time the Redskins wore gold pants in a game was in 2007. In a Sept. 23 game against the New York Giants, the team wore white jersey and gold pants.
The Redskins Marching Band also wore new uniforms for the game. The outfit was mostly burgundy, with a gold sash in the front and a gold cape, and a white cap.