Typical of the Washington-Dallas rivalry, the Redskins and Cowboys were in a taut defensive battle on Sunday night at FedExField.
This time, the final moments came down to the Redskins stopping running back Marion Barber.
Barber and the Cowboys, clinging to a 14-10 lead late in the fourth quarter, were able to hold on to the ball for the final 6:40 of the game.
And so the Redskins lost a 14-10 decision and dropped to 6-4 on the season. Dallas is also 6-4. Both teams trail the NFC East-leading New York Giants, who are 9-1.
The Redskins have lost two consecutive games, both at FedExField, both nationally televised contests.
And they have scored just one touchdown in the last eight quarters.
The offense is struggling to finish off drives. Three times in the second half, the Redskins moved into Dallas territory, only to come away with no points.
Jason Campbell was 22-of-34 for 162 yards, one touchdown and one interception. Clinton Portis started the game despite a sprained knee and led the ground game with 68 yards on 15 carries.
Mike Sellers caught Washington's only touchdown of the game, a 2-yard pass from Campbell on the Redskins' first drive of the game.
Defensively, the Redskins matched up well against the Cowboys, who received a spark with quarterback Tony Romo returning from a fractured pinky finger on his throwing hand.
Romo struggled early on, throwing a pair of first-half interceptions to DeAngelo Hall and Rocky McIntosh. He finished 19-of-27 for 198 yards and one touchdown to go along with his interceptions.
It was Barber who proved to be the difference, particularly in the fourth quarter. He recorded 114 yards on 24 carries and a touchdown.
At the outset of the game, FedExField was raucous following a pre-game ceremony honoring 2008 Hall of Fame inductees Art Monk and Darrell Green.
The Redskins took advantage of the early momentum, starting their first drive near midfield.
Portis made an impact early on, picking up 16 yards on his first three carries.
After Campbell tossed a 13-yard pass to Sellers, the Redskins faced a 4th-and-1 at the Cowboys' 11-yard line.
Head coach Jim Zorn opted to go for the first down instead of kicking a field goal.
Portis bulldozed up the middle to pick up the first down, found a seam for extra yardage and was finally taken down by Zack Thomas after a 9-yard pickup.
"We had the momentum and I felt like Clinton was fresh and running hard," Zorn said. "I thought we could get that yard. I wanted to make sure we scored."
On 1st-and-goal, Campbell faked a handoff to Portis and found Sellers wide open in the right corner of the end zone for a 2-yard touchdown pass.
The Redskins' defense made its presence known early on.
Romo threw a pass in the flat to Terrell Owens, but Smoot was there to upend the mercurial wide receiver for a 2-yard gain.
Later in the drive, Hall, the two-time Pro Bowl cornerback signed by the Redskins on Nov. 8, made an impact.
On 3rd-and-3 at the Redskins' 27-yard line, Romo threw a pass behind Owens. Hall was there to pull in the interception, his first as a Redskin.
In the second quarter, the Cowboys moved deep into Redskins territory again.
At the Redskins' 25-yard line, Romo threw to Owens across the middle, but his pass was tipped into the air by Carlos Rogers.
McIntosh drifted back and pulled in the tipped ball for the interception, the first of his 3-year career.
Midway through the second quarter, Dallas moved into Redskins territory again, using a pair of big plays.
Tight end Jason Witten got a step on H.B. Blades, who had replaced an injured Marcus Washington, and caught a 28-yard pass along the left sideline to the Redskins' 27-yard line.
Then Owens grabbed a short pass and raced across field for a 25-yard pickup before being tackled by LaRon Landry at the 2-yard line.
Barber finished off the drive, diving into the end zone behind left tackle for a 2-yard touchdown run.
With 57 seconds left in the first half, Rock Cartwright took the ensuing kickoff and followed strong blocks by Sellers and Lorenzo Alexander to race into open field.
Cartwright was forced out of bounds at the Cowboys' 37-yard line after a 58-yard return.
The Redskins had no time outs, though, so when Portis was tackled in bounds on second down, the game clock wound down. Campbell spiked the ball on third down to stop the clock with 9 seconds left.
Shaun Suisham connected on a 41-yard field goal to give the Redskins a 10-7 lead going into halftime.
In the third quarter, the Redskins' offense started to struggle as it moved into Dallas territory
Campbell's sideline pass to Santana Moss was picked off by cornerback Terence Newman, ending one drive.
Later, Campbell was sacked by defensive tackle Jay Ratliff on a 3rd-and-13 play, pushing the line of scrimmage back to the Cowboys' 28-yard line.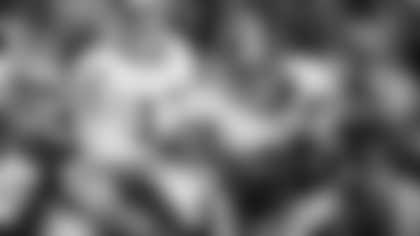 Suisham's 41-yard field goal attempt landed a few yards short of the goal post. The score remained 10-7.
Early in the fourth quarter, the Cowboys used strong running by Barber--he picked up 27 yards on four consecutive carries--to move into scoring range.
Two plays later, Romo saw tight end Martellus Bennett in single coverage down the left sideline. He threw a pass over Chris Horton to Bennett, who pulled the ball in for a 25-yard touchdown catch.
FedExField was suddenly quiet. The Cowboys had the lead 14-10 with 10:43 left in the game.
On the Redskins' next drive, the offense got off to a quick start as Portis picked up 10 yards on a run to the right.
Then Campbell threw a pass to Moss for another 10-yard gain.
The offense was soon faced with a 4th-and-4 at the Cowboys' 37-yard line.
Zorn decided to go for it again.
Campbell's pass to Moss along the right sideline was broken up by Newman.
The Cowboys took over possession.
The Redskins' defense knew that they would get a heavy dose of Barber now.
With 6:40 left, the Cowboys wanted to run out the clock.
Barber proved to be a load. On six consecutive carries, Barber picked up 27 yards to the Redskins' 36-yard line.
It was 3rd-and-8. Critical play just before the 2-minute warning.
Romo dropped back to pass and found Barber--who else?--across the middle of the field for a 10-yard gain and a first down.
Three more runs by Barber, and it was 4th-and-1 with 1:08 left in the game.
The Cowboys opted to go for the first down, to essentially end the game.
Barber took a pitch from Romo and rolled right. He dove past the first-down marker for the necessary yardage.
It was a disappointing finish to a night that started with plenty of positive momentum.
---
Coming off their bye week, the Redskins renew their long-standing rivalry with the Dallas Cowboys on Sunday, Nov. 16 at FedExField. Kickoff is 8:15 p.m. ET. The Redskins-Cowboys game is presented by GEICO.
FedExField is a natural grass surface. The stadium seats 91,704.
It's the first NFC East home game the Redskins have played this year. The Redskins are 2-1 in NFC East play this season. They lost to the New York Giants 16-7 in Week 1, but later defeated the Cowboys 26-24 in Week 4 and the Philadelphia Eagles 23-17 in Week 5.
The Redskins are 3-2 at FedExField so far this season. They are 0-2 in nationally televised prime time games, with losses to the Giants and Pittsburgh Steelers in Week 9.
Since 1990, the Redskins are 12-7 coming off a bye. The Cowboys are also coming off a bye this week and they have a 14-5 record in games following their bye.
The game will be televised to a national audience on NBC. Al Michaels handles the play by play with color commentary from John Madden. Andrea Kremer serves as sideline reporter.
On radio, the game will be broadcast locally on ESPN 980. Larry Michael handles the play by play with color commentary by Hall of Famers Sonny Jurgensen and Sam Huff. Rick "Doc" Walker serves as sideline reporter.
Westwood One Radio will also broadcast the game nationally. Dave Sims handles the play by play with color commentary by Jim Fassel.
---
PROJECTED STARTING LINEUPS
OFFENSE
Pos.
Redskins
Cowboys
WR
89 Santana Moss
81 Terrell Owens
LT
60 Chris Samuels
76 Flozell Adams
LG
66 Pete Kendall
63 Kyle Kosier
C
61 Casey Rabach
65 Andre Gurode
RG
77 Randy Thomas
70 Leonard Davis
RT
76 Jon Jansen
75 Marc Colombo
TE
47 Chris Cooley
82 Jason Witten
WR
82 Antwaan Randle El
84 Patrick Crayton
QB
17 Jason Campbell
9 Tony Romo
FB
45 Mike Sellers
34 Deon Anderson
RB
26 Clinton Portis
24 Marion Barber
DEFENSE
Pos.
Redskins
Cowboys
DE
99 Andre Carter
96 Marcus Spears
DT
96 Cornelius Griffin
90 Jay Ratliff
DT
64 Kedric Golston
99 Chris Canty
DE
55 Jason Taylor
98 Greg Ellis
SLB
53 Marcus Washington
56 Bradiie James
MLB
59 London Fletcher
55 Zach Thomas
WLB
52 Rocky McIntosh
94 DeMarcus Ware
LCB
24 Shawn Springs
41 Terence Newman
RCB
22 Carlos Rogers
42 Anthony Henry
SS
48 Chris Horton
25 Patrick Watkins
FS
30 LaRon Landry
26 Ken Hamlin
SPECIAL TEAMS
Pos.
Redskins
Cowboys
P
1 Ryan Plackemeier
2 Sam Paulescu
K
6 Shaun Suisham
6 Nick Folk
H
1 Ryan Plackemeier
14 Brad Johnson
LS
67 Ethan Albright
91 L.P. Ladouceur
KOR
31 Rock Cartwright
19 Miles Austin
PR
82 Antwaan Randle El
84 Patrick Crayton
---
Sunday night's Redskins-Cowboys matchup marks the 98th time the two clubs have played since their storied rivalry began in 1960.
The two teams have played at least twice a year each regular season since 1961, with the exception of the strike-shortened 1982 season.
Dallas leads the all-time series 56-39-2, with victories in 16 of the last 22 games. The Redskins have won five of the last seven contests, however.
In Week 4 earlier this season, the Redskins defeated the Cowboys 26-24 at Texas Stadium. The Redskins held a 38-minute time of possession advantage and out0rushed the Cowboys 161-44 in the game.
After trailing 7-0 early on, the Redskins scored 17 points in the second quarter and led 26-17 late in the fourth quarter. The defense fended off a late rally to seal the win in the last Redskins-Cowboys regular season game at Texas Stadium.
Shaun Suisham connected on four field goals in the game. Jason Campbell completed 20-of-31 passes for 231 yards and two touchdowns, while Clinton Portis logged 121 rushing yards and Santana Moss hauled in eight passes for 145 yards.
The Redskins and Cowboys split their season series in the 2006-07 seasons.
The first time the two clubs met was in 1960. The Cowboys were just three weeks old and has lost their first game. Dallas headed to Washington for its first-ever road contest and lost 26-14 in front of 21,142 fans.
The Redskins and Cowboys have clashed twice in the postseason, with Washington winning both meetings: 26-3 in the 1972 NFC Championship Game and 31-17 in the 1982 NFC Championship Game.
---
REDSKINS 2008 RANKINGS
Offense
Rank
Yards/Game
Total Offense
11
348.3
Rushing Offense
4
144.7
Passing Offense
18
203.7

Defense
Rank
Yards/Game
Total Defense
4
272.1
Rushing Defense
6
80.7
Passing Defense
8
191.4
COWBOYS 2008 RANKINGS
Offense
Rank
Yards/Game
Total Offense
12
345.2
Rushing Offense
8
115.8
Passing Offense
10
229.4

Defense
Rank
Yards/Game
Total Defense
11
300.9
Rushing Defense
17
107.1
Passing Defense
11
193.8
---
FAMILIAR FACES ON THE COWBOYS
Quarterback Brad Johnson played for the Redskins from 1999-2000. Johnson started 27 games in two seasons. In 1999, he passed for 4,005 yards, second-most in franchise history, and threw 24 touchdowns.
Midwest area scout Bill DeKraker was in the Redskins' scouting department from 1995-97.
---
REDSKINS-COWBOYS NEWS & NOTES
-- Highlights of the Rivalry
The Redskins-Cowboys rivalry is always a highlight of the NFL regular season. Here's a breakdown of the series:
-- 49 games have been decided by 10 points or more
-- 33 games have been decided by two or more touchdowns
-- 19 games have been decided by three or more touchdowns
-- 38 games have been decided by less than a touchdown
-- There have been two ties, a 28-28 game in 1961 and a 35-35 game in 1962
-- Dallas had a 10-game winning streak from 1997-2002
-- Biggest Redskins win was by 28 points in 2005
-- Biggest Redskins loss was by 35 points in 1993
-- The two clubs have played 14 Monday Night games, six Thanksgiving games, three Sunday night games, one Friday game and a Saturday game
-- The two clubs have played eight season openers and seven season finales
-- First-Year Head Coaches
Jim Zorn is 6-3 in his first nine games as head coach. He is aiming to lead the Redskins to their third winning season in the last four years.
Zorn is looking to become the seventh Redskins head coach to record a winning record in his first year at the helm.
The list of first-year head coaches with winning records includes Ray Flaherty (7-5 in 1936), Dutch Bergman (6-3-1 in 1943), Dudley DeGroot (6-3-1 in 1944), Dick Todd (5-4 in 1951), Vince Lombardi (7-5-2 in 1969) and George Allen (9-4-1 in 1971).
Seven first-year head coaches finished their rookie campaign with a .500 mark, while 12 finished with a losing record.
As an undrafted rookie quarterback, Jim Zorn got his NFL start with the Dallas Cowboys in 1975. He spent time in the Cowboys' training camp, playing behind future Hall of Fame quarterback Roger Staubach.
"I played in Texas Stadium a long, long time ago," Zorn said. "I played in my first NFL [preseason] game there, against the Oakland Raiders."
Zorn was released by the Cowboys and eventually signed on with the Seattle Seahawks in 1976.
He started all 14 games with the Seahawks in 1976 and went on to play 11 seasons in the NFL.
Against Dallas, Moss has had some of the best games of his 8-year NFL career. In Week 4 earlier this season, Moss caught eight passes for 145 yards in the Redskins' 26-24 win over the Cowboys at Texas Stadium.
In two games versus Dallas last year, Moss caught 17 passes for 236 yards and two touchdowns.
Overall, Moss has caught 41 passes for 747 yards--an 18.2 yards-per-catch clip--and four touchdowns in seven games against the Cowboys.
Of course, Moss's best game versus Dallas came in 2005 when he caught two fourth-quarter touchdowns, including a 70-yarder from Mark Brunell, to help the Redskins come back and beat the Cowboys 14-13 at Texas Stadium.
-- Cooley And the Cowboys
Chris Cooley is emerging as a player to be reckoned with when the Redskins take on the Dallas Cowboys.
In eight games against the Cowboys, Cooley has caught 34 passes for 391 yards and five touchdowns.
Chris Cooley has caught a pass in 65 straight regular season contests, dating back to Week 9 of the 2004 season.
For his career, Cooley has 279 receptions. He is in second place on the Redskins' career receptions list for tight ends, trailing only Jerry Smith who has 421.
Three Redskins players got their NFL start in Dallas before finding a home in Washington.
Khary Campbell originally signed with Dallas as an undrafted rookie free agent in 2002. He spent time on the Cowboys' practice squad, eventually landing in Washington in 2004.
Demetric Evans played the 2001-02 seasons with the Cowboys. In 2001, he logged 35 tackles, one sack and one forced fumble in 16 games played. He joined the Redskins as a free agent prior to the 2004 season.
Shaun Suisham played parts of two seasons with Dallas in 2005-06. He played in six games, replacing injured Mike Vanderjagt, and connected on 4-of-6 field goals. He signed with Washington in December 2006.
With the addition of Shaun Alexander to Washington's offense on Oct. 14, the Redskins now have two of the top eight active career rushing leaders on the team.
Alexander has 9,452 yards and Clinton Portis has 8,710 yards, as of Week 10 this season. They are two of 30 players in NFL history with at least 8,500 career rushing yards on their resume.
The only other team to have a pair of 8,500-yard rushers playing together was the 1992 Los Angeles Raiders, which featured Hall of Famers Marcus Allen and Eric Dickerson.
-- NFC East the Toughest Division?
The four teams of the NFC East have combined for a 24-12 record, the best among the NFL's eight divisions. The clubs have a 18-6 mark outside the division.
The NFC East is the only division without a team with a losing record.
Five of the Redskins' six wins have come against NFC foes, a total which is tied with Tampa Bay for second-most in the conference behind the New York Giants.
-- From Texas to the Redskins
The Redskins have two players on the 53-man roster who hail from the state of Texas: Rock Cartwright is from Conroe, Tex., a suburb of Houston, and rookie Malcolm Kelly is from Longview, Tex., which as about an hour east of Dallas.
In addition, rookie cornerback Matteral Richardson, on the Redskins' practice squad, grew up in Marlin, Tex., near Waco.
Redskins secondary coach Jerry Gray hails from Lubbock, Tex.
After becoming the first team in NFL history to play its first five games without an offensive turnover, the Redskins have registered five fumbles lost and two interceptions in the last four contests.
Still, the Redskins have only eight turnovers on the season, which is the second-fewest in the NFL behind the Miami Dolphins.
Washington's two interceptions are the fewest in the league. Every other club has at least five.
Since being named the Cowboys' starter midway through the 2006 season, Tony Romo has posted a 13-3 mark in road games.
Two of those three losses have come at FedExField: a 22-19 loss in 2006 and a 27-6 loss in 2007.
Romo's only other road loss came at Arizona in Week 6 earlier this season. That's the game that Romo suffered a broken pinky finger, sidelining him for three games.
Romo has completed 65.7 percent of his passes in road games, for 28 touchdowns and 16 interceptions.
Redskins legends and 2008 Pro Football Hall of Fame inductees Art Monk and Darrell Green will receive their Hall of Fame rings during a special pre-game ceremony prior to the Redskins-Cowboys game at FedExField.
"Art and Darrell are very deserving of this honor and it will be special for them to receive their rings and share this experience with Redskins fans," owner Daniel M. Snyder said. "This will be a wonderful and memorable evening to celebrate the accomplishments of these two great Redskins."
Monk and Green were inducted into the Hall of Fame on Aug. 2, 2008, in Canton, Ohio.
The Redskins have elected six players as captains for the 2008 season. They wear a black "C" on their jersey during games.
On offense, Jason Campbell amd Chris Samuels are the captains.
On defense, Cornelius Griffin and London Fletcher are the captains.
On special teams, Rock Cartwright and Khary Campbell are the captains.
FedExField is the largest stadium in the NFL with 91,704 seats. It is more than 11,000 seats ahead of the second biggest stadium, Giants Stadium.
The Redskins set a single-game attendance record--90,910--in the Dec. 30, 2007 game against the Dallas Cowboys.
The Redskins travel to Seattle to take on the Seahawks at Qwest Field. Kickoff is 4:15 p.m. ET.
Two of the last three Redskins seasons ended in Seattle in the playoffs. In 2005, the Redskins lost 20-10 to the Seahawks. Last year, the Redskins lost 34-14 to the Seahawks.
It's also the first time that head coach Jim Zorn faces off against his former team.