As the NFL Draft unfolds on Saturday, April 25, keep in mind that trades are a big part of draft day.
Throughout history, the Redskins have been willing participants recently.
Perhaps the Redskins' most famous draft day trade in recent years came in 1999. That year, the Redskins jumped on a pair of trades that had far-reaching impact.
Team officials worked out trades with the New Orleans Saints and Chicago Bears that ended up with the Redskins holding the seventh overall pick.
The Saints got their man in running back Ricky Williams, while the Redskins drafted cornerback Champ Bailey and obtained a first-round pick in 2000.
A year later, draft pick maneuverings allowed the Redskins to come up with Penn State linebacker LaVar Arrington with the No. 2 overall selection and Alabama's Chris Samuels, a six-time Pro Bowler at left tackle, with the third pick overall.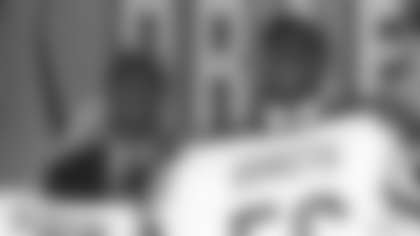 Chris Samuels, LaVar Arrington
in 2000 (AP Photo)


In that 2000 draft, the Redskins had held the second, 12th and 24th picks. They traded the 12th and the 24th to San Francisco in February for the No. 3 overall selection, manifested in Samuels.
In 2004, the Redskins turned creative and traded picks with the New Orleans Saints to draft tight end Chris Cooley, an emerging star in the league.
In 2006, the Redskins worked out a trade with the New York Jets to move up in the second round and draft University of Miami linebacker Rocky McIntosh with the 35th overall pick.
Looking ahead to to the 2009 NFL Draft, the Redskins consistently have pledged to do anything to improve their team.
The possibility always looms that that may include some last minute wheelings and dealings.
Don't look for any George Allen-type wholesale changes in terms of draft picks, though.
Allen, after all, is the head coach who in 1971, his first year in Washington, sent draft picks all over the league in favor of veteran players who became the bedrock of his "Over the Hill Gang."