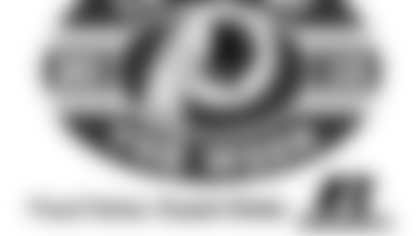 **
Redskins High School
         Coach of the Week Program

         **</td>
     </tr>
     <tr>
     </tr>
 </tbody>

---
Each week during the 2010 high school football season the Redskins will select one area high school head coach as the Redskins High School Coach of the Week. The selection is based on the coach's continuing commitment towards promoting youth football, developing motivated student-athletes, his overall community involvement and overall team performance and record.
Each of the coaches chosen throughout the high school season will receive a $1,000 donation from the NFL Youth Football Fund to their football program and a framed certificate signed by NFL Commissioner Roger Goodell, Redskins Head Coach Mike Shanahan and Redskins General Manager Bruce Allen.
2010 COACH OF THE YEAR: Greg Fuller- Head Football Coach at H.D. Woodson High School
Coach Fuller has been coaching at H.D. Woodson for 12 years. During his coaching career at Woodson, he has been honored as a 2005 Redskins Coach of the Week, the 2002 Pigskins Club Coach of the Year, the 2001, 2002, 2004, 2005, 2007, 2009 and 2010 DCIAA Coach of the Year, the 2003, 2008 and 2009 Ward 7 Coach of the Year, the 2002, 2007, 2008 and 2009 Eastern Board of Officials Coach of the Year, and the 2008 DC Sports Fan Coach of the Year. Under Coach Fuller, the Woodson Warriors have claimed the past three DCIAA Championships. Fuller's overall record at Woodson is 88-35 and this season the Warriors finished 9-3. In addition, three of Coach Fuller's student-athletes were part of the 2010 Fall All-Met selections.
Coach Fuller's input into his student-athletes' lives off-the-field is just as important as on-the-field. Fuller is viewed as a role model by his athletes and he constantly encourages them to be the best person they can be on and off-the-field. He stresses the importance of academics by imposing mandatory study halls and ensures that student-athletes receive tutoring when needed. Woodson Athletic Director Edward Wilkerson says "each athlete understands that you must be a student before you can be an athlete, the two go hand in hand." Coach Fuller also stresses that football can provide valuable life lessons well beyond high school. Wilkerson continues, the "goal for the Woodson football program is one that will help a student believe in himself. One that would help an athlete to understand that if he is willing to put the work in, football can help him find a way out of the neighborhood and into college. Saving the lives of our youth is what Coach Fuller really believes in, playing football provides you with the discipline needed to overcome some of life's toughest obstacles." Fuller, with the assistance of his coaching staff and players, also provides a free summer clinic to the community's Pop Warner teams and coaches.