REDSKINS PARK, LOUDOUN COUNTY, VA. --The Washington Redskins announced Feb. 11 that they have hired Chip Garber as the team's defensive quality control coach.
Garber brings 28 years of coaching experience, including 27 in the collegiate ranks, with him to Washington.
Prior to joining the Redskins, Garber spent the 2008 season as the defensive backs coach for the Hamilton Tiger-Cats of the Canadian Football League.
Garber, a native of Winchester, Va., and a three-year letterman at the University of Maryland, was previously the wide receivers coach at the University of North Texas in 2006.
Prior to his stint with North Texas, Garber worked as the defensive backs coach at Hofstra for the 2004-05 seasons, which was his second stint with the Pride. Garber held the title of defensive coordinator/safeties coach in 1999.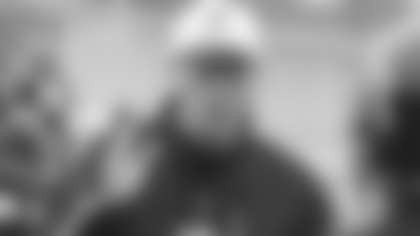 Chip Garber (Photo by Scott
McNaughton, Hamilton
Tiger-Cats)


Under his watch the Pride defense ranked seventh in Division I-AA in scoring defense (15.6 ppg) and 14th in passing efficiency.
In between his stints at Hofstra, Garber spent four seasons at West Point as Army's assistant head coach-linebackers (2000-02) and assistant head coach-defensive backs (2003). He also served as defensive coordinator and secondary coach at Virginia Military Institute from 1996-98.
Before going to VMI, Garber spent the previous four seasons (1992-95) coaching the defensive backs at the University of Minnesota.
During the 1995 season, Garber worked on the same staff as Redskins head coach Jim Zorn, who was serving as the Gophers' quarterbacks coach.
Garber started his coaching career in 1980, spending two seasons as a part-time assistant with SMU.
From 1982-89, Garber coached at Kentucky, first working with wide receivers, then switching sides to instruct the defensive backs and assist with special teams. Garber continued to coach defensive backs and special teams during stints with Mississippi State (1990) and TCU (1991).
As a player, Garber was a three-year letterman as a linebacker at Maryland from 1975-77.
During that span, the Terrapins reached the Gator Bowl, Cotton Bowl and Hall of Fame Bowl and captured the 1975 and 1976 ACC championships. He graduated with a bachelor's degree in communications in 1978.
Garber and his wife Linda have three children: Rusty, Laurie Beth and Derek.