The Washington Redskins have named Mike Shanahan the franchise's executive vice president/head coach, making him the 28th head coach in team history.
The two-time Super Bowl winner brings a 146-98 regular season record as an NFL head coach over 14 seasons. He is one of 12 head coaches in league history to guide his club to a pair of Super Bowl victories and one of six to accomplish the feat in consecutive years.
Shanahan, 57, has the 17th-most regular season wins (146) by a head coach in NFL history and ranks second in that category among active coaches (Bill Belichick, 148). Including eight postseason victories, Shanahan's 154 overall wins are tied for 16th all-time and are also second among active coaches to Belichick's 163.
In 16 seasons as a head coach with the Denver Broncos (1995-2008) and the Los Angeles Raiders (1988-89), Shanahan has a regular season winning percentage of .598 and an overall winning percentage of .615 (154-103).
During his tenure with the Broncos, Shanahan guided the franchise to two Super Bowl victories, three conference championship game appearances, seven postseason berths and nine winning seasons, including a 14-2 record in 1998. He joined Vince Lombardi, Don Shula, Chuck Noll, Jimmy Johnson and Belichick as one of six coaches with back-to-back Super Bowl championships.
During his 25-year NFL coaching career, Shanahan has been a part of teams that have played in 10 AFC or NFC Championship games. He has coached in six Super Bowls--five with Denver and one with San Francisco.
In his nine seasons coaching at the collegiate level, Shanahan's teams participated in eight bowl games and won two national championships (Oklahoma, 1975; Eastern Illinois, 1978).
Shanahan led Denver to 138 regular season victories in 14 seasons in Denver, a win total that marks the 10th-most by a head coach with one franchise in NFL history.
Shanahan arrived as head coach in Denver in 1995 from the Super Bowl XXIX champion San Francisco 49ers, where he served as offensive coordinator for three seasons (1992-94).
San Francisco's offense reached unprecedented levels of success under his leadership. The 49ers' three-year offensive averages under Shanahan were the most productive in the history of pro football.
His three-year averages included being number one in the NFL in total points (469.7 per year), total touchdowns (60.3), rushing touchdowns (23.7), passing touchdown (31.7), third-down efficiency (48.5 percent), total offense (6,230 yards) and average per play (6.2).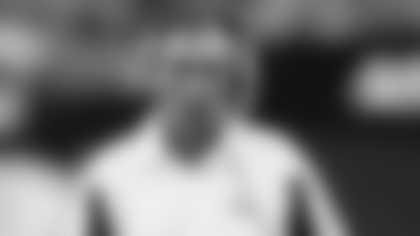 San Francisco quarterback Steve Young rewrote many NFL passing records and was named the NFL Most Valuable Player twice in his three years under Shanahan's guidance. In addition, Young threw for six touchdowns on his way to earning Super Bowl XXIX MVP honors.
Shanahan was on the Broncos coaching staff for all three of their Super Bowl appearances in the 1980s (followed the 1986, 1987 and 1989 seasons). He first went to Denver in 1984 as the club's wide receivers coach. He was promoted to offensive coordinator in 1985 and would serve in that capacity the next three seasons.
Shanahan then returned to Denver as quarterbacks coach on Oct. 16, 1989, after serving as head coach of the Los Angeles Raiders in 1988 and through the first four games of the 1989 campaign.
Shanahan began his coaching career as an offensive assistant for Oklahoma in 1975-76, and the school won the national championship in his first year on the staff.
In 1977, at the age of 24, Shanahan was hired as Northern Arizona's backfield coach and the Lumberjacks averaged a school-record 391.1 yards per game that season.
A year later, Shanahan went to Eastern Illinois as offensive coordinator and helped guide his alma mater to the Division II title. The year before Shanahan's arrival, the team was 1-10.
In 1979, Shanahan served as offensive coordinator at Minnesota, where he implemented the run-and-shoot offense to help the Golden Gophers set 40 school offensive records.
Shanahan moved on to Florida the following year, inherited the second poorest offense in Division I football as well as a team record of 0-10-1 the previous year. In Shanahan's four years at Florida, the team broke many offensive school records and went to four consecutive bowl games.
During his stint as a college coach, his teams had a combined record of 78-29-2 (.725).
A native of Oak Park, Ill., Michael Edward Shanahan attended East Leyden High School in Franklin Park, Ill. He received a scholarship to Eastern Illinois University where he played quarterback and earned Bachelor's and Master's degrees.
Shanahan and his wife Peggy have two children--son Kyle and daughter Krystal. Kyle is a graduate of the University of Texas and is the Houston Texans' offensive coordinator. Krystal is also a graduate of the University of Texas.