For Tanya Snyder. For Chris Cooley. For Derrick Dockery. For their families and for the Redskins.
All are involved in a variety of charitable efforts and community functions. This particular cause, however, resonates for the most intense reasons. They all know too well the ravages that breast cancer inflicts on its victims and their families.
"It affects everybody in some way or another," Tanya Snyder, the wife of Redskins owner Daniel M. Snyder, said.
She knows. She is a survivor. Chris Cooley's mother, Nancy, is a survivor. Derrick Dockery's mother, Sheila, is a survivor, but her sister died of breast cancer two years ago. Dockery's wife Emma lost her mother four years ago.
The 3rd All Star Survivors Luncheon on Tuesday at Redskins Park honored 20 area women who are battling breast cancer, with Cooley, Dockery and their wives serving as hosts.
Their guests exchanged stories and hugs, supporting one another. They received wigs and scarves, jeans, a pink and burgundy Redskins jersey, tickets to Sunday's game against the Green Bay Packers, pep talks and lunch as part of a celebration of living.
"This," Derrick Dockery said, "is near and dear to our hearts."
Because it rips at them so.
Chris and Christy Cooley recalled the day Nancy got her diagnosis.
"She called me and told me and it was a week before Christy and I got married," Chris said. "It's such a shock. There's such an uncertainty."
They asked if they should postpone the wedding but Nancy told them no and attended. She underwent treatment and, Chris said, "She never missed a game. I wouldn't believe she never missed a game."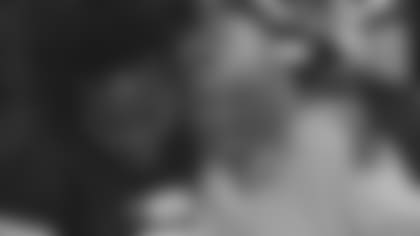 She didn't miss this afternoon's gathering, either.
The Redskins Community Relations department and the American Cancer Society partnered to host this event. Players, coaches and their wives took part.
Gap Inc. donated the jeans. White and Ivory kicked in with $100 gift certificates. Pink pearl Honora earrings were handed out. The women got a private tour of Redskins Park.
"This day is about you and the essence of you," Emma Dockery told them. She recounted the loss of her mother and the painful manner in which the disease unfolded.
"It took away her dignity, it took away her beauty, but it never took away who she was as an individual," she said.
Kristen Luna, of McLean, stood in the auditorium with her 3-year-old daughter Keira tugging at her. Mrs. Luna said she got her diagnosis in March of 2009, underwent a lumpectomy and had chemo and radiation treatments that concluded the following October.
The diagnosis, she said, "was shattering. My stomach sank. But by that evening I was saying, 'I've got to jump on this thing.' I called my surgeon in the morning."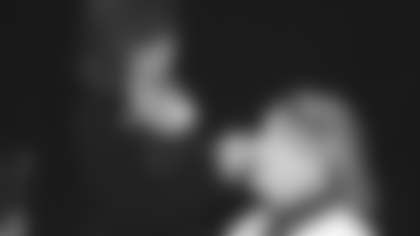 With the support of her four kids, husband, and her team of doctors, she regained her health. She's a survivor.
"I cannot complain," she said. "I had children and a husband (Alex) who kept me outside and playing through the summer, and an amazing community. I've been blessed. So many positive things have come out of it."
Six years ago, Mrs. Snyder's mother battled breast cancer. Two years ago, she herself underwent treatment.
She first embarked on the breast-cancer awareness campaign 12 years ago but "having experienced this first-hand, I really felt like I needed to step forward."
She continues to repeat the same, simple message: "Early screening saves lives."
An afternoon of support and encouragement wrapped up around 3 p.m. but does not end the Redskins' role in raising awareness and prevention of breast cancer. The NFL's "A Crucial Catch" program runs through October and FedExField will be awash in pink ribbons and players in pink gloves and shoes on Sunday.
Zeta Tau Alpha women's fraternity volunteers will distribute 60,000 THINK PINK! ribbons at the stadium and wives of players and coaches will join the Redskins cheerleaders and Hogettes in that effort.
When the players take the field, their guests today will be standing there on the turf to welcome them during introductions.
Life, like the game, goes on.
---
Larry Weisman, an award-winning journalist during 25 years with USA TODAY, writes for Redskins.com and appears nightly on Redskins Nation on Comcast SportsNet. Read his Redskinsblitz blog at Redskinsrule.com and follow him on Twitter.com/LarryWeisman.