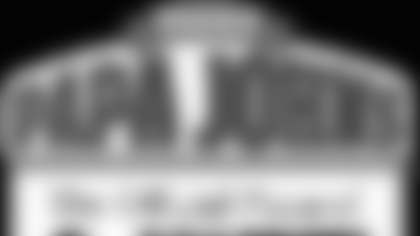 ](/news/article-1/redskins-jets-4-keys-to-the-game-presented-by-papa-john-s/8FA54B6B-6053-4EA0-BD4E-34EA9A84D0AD)
Every Monday, fans can order a large Cheese Pizza for only $8.99, plus for each TD that the Redskins score, fans get one free topping. And with a Redskins victory, fans get double the toppings!
Redskins.com breaks down key matchups to keep an eye on during Sunday's Redskins-Jets game at the Meadowlands:
OFFENSE
Clinton Portis vs. Jets Run Defense
The Redskins have talked all week about recommitting to a physical style of play on offense, particularly in the run game. They'll get their first chance against a Jets defense that has struggled this season.
The Jets' defense is ranked 29th overall and 27th in run defense, allowing 134.3 yards per game. They are without inside linebacker Jonathan Vilma, sidelined with a knee injury, but rookie replacement David Harris impressed last week with 17 tackles
The Redskins opened the 2007 season with 191 rushing yards in a win against Miami and 130 more in a win at Philadelphia. Since then, they have averaged 81.5 rushing yards per game.
Clinton Portis has yet to have a breakout game this season--he has not produced a 100-yard effort in a year. So far, he has 433 rushing yards and five touchdowns this season, but his 4.7 yards-per-carry average of 3.8 is well below his career average of 4.7.
The Redskins may also look to get Ladell Betts more involved. Betts has just nine carries in the last three games and 47 on the season. His 2.9 yards-per-carry average this season is almost two yards below last season when he rushed for a career-high 1,154 yards.
DEFENSE
Redskins' Pass Rush vs. Kellen Clemens
The Redskins have just two sacks in their last two games, one from Andre Carter and one from Phillip Daniels. The pass rush will need to pick up the pace against a Jets team that has allowed 20 sacks of Chad Pennington and Kellen Clemens this season.
The Jets have turned over the quarterback reins to Clemens, their 2006 second-round draft pick. Clemens has one NFL start to his credit, against Baltimore in a 20-13 loss. Clemens completed 19-of-37 passes for 260 yards, with one touchdown and two interceptions.
In the past, Redskins assistant head coach-defense Gregg Williams has played aggressive against young quarterbacks. He'll likely mix up schemes, employing a combination of zones and blitzes, to confuse Clemens.
The Jets may try to counter this with a strong running game--Thomas Jones has 556 yards, with a 3.8 yards-per-carry average.
If the Redskins can open up a lead in the second half, look for Williams to increase the pressure on Clemens with linebacker and safety blitzes. Marcus Washington has three sacks and Rocky McIntosh has two. LaRon Landry showed he could be effective on safety blitzes in preseason, but he only has a half-sack this season.
SPECIAL TEAMS
Redskins Kick Coverage vs. Leon Washington
The Redskins remember Leon Washington. In the 2006 preseason when they hosted the Jets at FedExField, then-rookie Washington returned a kickoff 87 yards for a touchdown against Danny Smith's unit.
Now in his second year, Washington is one of the elite kick return specialists in the NFL.
He is ranked first in the NFL on kickoff returns with a 32.4-yard average, with two returns for a touchdown so far this season.
He has proven not so elusive on punt returns, though. He has a 7.0-yard punt return average, ranking him 18th in the NFL.
Smith's coverage team remains one of the best in the league. The unit is ranked fifth in kick return average (19.6 average yards allowed) and second in punt return average (4.5 average yards allowed).
Khary Campbell leads the way with 17 special teams tackles through seven games.
1-ON-1
Antwaan Randle El vs. Darrelle Revis
The Redskins' wide receiver corps has yet to record a touchdown catch this season, but they have a chance against a Jets defense that has yielded 12 touchdown passes and 205 total points.
Early on, Antwaan Randle El emerged as Jason Campbell's favorite target, especially in the deep passing game. He caught just three passes against New England last week. For the season, he has 26 catches for 465 yards.
He'll match up against cornerback Darrelle Revis, a rookie who has started for the Jets since opening day. He nabbed his first NFL interception last Sunday against Buffalo.
Revis has the speed to match up, but Randle El has the experience.