*First Lady's "Let's Move!" Initiative and NFL PLAY 60 Campaign
Help Kids Get Healthy on White House Lawn*
President Barack Obama and First Lady Michelle Obama joined players from the Washington Redskins and the Baltimore Ravens in helping kids learn the value of good health as part of the annual White House Easter Egg Roll, held on Monday, April 5.
This year's Egg Roll was themed "Ready, Set, Go!" and promoted health and wellness. All activities, including youth football clinics led by NFL players, encouraged children in attendance to lead healthy and active lives as part of the First Lady's "Let's Move!" initiative, a national campaign to combat childhood obesity.
Redskins players Lorenzo Alexander, Derrick Dockery, Reed Doughty, Chris Horton, Anthony Montgomery, Justin Tryon, Kevin Barnes, Marko Mitchell, Doug Dutch, Edwin Williams and Will Robinson took part in the event, held on the South Lawn of the White House.
The players led children through football drills and spoke with them about the importance of being active for 60 minutes a day. The day's events also included live music, cooking stations, storytelling and Easter egg rolling.
Designed to tackle childhood obesity, NFL PLAY 60 brings together the NFL's long-standing commitment to health and fitness with partner organizations.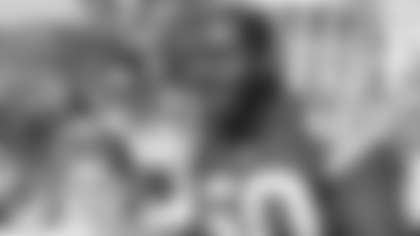 Since the program was launched in 2007, the NFL has committed $200 million to youth health and fitness through programming, grants, and media time for PSAs.
The Washington Redskins implement NFL PLAY 60 programs through school and community-based initiatives including the "Play 60 Challenge" and "Redskins Youth Fitness Zones."
The NFL also partners with organizations such as American Heart Association, National Dairy Council, and The Cooper Institute on programs that give teachers and parents guidance and students the opportunity to be active for at least 60 minutes a day.