Fifty years ago, one of the greatest draft classes in Redskins history – one that also ranks among the NFL's all-time best – began showcasing its talents.
Two of the three Redskins from the 1964 draft who evolved into perennial stars, Charley Taylor and Paul Krause, are in the Hall of Fame. The other one, Len Hauss, is worthy of Hall of Fame consideration. That's not too bad.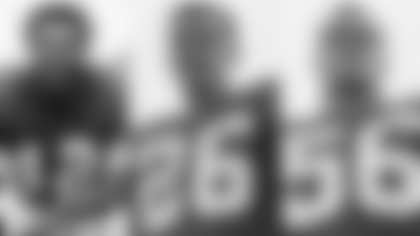 The Redskins drafted Taylor, an Arizona State running back, in the first round (No. 3 overall) and Krause, an Iowa safety, in the second (No. 18). That's the same 1-2 order they placed in NFL Rookie of the Year voting.
In 1964, Taylor led the Redskins in rushing with 755 yards and caught 53 passes, an NFL receiving record for running backs, for another 814 yards. He was the first rookie in two decades to finish in the top 10 in rushing and receiving.
But it is at receiver that Taylor is most remembered. Converted to that position midway through the 1966 season, he helped fuel the Redskins' explosive offense of the 1960s that also consisted of receiver Bobby Mitchell, tight end Jerry Smith and quarterback Sonny Jurgensen. Taylor led the NFL in receiving in 1966 (72 catches, 1,119 yards, 12 touchdowns) and in 1967 (70 catches, 990 yards, nine touchdowns). In the latter year, he was invited to his fourth Pro Bowl in as many seasons.
In an interview with the podcast Burgundy & Gold Flashback, Taylor said he was in awe when he first came to the Redskins.
"Just being on the field with guys like Bobby Mitchell, Sonny Jurgensen," he said. "In college, you play against good players. But to come in and watch guys that you watched last Sunday play, and here you are in the huddle with the same guy and you're on the practice field with the same guys."
The 6-3, 215-pound Taylor, a rugged receiver and great open-field runner, played 14 seasons in the NFL, all with the Redskins. He retired as the league's all-time leading receiver in catches (649).
Krause intercepted a league-high 12 passes in 1964, one short of the NFL record set in 1948 by fellow Redskin Dan Sandifer, and picked off passes in seven straight games. He was the main reason the Redskins posted a league-high and team-single-season-record 34 interceptions that year.
Krause played his first four seasons in D.C., a stretch that included two Pro Bowl appearances. But the 6-3, 200-pound safety was gone after the 1967 season. The Redskins mystifyingly traded him to Minnesota, where he played his final 12 seasons, contributing to Vikings teams that played in four Super Bowls. He retired with the most interceptions in NFL history (81), a mark that stands. 
Hauss, a center out of Georgia drafted in the ninth round (115 overall) in 1964, began starting in the fifth game and remained a fixture on the Redskins' offensive line. Despite six knee operations, one of which caused a blood clot that could have killed him, he played in all possible 196 games in his career, starting the last 192. Both marks are Redskins records.
He made five Pro Bowls and earned All-Pro or All-NFC honors in his last seven seasons. Like Taylor, he played 14 seasons, all with the Redskins.
Taylor, Krause and Hauss arrived the same year that two other future Hall of Famers, Jurgensen and middle linebacker Sam Huff, made their Redskins debuts. Offseason trades had brought Jurgensen from Philadelphia and Huff from the New York Giants. Those two icons played the rest of their careers in D.C. and spent some three decades together as Redskins radio analysts.
Despite the success of the 1964 draft class, it's often argued that the Redskins' 1981 draft orchestrated by famed general manager Bobby Beathard is No. 1 in team annals. 
That draft produced a stream of players who keyed the success of the Joe Gibbs-1 era: charter members of the Hogs in Russ Grimm and Mark May, defensive end Dexter Manley, wide receiver Charlie Brown, guard-turned-defensive tackle Darryl Grant and tight end Clint Didier.
Grimm, May, Manley, Grant and Didier earned rings from Super Bowls XVII and XXII, and Brown was part of the Super Bowl XVII team. Grimm is today in the Hall of Fame, and Manley is the Redskins' all-time sack leader (97.5).
Mike Richman is the author of The Redskins Encyclopedia and the Washington Redskins Football Vault.  He hosts a podcast called "Burgundy & Gold Flashback."  His web site is redskinshistorian.com.  Check out his Facebook Friend and Fan pages and follow him on Twitter.