Forty years ago, the Redskins marched their way to the franchise's first Super Bowl appearance.  An 11-3 regular season in 1972 preceded playoff romps over the Packers and Cowboys, before a 14-7 loss to the Dolphins in Super Bowl VII.  It was the first in a series of dream seasons that the Redskins would experience in the coming years.
One game that season, a 23-16 win over the Giants at Yankee Stadium on Oct. 29, 1972, produced a pivotal moment.
When quarterback Sonny Jurgensen suffered a first-quarter injury that would sideline him for the season, Billy Kilmer took charge and delivered a clutch performance in a triumph that helped maintain the Redskins' momentum.  It was the their fourth-straight victory, part of a nine-game win streak that solidified their NFC East title with two games to play.
The quarterback shift marked another chapter in the Redskins' first quarterback controversy of the modern era.  Fans took sides, sporting "I LIKE SONNY" and "I LIKE BILLY" bumper stickers to show their allegiance to the two, who alternated starting roles and subbed for each other in the early-to- mid 1970s when injuries sidelined their aging bodies.  They were nicknamed "hobble and wobble."
The 38-year-old Jurgensen was the apparent favorite in the community, where many fans remembered the aerial wizardry he used to fuel explosive Redskin offenses in the 1960s.  Kilmer, then 33, was the preferred choice of Redskins coach George Allen; his conservative, no-risk approach mirrored Allen's philosophy.
The Redskins, coming off a 1971 season when they made their first postseason appearance in a quarter century, looked primed to make a deep run in the playoffs when the 1972 kicked off.
Kilmer started the first three games.  But Allen, then in his second season in D.C., yanked him for Jurgensen after a 24-23 loss to the Patriots.
The Redskins then reeled off wins over three NFC East opponents: the Eagles, the St. Louis Cardinals and the Cowboys.  In a 24-20 victory over Dallas at RFK Stadium, Jurgensen completed 11-of-16 passes for 180 yards and led two long touchdown drives that ended with runs of 34 yards by halfback Larry Brown and 13 yards by fullback Charley Harraway.  Brown rushed for 95 yards that day and caught seven passes for another 100.
But just as Jurgensen was peaking, he was gone.  During a scoreless first quarter against the Giants, he threw a 13-yard completion to receiver Roy Jefferson.  No defenders were near the quarterback, but his leg gave way.
As Kilmer came onto the field, he glanced back at Jurgensen as he walked gingerly to the sideline with his head down, an iconic shot captured by award-winning Washington Post photographer Richard Darcey.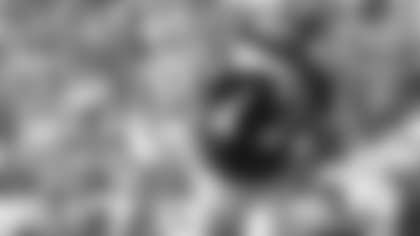 Kilmer took a while to find a groove but ended up completing 8-of-16 passes for 114 yards, with two touchdowns and an interception in a hard-fought 23-16 victory that lifted the Redskins to 6-1.
Brown, named the league MVP that season after rushing for a Redskins-record 1,216 yards, was sensational.  Displaying a remarkable resilience that left him battered and exhausted, he ran 29 times for 191 mostly grind-it-out yards.  His 38-yard scoring run in the third quarter snapped a 9-9 tie and put the Redskins up for good.  He tallied another 42 yards on two catches, including a seven-yard scoring reception, and was named NFL Offensive Player of the Week for the second-straight week.
But unruly fans among the 63,000 at Yankee Stadium resented Brown's performance.  They pelted him with oranges, and one moron dumped a can of beer over his head as he exited the field.
In the post-game locker room, an intruder pushed forward and taunted the Redskins' star.  After police corralled him and pulled him away, Brown voiced his anger at members of the New York media.
"I'm on top in New York and you resent it," he charged as his teammates egged him on.  "They threw beer and oranges at me.  I love to win in New York."
As for Jurgensen, who was diagnosed with a torn left Achilles tendon, the season was over.  The ball was now in Kilmer's court.  Protected by an offensive line that allowed only 11 sacks that year, he resembled an All-Pro in leading the Redskins to five more victories that raised their record to 11-1.
The stretch included a combustible 27-13 victory over the Giants at RFK Stadium.  Opposing players threw punches during the game, and opposing assistant coaches slugged it out afterward.  Washington Star columnist Morrie Siegel called the teams the "NFL's Hatfield's and McCoys."
Such altercations came as no surprise.  The NFC East foes harbored a mutual disdain that exists to this day.
---
Mike Richman is the author of *The Redskins Encyclopedia and the Washington Redskins Football Vault.  He was on the blue-ribbon panel that played a key role in selecting the 10 new names who are part of the Redskins' 80 Greatest team unveiled this season, also known as the "10 for 80."  His web site is www.redskinshistorian.com and his email is mikerichman@redskinshistorian.com.*