Sunday's playoff game against the Seahawks will mark the end of a maddening period.  Thirteen years have passed since the Redskins hosted the first and only other postseason game at FedExField.
That's right.  On Jan. 8, 2000, the NFC East-champion Redskins squared off against the Lions, a wild card team, and posted a 27-13 win.  Little did anyone know that it would be the last game of its kind at FedExField for so long.
The game was a homecoming for Gus Frerotte, the Redskins' starting quarterback in 1996 and 1997 who departed unceremoniously following the 1998 campaign.
Drafted in the seventh round in 1994, the same year the Redskins took Heisman Trophy runner-up Heath Shuler with the No. 3 pick, Frerotte became a favorite among Redskins fans, who jumped on the "Gus Bus" after his smashing debut against the Colts midway through his rookie season. 
They considered the meekly paid quarterback an underdog to the $19.25 million Shuler, who media referred to as the "bonus baby."
Fans also admired the hard-working, take-charge image of Frerotte, a native of the blue-collar town of Ford Cliff in western Pennsylvania, the breeding ground for other great quarterbacks named Montana, Unitas, Marino, Namath and Kelly.  "In Gus We Trust" T-shirts were in vogue. 
Plus, Frerotte was a favorite of Redskins radio analyst and Hall of Fame quarterback Sonny Jurgensen, who'd been in his corner since day one.
After two seasons of alternating with Shuler, Frerotte beat him out for the unequivocal starting role in 1996.  That year, he completed 270-of-470 passes for 3,453 yards with 12 touchdowns and was named a Pro Bowl alternate.
But his career took a turn for the worse in 1998, when Trent Green started 14 games, and he was cut after the season.
Gus endured more hard times in the playoff against the Redskins.  He completed 7-of-17 passes for 111 yards in the first half, with 58 of those coming on a Hail Mary, as the Redskins cruised to a 27-0 halftime lead.  Washington's swarming defense sacked Frerotte five times that day and intercepted him twice.
Running back Stephen Davis, who set a Redskins rushing record in 1999 with 1,405 yards despite missing the last two regular season games with a sprained ankle, served as a huge inspiration.  He rushed for 119 yards and two touchdowns, before a sprained knee late in the first half sidelined him for the rest of the game.
Quarterback Brad Johnson threw for 174 yards in the game and a touchdown pass that made the score 27-0.
"At that point, I thought we were as close as we could possibly be to being a championship team," Brian Mitchell, then in his 10th season with the Redskins, said years later.  "We had finally arrived, put ourselves in a position."
The 8-8 Lions, losers of four straight games, had posted their last win against the Redskins.  Washington, rattled by the crowd noise at the Pontiac Silverdome that day, was penalized 14 times for 122 yards.  Johnson was sacked five times and coughed up a fumble that was returned for a touchdown.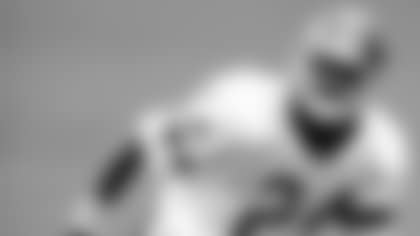 This time, the 10-6 Redskins would be playing before nearly 80,000 maniacal supporters at FedExField and a crowd hostile to Frerotte, who was subbing for injured starter Charlie Batch.  Frerotte was mocked by the crowd for head-butting a concrete wall at the stadium during a crucial game in 1997.  A sign in the area where Frerotte rammed his head read: "This X Marks Gus's Spot."
The Redskins aimed for Frerotte on the game's first play.  Linebacker Greg Jones came off the corner and sacked him for a seven-yard loss, leaving Gus with a dislocated a finger on his non-throwing hand.
"We wanted to get pressure on Frerotte early," Redskins coach Norv Turner said.
Later that half, a 41-yard pass interference penalty on the Lions helped set up Davis' one-yard scoring run.  On the Redskins' next possession, he raced 58 yards to the Detroit 29, a run that "kind of got everyone fired up big," Turner said.  Davis later took it in from the four for a 14-0 lead.
Cornerback Champ Bailey's interception and a roughing the passer penalty then set up Brett Conway's 33-yard field goal, and Davis' 32-yard run put Conway in position for a 23-yard kick and a 20-0 lead.  Johnson's 30-yard scoring pass to receiver Albert Connell with 1:46 left in the half capped an 82-yard Redskins drive.
In an otherwise uneventful second half, fireworks erupted early in the third period.  After throwing an interception, Johnson was blocked by Lions defensive end Robert Porcher.  The two began scuffling and exchanging punches, and players from both sides charged in.
Redskins guard Tre' Johnson, trying to defend his quarterback, took a swing that inadvertently struck referee Bill Leavy in the head.  The NFL later issued a then-record $154,000 in fines to 23 players. 
Johnson, who was ejected from the game, received the harshest punishment, a $50,000 fine and suspension for the first game of the 2000 season.
Detroit's offense finally scored with about nine minutes left when safety Ron Rice returned a blocked field goal 94 yards for a touchdown.  But it wasn't enough, as the Lions suffered their 20th loss in 20 games in Washington.
The Redskins' playoff ride ended the next week with a 14-13 loss to the Bucs in Tampa Bay.
---
Mike Richman is the author of *The Redskins Encyclopedia and the Washington Redskins Football Vault.  He was on the blue-ribbon panel that played a key role in selecting the 10 new names who are part of the Redskins' 80 Greatest team unveiled this season, also known as the "10 for 80."  His web site is www.redskinshistorian.com and his email is mikerichman@redskinshistorian.com.*