They call it the "City of Brotherly Love."  The Redskins, though, should not expect hugs and kisses when they visit the Eagles on Sunday at Lincoln Financial Field.
No matter how badly the Eagles are doing, they often manage to give all of their NFC East rivals a fight in Philadelphia.
Redskins Hall of Fame quarterback Sonny Jurgensen, who played his first seven seasons in Philly before coming to D.C., is well familiar with the Eagles' black and blue mentality.
"Look at how many close games the Redskins and Eagles have had over the years," said Jurgensen, a long-time Redskins radio color analyst. "Regardless of the records, the games will still be close.  You knew when you went to Philadelphia, it was going to be a very physical game, a knock-down, drag-out fight.  That's the city's culture.  You knew it wasn't going to be an easy day.  Nobody was going to lay down."
On Sunday, a 4-10 Eagles squad that has endured a tumultuous season and is led by a much-maligned coach, Andy Reid, will host a Redskins team riding a five-game winning streak and battling for a playoff spot.  The last time these teams met in Philly under such circumstances came in the final game of the 2005 season on Jan. 1, 2006.
At the time, the 9-6 Redskins were winners of four straight games and needed one more victory to earn a wild card spot.  They were facing the 6-9 Eagles, who were missing injured starting quarterback Donovan McNabb and had experienced internal chaos instigated by mercurial receiver Terrell Owens.  He was suspended for the final nine games for "conduct detrimental to the team."
Redskins receiver Santana Moss said maintaining focus against the Eagles would be imperative.
"We know what we have at stake, and we'll just try to go out and do what we've been doing," he said.  "Stay fresh and get us another win.  We've been through a lot this year, good and bad, and we've tried to learn from it and move on."
Nevertheless, the Redskins had to sweat this one out.
Heading into the game, Redskins coach Joe Gibbs named struggling quarterback Mark Brunell the starter over backup Patrick Ramsey.  Brunell had passed for less than 200 yards in each of the previous six games and was limping due to a knee injury suffered the prior week against the Giants.
In Philadelphia, Brunell completed 9-of-25 passes for 141 yards, with a touchdown and an interception, against an inspired Eagles team that held a 20-17 lead entering the fourth period.
But Washington's defense rose to the occasion, forcing turnovers that led to 14 points.
First, Redskins linebacker Lemar Marshall intercepted a pass by quarterback Mike McMahon and returned it to the 22-yard line.  On the next play, running back Clinton Portis burst up the middle, cut to the left and ran into the end zone for a 24-20 lead, his second score of the day.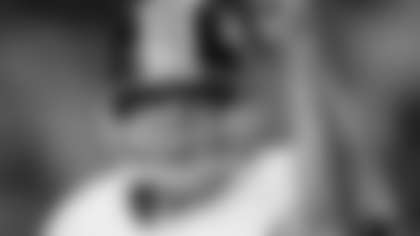 Portis, who ran for a Redskins-record 1,516 yards that season, posted his fifth straight 100-yard rushing game against the Eagles, tying a team all-time mark.
Later in the period, Redskins defensive end Phillip Daniels sacked new Eagles quarterback Koy Detmer and forced a fumble.  Ball-hawking safety Sean Taylor scooped it up and ran 39 yards, flying into the end zone to seal a 31-20 victory that sent the Redskins to the playoffs for the first time since the 1999 season.
"I knew we could do it," Redskins linebacker LaVar Arrington said in a jubilant locker room.  "I knew as a team the Eagles weren't going to lay down.  I knew they were going to come out here and fight.  It made the victory that much better because they fought their tails off."
With a new season upon them, the 10-6 Redskins, the NFC's No. 6 playoff seed, would travel south to play the conference's No. 3 seed, the 11-5 Buccaneers, winners of the NFC South.
"Right now, we're in a one-game season," Redskins offensive tackle Jon Jansen said.  "Our backs have been up against the wall for a long time, which isn't the case for a lot of playoff teams.  When your back's up against a wall, you have to do certain things to make sure you win, and you have to be able to fight through certain things.  We've been able to do that. 
"Going into the playoffs we have maybe a slight advantage in that regard, especially having to win our last one on the road."
The Redskins beat Tampa Bay, 17-10, but their season ended with a 20-10 loss in the next round to the Seahawks in Seattle.
---
Mike Richman is the author of *The Redskins Encyclopedia and the Washington Redskins Football Vault.  He was on the blue-ribbon panel that played a key role in selecting the 10 new names who are part of the Redskins' 80 Greatest team unveiled this season, also known as the "10 for 80."  His web site is www.redskinshistorian.com and his email is mikerichman@redskinshistorian.com.*