It's hard to build a legacy on preseason accomplishments.  But if anyone has done it in Washington, it's The Babe.
Babe Laufenberg is arguably the most beloved preseason player in Redskins history – and one of the unluckiest, too. 
He participated in four straight training camps and exhibition seasons (1983-86) but never saw action in a regular-season game. 
He joined the Redskins during the 1987 season and stayed for two games before being cut, missing out on a Super Bowl share by one game.
Laufenberg, a Redskins sixth-round draft choice in 1983, made a habit of thrilling crowds at RFK Stadium in the dog days of summer.  
He showed an uncanny ability to lead the Redskins to improbable, unexpected, come-from-behind victories.  Fans waved "Love the Babe" banners to salute the man nicknamed "Mr. August."  He crafted an impressive list of heroics:
He hit on 9 of 17 passes for 86 yards against the Dolphins in 1983.
He completed 10 of 17 throws for 154 yards with a 36-yard scoring pass, all in the fourth quarter, to nearly rally the Redskins over the Patriots in 1984.
Against New England in 1985, he threw two touchdown passes in the final seven minutes, including a 25-yarder with four seconds left, to lift the Redskins to a 37-36 win.
He orchestrated a come-from-behind 27-24 win over the Steelers in 1986, completing 13 of 20 passes with a 30-yard touchdown pass. 
Despite his feats, the 6-2, 200-pounder with California roots, rock star hair length and an unorthodox release was either cut, put on injured reserve or relegated to third string.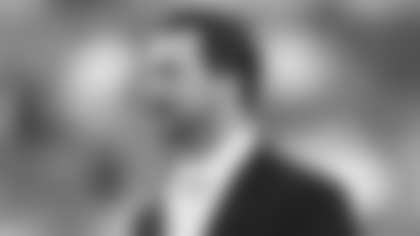 With general manager Bobby Beathard and coach Joe Gibbs unwilling to give him a shot, he couldn't beat out quarterbacks Joe Theismann, Jay Schroeder, Doug Williams and Mark Rypien.
The 1985 preseason, for instance, was highlighted by battles at two key positions.  Aging kicker Mark Moseley withstood a challenge from former United States Football League star Tony Zendejas, while Schroeder got the nod over Laufenberg in the competition for the No. 2 quarterback spot behind Theismann.
When Laufenberg was cut before the regular season began, Beathard told the press: "It's just terrible that a guy like Babe Laufenberg can't be on this team."
In 1986, the Redskins signed Williams, a former Tampa Bay and USFL star, to back up Schroeder, who had become the starter after Theismann suffered a career-ending injury in 1985. 
With Rypien, a rookie, also in the mix, Laufenberg's future in D.C. became tenuous.  He was released before the season began.
That August, local newspapers sympathized with his plight and acknowledged his talents.  Washington Post headlines read, "One Thing About Babe: He can Play," and "Bye-Bye Babe – The Fates Were Not Kind."
 Laufenberg got a chance elsewhere.  He played in regular-season games in New Orleans (1986), San Diego (1988) and Dallas (1989 and 1990). 
His most productive year was with the Chargers in 1988, when he appeared in eight games and completed 69 of 144 passes for 778 yards, with four touchdowns and five interceptions.
Laufenberg had a lean NFL career, but he has made his mark in broadcasting.  Today, he's the lead sports anchor and sports director for KTVT television in Dallas and a color analyst on the Cowboys' radio network.  He also hosts a show called "The Score With Babe Laufenberg."
In Washington, he'll long be remembered as The Babe, the quarterback who lit the preseason skies.
---
Mike Richman is the author of *The Redskins Encyclopedia and the *Washington Redskins Football Vault