Redskins.com breaks down the key matchups to keep an eye on during Sunday's Redskins-Giants game at FedExField:
Jason Campbell vs. Lions Secondary
Detroit enters Sunday's game with the 30th-ranked pass defense, but that stat could be somewhat misleading.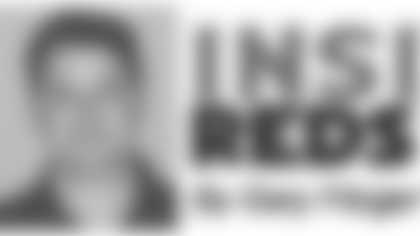 The Lions yielded 363 passing yards to the Philadelphia Eagles in Week 3 in a 56-21 loss and that game inflated the ranking. Last Sunday against the Chicago Bears, the Lions allowed 234 passing yards, a marked improvement.
The Redskins' passing offense is ranked 21st in the NFL, with Jason Campbell completing 52.4 percent of his passes. He has thrown just two touchdown passes in three games, while being intercepted three times.
Campbell should have opportunities against cornerbacks Fernando Bryant and Stanley Wilson, but he could be without Santana Moss, who has a groin injury. As a group, the Lions' secondary has been opportunistic, recording six interceptions (nine overall).
Redskins Cornerbacks vs. Roy Williams
The Lions have one of the elite wide receiver corps in the NFL, with three receivers hauling in 20-plus catches and heralded rookie Calvin Johnson grabbing 10 so far.
The top weapon is Roy Williams, a 6-3 rangy receiver who presents a similar challenge as the Giants' Plaxico Burress. Williams has 26 receptions for 388 yards and three touchdowns.
Williams will likely line up on both sides of the line of scrimmage, so Shawn Springs, Carlos Rogers and Fred Smoot will get opportunities to match up against Williams. They'll need to jam him--and all of the Lions' receivers--at the line of scrimmage.
Redskins coaches hope that the secondary can maintain coverage long enough for the pass rush to get to Jon Kitna, who has been sacked a league-high 19 times. Andre Carter's speed rush vs. Lions left tackle Jeff Backus could be another key matchup.
Field Goal Protection Unit vs. Shaun Rogers
When Shaun Suisham lines up for a field goal, keep an eye on the Redskins' interior line and how they do against defensive tackle Shaun Rogers.
The 6-4, 345-pound Rogers has blocked an amazing 10 field goals and one PAT in his seven-year NFL career. He has blocked two field goals already this season, including a 52-yard attempt last week against Chicago.
Long snapper Ethan Albright will have to be aware of Rogers' physical presence and reach at the line of scrimmage.
1-ON-1
London Fletcher vs. Tatum Bell
When last the Redskins saw Tatum Bell, he was rushing for 127 yards on just 12 carries, including touchdown runs of 34 and 55 yards, as a member of the Denver Broncos in 2005.
As a Lion this year, Bell has had limited carries in the Lions' pass-oriented offense. He has 167 rushing yards and a touchdown on 40 attempts so far, a solid 4.2 yards-per-carry average. He also has 14 receptions for 63 yards.
Fletcher leads the Redskins with 41 tackles and he is the defense's primary force in stopping runners from getting into the secondary for big gains.