](/news/article-1/papa-john-s-redskins-touchdown-special/048A1EB7-6061-49FD-958A-DAA6B0CAE730)
Redskins.com breaks down some of the key matchups to keep an eye on during Sunday's Redskins-Lions game at FedExField.
"Redskins-Lions: 4 Keys to the Game" is presented by Papa John's.
Every Monday, fans can order a large cheese pizza for only $9.99, plus for each TD that the Redskins score, fans get one free topping. And with a Redskins victory, fans get double the toppings.
Jason Campbell vs. Lions Secondary
Clinton Portis is sure to get plenty of carries against Detroit, but Sunday's game is also an opportunity for the Redskins' passing offense to get on track again.
Overall, the Redskins are ranked 19th in the NFL in passing yards.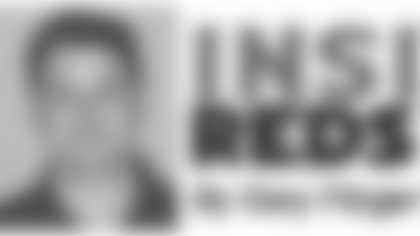 Jason Campbell has completed 63.9 percent of his passes this season for 1,426 yards and seven touchdowns. Remarkably, he has not thrown an interception in 202 pass attempts this year.
But the Redskins posted just 17 points against St. Louis and 14 points against Cleveland the last two weeks, even though Portis posted 120 rushing yards in those games.
Last year, Campbell had one of his best games as a pro in the Redskins' 34-3 dismantling of the Lions at FedExField. Campbell completed 23-of-29 passes for 248 yards and two touchdowns, earning him NFC Offensive Player of the Week honors.
Detroit's defense is ranked last in the league, and the pass defense is ranked 30th, allowing an average of 251.1 yards per game.
The secondary has been banged up, with safety Gerald Alexander and cornerback Stanley Wilson on injured reserve. Free safety Dwight Smith is uncertain due to a foot injury.
Cornerbacks Travis Fisher and Leigh Bodden start at cornerback, with Daniel Bullocks at strong safety. The Lions have just one interception--by Bodden--all season.
Redskins Cornerbacks vs. Calvin Johnson
Playing on a struggling club, Calvin Johnson has emerged as an elite wide receiver for the Lions.
The 6-5, 239-pound Johnson is a load to handle for any cornerback. He leads the Lions with 25 catches for 531 yards, an impressive 21.2 yards per catch, and four touchdowns.
Last week, Johnson caught two passes, one for 96 yards and one for 54 yards.
Johnson did not have a big impact in last year's Redskins-Lions game, catching one pass for three yards. He saw limited action, returning from a back injury.
With Shawn Springs uncertain to play due to a calf injury, the Redskins will turn to Carlos Rogers and Fred Smoot at cornerback.
The secondary is ranked 12th best in the NFL in passing yards allowed.
Overall, Redskins cornerbacks have competed well against tall, rangy wide receivers like Johnson.
Rogers has come back from a knee injury this season to play at a Pro Bowl-caliber level. He has lined up against some of the best wide receivers in the league this season, from Dallas's Terrell Owens to St. Louis's Torry Holt to Cleveland's Braylon Edwards.
Rogers and Smoot each have one interception this year, so they are looking to be more opportunistic.
Antwaan Randle El vs. Lions Punt Coverage
One area that Detroit has excelled this season is in punt return coverage. They have yielded just 3.9 yards per punt return, second-best in the league.
This season, Antwaan Randle El is averaging just 6.9 yards per return.
He has struggled to escape the first line of tacklers, although he has shown flashes the last two weeks. Against St. Louis on Oct. 12, he had a 17-yard return and against Cleveland last week, he had an 11-yard return.
Randle El could take advantage of the fast track at Ford Field. His only punt return for a touchdown as a Redskin came in a domed stadium two years ago in Indianapolis.
Santana Moss has periodically lined up to return punts this season. He has one return for eight yards.
Andre Carter vs. Jeff Backus
Last year against Detroit, Andre Carter turned in a dominating performance with a team-high eight tackles, two sacks and a safety after tackling then-Lions quarterback Jon Kitna in the end zone.
Carter has gotten off to a slow start this year in terms of sacks, but he was able to take down Browns quarterback Derek Anderson last week.
Backus is 6-4, 305 pounds and he struggled to contain the speed rusher Carter last year. They have matched up two other times, with Backus holding his own.
As a group, Lions quarterbacks have been sacked 24 times in six games, while the Redskins' defense has just nine sacks in seven games.