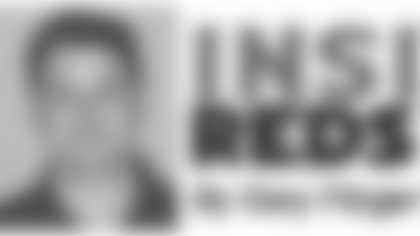 Offensive line was widely regarded as a need for the Redskins heading into the 2009 NFL Draft.
The way the draft board lined up, the team was not able to come away with an offensive lineman in their six picks.
Vinny Cerrato and Jim Zorn both said the Redskins will look to some of the team's young linemen to emerge in 2009.
That group includes third-year player Stephon Heyer and second-year players Chad Rinehart and Devin Clark.
Zorn also mentioned D'Anthony Batiste, a third-year player signed last December, as a prospect to watch.
"I'm not disappointed we haven't drafted an offensive lineman," Zorn said. "We are developing some of our linemen. We are hoping that Chad Rinehart develops into an outstanding offensive lineman. D'Anthony Batiste--we hope he can develop."
Added Cerrato: "It wasn't a deep draft for offensive linemen. For guards, it was not a very good draft. There were some good centers, but they all went late in the first round and we didn't have a second round pick.
"When we got to the third round, [cornerback] Kevin Barnes was the highest rated guy we had on the board. That is why we went that direction. There really wasn't an offensive lineman we liked at that spot."
Team officials opted to wait until after the draft to add depth at offensive line.
The team signed two undrafted offenisve linemen from the University of Maryland in offensive tackle Scott Burley and center Edwin Williams.
Both are talented prospects--in one draft guide, Williams was rated as the fifth-best center available in the draft.
Meantime, the Redskins are prepared to enter training camp this summer with a competition at right tackle.
Heyer and incumbent Jon Jansen, a 10-year veteran, are expected to battle for the starting job.
Team officials are also keeping an eye on Randy Thomas, who had neck surgery this offseason.
Thomas and Chris Samuels, recovering from triceps surgery, are not expected to participate in mini-camp and the early part of OTAs.
And then there's newcomer Mike Williams.
Williams signed with the Redskins on April 24, one day before the start of the NFL Draft.
Williams, 29, is a 5-year NFL veteran who has played for the Buffalo Bills and Jacksonville Jaguars. He has played both tackle and guard in his career.
A former first-round draft pick by the Bills, Williams has not played since 2005 and he has not been on an NFL roster since 2006.
Williams, who stands at 6-6 in height, currently weighs about 410 pounds, according to Zorn. When he last played in the NFL, he was 360 pounds.
Williams is expected to work with the team's strength and conditioning coaches to get his weight down and get in playing shape.
"What we are going to do with Mike is for this first month, he will work with the strength coaches and the rehab guys, work on conditioning and work on some drill work with Joe Bugel to get ready for June OTAs," Cerrato said.
Williams had been living with Derrick Dockery and his wife in Northern Virginia prior to the team signing him.
"Derrick told me about him and asked, 'Will you contact him?'" Cerrato said. "We said we wanted to bring him over and work out before the draft and see what he looked like. We thought it might help us decide what we are going to do in the draft.
"When you get past the point in the draft where you don't feel like there is a starting guy there, then you just go on to other positions."