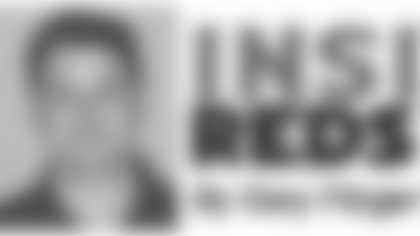 In 10 years, the 2009 NFL Draft may go down as one of the best ever for offensive tackles.
That could be good news for the Redskins, who have identified the position as a need this offseason.
The Redskins' entire starting offensive line consists of players past the age of 30. That includes Pro Bowl left tackle Chris Samuels, who turns 32 in July, and right tackle Jon Jansen, who is 33.
Meantime, Stephon Heyer has said his goal this offseason is to earn a starting job in 2009. Heyer would have started every game at right tackle last year had he not suffered a midseason shoulder injury.
Right tackle promises to be one of the more closely watched position battles in training camp. Samuels, of course, is set at left tackle for another season.
In the NFL Draft, offensive tackles remain a valuable commodity--eight were chosen in the first round last year--and there could be an early run on the top prospects this year.
As many as four offensive tackles could be off the draft board by the time the Redskins pick at No. 13.
Here are some of the top offensive tackle prospects available in the draft (listed in no particular order):
-- EUGENE MONROE, OT, VIRGINIA
At 6-6 and 310 pounds, Monroe was a three-year starter at Virginia after backing up D'Brickashaw Ferguson, the New York Jets' top pick in 2006, as a freshman. From 2006-07, Monroe pushed Branden Albert inside to guard; Albert, a tackle in the pros, was a 2008 first-round draft pick by the Kansas City Chiefs.

Jason Smith at the NFL Scouting
Combine (AP Photo)


-- JASON SMITH, OT, BAYLOR
Smith, 6-4 and 299 pounds, was a four-year starter at Baylor and has experience playing both left and right tackle. He impressed at the NFL Scouting Combine with his physicality and competitiveness--"I take a lot of pride in physically assaulting somebody when I'm on the field," he said.
-- ANDRE SMITH, OT, ALABAMA
Nine years ago, the Redskins selected a young offensive tackle out of Alabama named Chris Samuels. In 2009, the Redskins could opt got another Alabama tackle in Smith. He stands at 6-4 in height and his weight alternates between 330-340 pounds. He found himself under increased scrutiny after he left the NFL Scouting Combine without working out.
-- MICHAEL OHER, OT, MISSISSIPPI
Oher is a 6-5, 315-pound left tackle and he started all four years at Ole Miss. He has great strength--he is regarded as a weight room warrior. Oher is perhaps best known as the subject of a 2006 best-selling book called "The Blind Side: Evolution of a Game," about his life and learning struggles while growing up in Memphis.
-- WILLIAM BEATTY, OT CONNECTICUT
Beatty established himself as a first-round prospect at the Senior Bowl. He was a three-year starter at Connecticut and he helped pave the way for the nation's leading rusher in Donald Brown. He is thought to have excellent footwork and agility, but may need to bulk up his 6-6, 295-pound frame.
-- EBEN BRITTON, OT, ARIZONA
Britton has good size and athleticism at 6-6 and 310 pounds. He was a three-year starter in the Pac-10, lining up two years at right tackle and one year at left tackle. It's thought his best position in the pros is right tackle.
-- JASON WATKINS, OT, FLORIDA
Watkins, at 6-6 and 317 pounds, is a tall, well-built prospect who also shined at the Senior Bowl. He started 14 games at right tackle last year after starting at left tackle in 2007. He also played some tight end for the Gators, serving primarily as a blocker. He is projected to be an NFL starter once he fine-tunes his technique.
-- AUGUSTUS PARRISH, OT, KENT STATE
The Redskins got a close look at Parrish during their local college workout on April 3. By many accounts, the 6-4, 302-pounder had a disappointing senior season in his third year as a starter at left tackle. He regained his standing after a solid showing at the East-West Shrine Game.