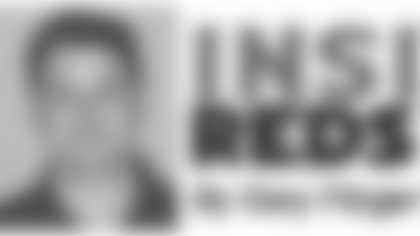 The only certainty on the Redskins' linebacker corps right now? London Fletcher is the man in the middle.
Outside of Fletcher, the linebackers appear to be in transition as coaches mix-and-match with returning veterans and a host of new faces.
When the Redskins released Marcus Washington last February, a starting job opened up at strong-side linebacker.
The addition of Brian Orakpo from last weekend's NFL Draft gives defensive coaches more options. Orakpo is listed as a defensive end, but he has the athleticism to play linebacker as well.
Rocky McIntosh could move from the weak-side to the strong-side in some packages.
"We're going to try to put Rocky at strong-side," head coach Jim Zorn said after the draft. "You may even see Orakpo at strong-side as well, just early on so we can see whether or not he has the potential to do that.
"It gives us some flexibility with the two guys. We have to find out what mixture and what ingredients will come out. I'm not really sure exactly how it's going to all come out and right now we have some time to develop that."
Zorn indicated that Orakpo could see some action at linebacker on first or second down and then move to defensive end on obvious passing downs.
For his part, the 6-3, 260-pound Orakpo says he would be up to the challenge of playing linebacker if needed.
"It's something I have done before," he said. "I've covered running backs, I've covered No. 2 slot receivers inside and I've covered tight ends. You know it's just the nature of the game and the nature of the formations they give us."
H.B. Blades, who played strong-side linebacker last year when Washington was injured, is certainly in the mix again. He logged 49 tackles for the Redskins last year.
At 5-10 and 250 pounds, Blades is thought to be a more natural fit at middle linebacker, though.
In addition, there has been talk of moving defensive end Chris Wilson, 6-4 and 246 pounds, back to strong-side linebacker.
McIntosh, 6-2 and 232 pounds, has played weak-side linebacker since joining the Redskins in 2006.
Last year, he was second on the defense in tackles with 104 and he posted two sacks, two forced fumbles and one interception.
If McIntosh moves, then it would create an opening on the opposite side at his old position.
Generally speaking, it's easier to find quality weak-side linebackers than perhaps any other position on defense.
The Redskins signed seven-year veteran linebacker Robert Thomas in early April. He has played primarily on the weak-side in his career.
Thomas, 6-0 and 235 pounds, was injured most of last year. For his career, including stints with the St. Louis Rams, Green Bay Packers and Oakland Raiders, he has 304 tackles, two sacks and one interception.
Alfred Fincher, a fourth-year player who re-signed with the Redskins this offseason, mostly has experience at weak-side linebacker, but he has played the strong-side as well.
Fincher, 6-1 and 238 pounds, is expected to play primarily on special teams.
In the draft, the Redskins added a pair of linebackers in fifth-round selection Cody Glenn and sixth-round selection Robert Henson.
Glenn, who transition to linebacker last year after playing running back his first three years at Nebraska, is "a little bit raw," according to Zorn.
The 6-0, 240-pounder played mostly weak-side linebacker for the Cornhuskers, but also played some middle linebacker. He logged 51 tackles and one forced fumble last year.
"I feel best at weak-side," Glenn said. "I know I have some learning to do with only playing the position one year, but that's something I'm ready to do."
Henson played middle linebacker at TCU the last four years. He posted 73 tackles, one sack and two interceptions last year.
Henson, 6-1 and 242 pounds, is expected to stay at middle linebacker in the pros.
As late-round picks, both Glenn and Henson are likely a year away from seeing substantial time on defense. They could serve a role on special teams in their rookie campaign.