The ongoing Albert Haynesworth drama continued on Monday, with head coach Mike Shanahan declining to discuss Haynesworth's latest comments about his role on the Redskins.
Shanahan did say that he "had a conversation" with Albert Haynesworth, but would not go into specifics.
"I'm not going to go through the communication that I had with him," Shanahan said. "I had a conversation with Albert and I'm not going to discuss that for obvious reasons.
"If you want to talk about football, we'll talk about football, but to keep on talking about things that are completely outside of football is completely ridiculous. But I did have a conversation with him, as I said."
Asked when the conversation took place, Shanahan replied: "It doesn't matter when it was."
After Saturday's preseason game against the Baltimore Ravens, Haynesworth complained about not getting into the game until the third quarter. He disputed reports that he was sidelined for several training camp practices due to heat exhaustion and headaches.
He also indicated that he felt his absence from the off-season program was still being held against him and he intended not to take part in it next year, either.
On Monday, Haynesworth was back at Redskins Park. This time he declined to talk with reporters.
Haynesworth participated fully in practice and he continued to work with the second-team defense. He saw some action at defensive end after playing nose tackle during training camp.
Coaches continue to work him into playing shape. Haynesworth has been available for six practices, due to his inability to pass a conditioning test early in training camp and his health ailments.
Haynesworth was able to play in both of the Redskins' preseason games, however. He posted a sack in the fourth quarter of last Saturday's game against the Ravens.
Practice remains the key for Haynesworth, though.
"We're going to evaluate him in practice," Shanahan said. "He hasn't had a lot of practices. We got him in and he had some playing time on Saturday night. We're going to practice him as much as we can and we're going to get him ready to play. Hopefully he doesn't miss any practices and when he plays, he plays well."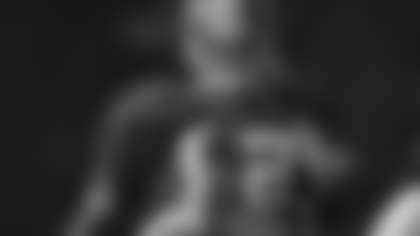 Added defensive coordinator Jim Haslett: "He has a way to go. He needs to practice these next three weeks, practice at a high level and play well. Then we'll see where he's at from that standpoint."
Does Haynesworth still have a chance to claim a starting job on the defensive line?
"He's in the mix," Haslett replied. "Obviously he's a good football player when he's in shape and he's healthy and ready to go. We need to find that out in the next few weeks."
He added: "He just has to get going, that's all. It's time to stop all this and let's go."
Prior to practice, London Fletcher told reporters that he also met with Haynesworth.
"We had a great conversation," Fletcher said. "I feel good about where he's at today. Just speaking to him, he's definitely on board for what we're trying to do. He has come in since the beginning of training camp and he has really bought in to the scheme that we have put in place.
"The media doesn't always see everything. He has been attending meetings, doing all of the things you would want every football player to do. Moving forward, we're going to be all good."
Other players disputed the idea that it was a distraction.
"The rumor is that it has taken Coach Shanahan's focus away and it has taken the team's focus away," Chris Cooley said. "It's not taking anyone's focus away. It's something that no one wants to talk about or deal with, but we're here working. We're here doing everything we can to get better.
"We don't come in saying, 'Oh my gosh, what are we going to do about Albert.' We just come in and go to work."