The only thing that could make Sunday's Redskins-Cowboys game more appealing would be if it were staged as one of those Week 16 or 17 contests with playoff implications. As far as a Week 4 game, Washington vs. Dallas on Sunday at Texas Stadium has all the makings of a great NFC East matchup.
There have been times when Redskins-Cowboys billed as the greatest rivalry in the NFL has been true in name only.
When the Cowboys came to FedExField last year in the final week of the regular season, for instance, they had little to play for. Terrell Owens sat out with an injury and Tony Romo exited in the third quarter. Washington romped 27-6, holding the Cowboys to just one yard rushing.
This year, the rivalry is back on once again.
"The Dallas-Washington rivalry is like none other in the National Football League," London Fletcher said earlier this week. "I've been a part of other rivalries when I played for other teams, but those don't compare."
There's a genuine buzz about this game, given that there's so much at stake at the season's quarter point.
Dallas is trying to go to 4-0 and become the talk of the league like the New England Patriots were last year.
If the Redskins can prevent that from happening, Jim Zorn's program earns instant cachet, all over the NFL.
Winning the final installment of Redskins versus Cowboys at Texas Stadium would give Zorn's team so much of a lift, everyone would forget the Week 1 struggles at the Meadowlands.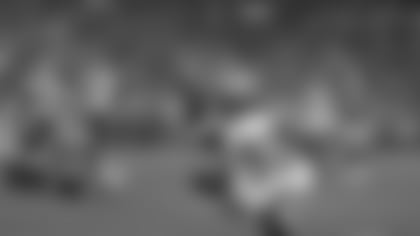 That won't be easy. The Cowboys are a team laden with stars, befitting the logo on their helmets.
If the Redskins are to pull off an upset on the road, they'll need their own stars performing at a high level.
If history holds, that means Clinton Portis, who had his second 100-yard effort against Dallas in the regular season finale last year, needs to have a big game.
Jason Campbell, who set career highs in completions and passing yardage in his only matchup against Dallas on Nov. 18 last season, needs to have a big game.
Two other Redskins offensive stars have emerged as players to be reckoned with when the Redskins take on Dallas.
Moss has had some of the best games of his eight-year NFL career against the Cowboys.
In two games versus Dallas last year, Moss caught 17 passes for 236 yards and two touchdowns.
Overall, Moss has caught 33 passes for 602 yards, an 18.2 yards-per-catch clip, and four touchdowns in six games against the Cowboys.
Of course, Moss's best game versus Dallas came in 2005 when he caught two fourth-quarter touchdowns, including a 70-yarder from Mark Brunell, to help the Redskins come back and beat the Cowboys 14-13.
In eight games against the Cowboys, Cooley has caught 30 passes for 363 yards and five touchdowns.
His best game came in December 2005 when he scored three touchdowns--in the first half--in a 35-7 romp over the Cowboys at FedExField.
On the other side of the ball, the Redskins, who will be missing one of their top players in Jason Taylor, will need a huge effort out of veteran cornerback Shawn Springs.
Springs figures to be matched up against Owens for long stretches. Owens saw the end zone four times on the end of Romo passes in last year's game in Texas, a 28-23 Dallas win.
Following last week's 24-17 win over Arizona, Zorn praised his team for playing "in the moment."
By that, he meant not looking ahead to the game at Dallas.
Now that it's here, look for the stars of both teams to come out and decide matters.