Whether it's simply a workout, or a voluntary minicamp or the ongoing OTAs, the Redskins' starting offensive linemen show up.
All of them. All the time.
No one said anything about demanding such diligence. No one gave a speech. No one needed to.
"I don't think we had to talk about it. Coming off the type of season the Redskins were coming off with the injuries and guys banged up, I think it was just understood that we had to be here every day and work hard to get better," says Artis Hicks, signed as a free agent to play right tackle.
Hicks played for Minnesota last year but he knew of the Redskins' travails. They lost right guard Randy Thomas in Week 2, left tackle Chris Samuels in Week 5 and continually juggled bodies as injuries claimed others (Chad Rinehart, Mike Williams) as well.
This is a line that mixes youth and experience, new and old.
Left tackle Trent Williams was the club's No. 1 pick in the draft. Hicks has been a guard most of his eight-year career. Derrick Dockery, the left guard, and center Casey Rabach, the only two linemen to start every game last season, are back. As is Mike Williams, at right guard, for his second season here.
"Casey, me, Doc, Art, Trent, we take a lot of reps together. We're all working together and it's just an opportunity for us to learn each other and learn the plays as a whole unit," Mike Williams says.
Long-time offensive line coach Joe Bugel retired. As did Samuels, due to a chronic neck condition.
While Bugel luxuriates in the Arizona desert, Samuels works to impart his hard-won knowledge to Trent Williams as he serves as a coaching intern. Samuels works closely with Williams and expresses nothing but confidence in the rookie and his potential for excellence.
"Chris, being around the game a long time, six-time Pro Bowler, he's probably one of the best tackles to come through Washington in a long time. Just hearing that from him – and I lean on him for advice on and off the field – he has been a great mentor," Williams says.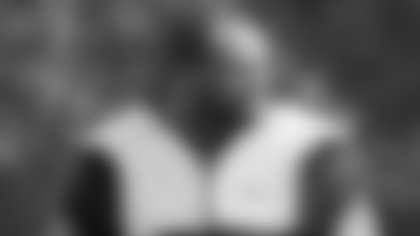 There's a value beyond mere reps on the practice field to this intense camaraderie. There's a building of trust, of relationships, of jock jocularity.
Hicks and Mike Williams engage in a running discourse that has nothing to do with playing the game.
"We go back and forth every day on who's the tallest. He's telling me that because he's been a tackle and I played guard recently that he looks more like a tackle and I look more like a guard and I have to prove that I'm just as tall as he is," Hicks says. "But seriously, it's been good. We communicate well."
Shouldn't be an issue. The Redskins list Williams at 6-7 and 337 pounds, Hicks at 6-4, 335. Can it be fairly said they don't see eye to eye?
Last year, as injuries mounted, the Redskins lost their effectiveness in both rushing and passing.
Season-ending injuries to Clinton Portis and Ladell Betts depleted the backfield and complicated the issues up front. Quarterback Jason Campbell absorbed 43 sacks. That wasn't the most in the NFL but Campbell, since traded to Oakland, took a pounding even when he released the ball.
The linemen don't kid themselves that they've established anything yet but a willingness to work and learn. They know what they want and know how much more effort must go in to achieving it.
"You know what makes us feel good? When the running back breaks that long run and he comes back to the huddle and slaps you on the head and says, 'Hey, man, good job, great hole,'" Hicks says. "That's really the best feeling we get, other than smashing a guy and getting a pancake."
The opportunity for all of that, and a big stack of pancakes, awaits.
---
Larry Weisman, an award-winning journalist during 25 years with USA TODAY, writes for Redskins.com and appears nightly on Redskins Nation on Comcast SportsNet. Read his Redskinsblitz blog at **www.Redskinsrule.com* and follow him on *www.Twitter.com/LarryWeisman*.*