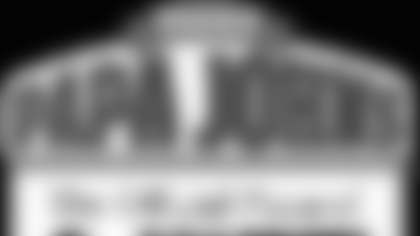 ](/news/article-1/papa-john-s-redskins-touchdown-special/048A1EB7-6061-49FD-958A-DAA6B0CAE730)
Every Monday, fans can order a large Cheese Pizza for only $8.99, plus for each TD that the Redskins score, fans get one free topping. And with a Redskins victory, fans get double the toppings!
Redskins.com breaks down key matchups to keep an eye on during Sunday's Redskins-Packers game at Lambeau Field:
OFFENSE
Jason Campbell vs. Packers' Secondary
The Redskins' pass protection unit has been solid so far this season--Jason Campbell has been sacked just five times. Plus, he is able to use his scrambling ability to escape pressure.
That should put Campbell in position to find open receivers downfield against a Green Bay Packers defense ranked 17th overall and 23rd against the pass.
The Packers have one of the best cornerback tandems in 8-year veteran Charles Woodson and 10-year veteran Al Harris. Strong in coverage, they often force quarterbacks to look to tight ends and running backs in the passing game.
Campbell is coming off his best game as a pro, but his wide receivers are still nicked with injuries. Santana Moss is expected to return to action, but Antwaan Randle El is a question mark due to a hamstring injury.
Tight ends have had strong games against the Packers' defense--the Bears' Greg Olson and Desmond Clark combined for seven catches for 119 yards and two touchdowns last Sunday. So look for Chris Cooley in the Redskins' passing game.
DEFENSE
Redskins' Pass Defense vs. Brett Favre
Green Bay has the NFL's top-ranked passing offense, thanks to Brett Favre's re-emergence at quarterback. He has completed 67.1 percent of his passes, with nine touchdowns and four interceptions.
Favre has developed a strong rapport with wide receivers Donald Driver, Greg Jennings and James Jones, who have combined for six touchdown catches.
The Redskins' pass defense is ranked eighth in the NFL. The success in shutting down the Detroit Lions--formerly the top-ranked passing offense in the NFL--last Sunday was a team effort.
The secondary, at full strength with the return of Fred Smoot, was solid in coverage, giving pass rushers time to record six sacks.
Favre tries to make plays when nothing is there, and the result can sometimes be spectacular. It can also result in big plays for the secondary. Shawn Springs has four career interceptions against Favre and Smoot has three.
SPECIAL TEAMS
Redskins Punt Coverage vs. Charles Woodson
Charles Woodson can be a dangerous punt returner. With his 9.0-yard return average, Woodson is ranked sixth in the NFL among punt returners with 10 or more attempts.
Danny Smith's punt coverage unit is ranked sixth in the NFL. Tacklers have been swarming to the ball, allowing just 5.8 yards per return.
It helps that Derrick Frost has been solid so far, averaging 44.5 yards per punt and a net average of 40.1 yards. Last Sunday, Frost's kicks required Lions punt returner Kevin Walter to call for four fair catches.
1-ON-1
Chris Samuels vs. Kabeer Gbaja-Biamila
The Packers appear to use Kabeer Gbaja-Biamila as a pass-rushing specialist now, and the eight-year veteran has responded with a team-leading 4.5 sacks so far this season.
Chris Samuels has struggled against Gbaja-Biamila in the past, yielding four sacks in three games.
Playing against some of the top speed rushers this season, including the Dolphins' Jason Taylor, the Eagles' Trent Cole and the Giants' Osi Umenyiora, Samuels has responded with solid performances.
He'll have another challenge in Gbaja-Biamila, who is now the Packers' all-time sack leader.