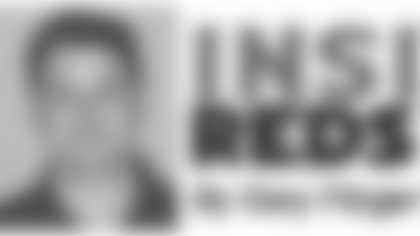 The Redskins' pass protection unit yielded two sacks in the first quarter of Sunday's game in Seattle.
A critical issue the last two games--keeping Jason Campbell upright--was back to the fore.
The offense had allowed a combined 10 sacks in losses to the Pittsburgh Steelers and Dallas Cowboys.
After two early sacks by Seattle, the Redskins' offense bore down. Campbell was not sacked and had time to complete 20-of-33 passes for 206 yards and one touchdown.
Head coach Jim Zorn mixed up his play-calling--emphasizing Clinton Portis and the run game more--to keep the Seattle defenders off balance.
Offensive linemen talked on the sidelines and made some adjustments of their own to help fend off the Seahawks' pass rushers.
It was also a matter of settling in, Zorn said.
"We started to run the ball better," he said. "We mixed better [in terms of play-calling]. And when we had to have some pass protection, we did."
Pass protection is sure to be a focus this week as the Redskins gear up to play the 10-1 New York Giants at FedExField.
The Giants' defense has registered 32 sacks this season, fourth-best in the NFL.
Defensive ends Justin Tuck and Mathias Kiwanuka lead the defense with 9.5 and 6.5 sacks, respectively. Defensive tackle Fred Robbins also gets a strong push up the middle--he has 5.5 sacks.
Last year, the Giants led the NFL in sacks on their way to a Super Bowl XLII championship.
The Redskins have allowed 28 sacks this year, ranking them 23rd in the NFL in that category.
"[Pass protection] will be a major concern and emphasis for us because if we can protect Jason and he has a chance to throw on rhythm, then we'll continue to improve our passing game," head coach Jim Zorn said.
"We have to be able to mix in this game. We can't get completely shut down in one area and think that we're going to beat a defense like this. We have to be able to run and we have to make sure that we have protection to throw in order to win."
Giants defensive coordinator Steve Spagnuolo occasionally likes to blitz a cornerback or a safety, so running backs will have to be on the watch, too.
Clinton Portis has been known to be a force in pass protection throughout his career, something that his coaches and teammates marvel at time and again.
Said Zorn: "If you're a defender, you better keep your head on a swivel because Clinton is going to hit somebody [on a pass play]. He's going to bring the hurt."
This is the second Redskins-Giants game this season.
In Week 1, the two clubs met at Giants Stadium in the NFL regular season opener.
Campbell was sacked just once.
It happened on the Redskins' first offensive snap when defensive end Justin Tuck got around right tackle Stephon Heyer to take down Campbell.
The play set a tone, for both the Redskins and Giants, who would go on to win the game 16-7. The Redskins totaled just 209 total yards of offense and 125 yards passing.