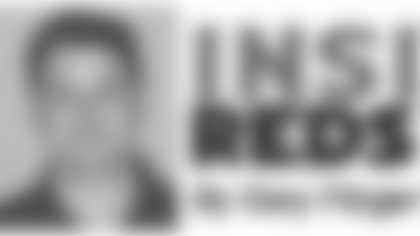 Inside the locker room at Redskins Park on Saturday morning, there was a level of intensity not felt since the 2008 season.
After nine days of training camp, it was time for the Redskins to prove their mettle in the team's intra-squad scrimmage.
There was Mike Sellers barreling into Byron Westbrook after a reception.
There was Marko Mitchell getting dragged down to the surface by DeAngelo Hall.
There was Reed Doughty busting through the line to take down Marcus Mason.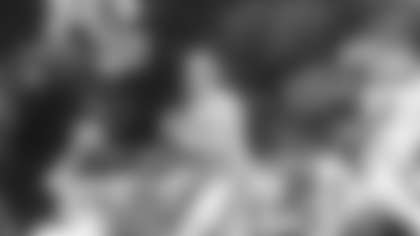 It was the first real hitting and tackling of the year.
The scrimmage was part of the Redskins' Fan Appreciation Day. More than 29,000 fans were in attendance. Some of them were stationed around the edges of the practice fields, getting an up-close look at the action.
A host of starters and veterans did not play in the scrimmage: Albert Haynesworth, Clinton Portis, Santana Moss, Devin Thomas, Malcolm Kelly, Randy Thomas, Cornelius Griffin, Carlos Rogers, Phillip Daniels and Mike Williams.
On the field, players on both sides of the ball raised their level of play, as Jim Zorn encouraged them to in the days leading up to the scrimmage.
The Redskins' first-team offense competed against the second-team defense in two series, and the second-team offense competed against the first-team defense in two series. Jason Campbell, Todd Collins, Colt Brennan and Chase Daniel each had opportunities under center.
Campbell opened the scrimmage by completing 7-of-8 passes to lead the offense into scoring range.
On a key third-down play, Alfred Fincher tackled Ladell Betts short of the goal line, so the offense settled for a field goal.
Campbell participated in two more series. One ended when Justin Tryon logged an interception and the other ended when Anthony Alridge fumbled after a reception.
"I thought Jason did well," Zorn said. "Fred Davis played hard and played well. Our running backs ran real hard--I wish Alridge would have held on to that ball there, but he is going to get more opportunities and he's going to learn how to hang on to the ball.
"Our young guys came along. Marko Mitchell caught a lot of balls and young Keith Eloi scored (in a red zone drill). We tried to spread the ball around a little bit and get some completions."
Added Campbell: "A lot of our guys were out, but for the most part I thought we did very well and moved the ball right down the field (on the opening drive). We should have converted for a touchdown there, but we can correct that."
On two series, Brennan completed 4-of-6 passes. In one series, Collins completed his only pass attempt.
In his only series, Daniel guided the offense downfield, taking advantage of a pass interference penalty on Tryon to get in scoring range.
Daniel, who completed 2-of-3 passes on the drive, scored the only touchdown of the day. He rolled right, waited for a receiver to get open, and then took off. He dove for the end zone ahead of the nearest defender for the score.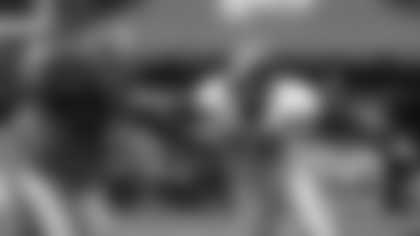 Here is an unofficial play-by-play of Saturday's scrimmage:
Jason Campbell opened the first series at quarterback. The ball was placed at 35-yard line, with the first-team offense going up against the second-team defense.
Campbell rolls left, targets Marques Hagans but he is well covered. Campbell scrambles ahead for a couple of yards.
Campbell hands off to Marcus Mason on a run to the right.
Third down, Campbell looks off the first receiver and then throws to Mike Sellers on the opposite side. Sellers barrels into a tackle by Byron Westbrook and tumbles out of bounds for a first down.
Ladell Betts scampers through a hole to the right, past blocks by Chad Rinehart and Casey Rabach, for 14 yards and another first down.
Campbell throws to Sellers in the flat, but Sellers cannot hold on. Incomplete.
Campbell throws to Anthony Alridge across the middle for another 10-yard pickup and a first down.
Campbell tosses to D.J. Hackett along the left sideline, Westbrook is there to make the tackle but not after the offense earned another first down inside the 10-yard line.
Alridge takes a handoff and finds little running room up the middle.
Campbell tosses quickly to Mason on the left, Mason pulls in the pass with one hard before he was pushed out of bounds inside the 10-yard line. First down.
Campbell throws a quick pass to Antwaan Randle El for a short gain.
Mason scampers tries to find a crease to the right, but Reed Doughty is there to shove him back three yards.
Third down, Campbell throws a short pass across the middle to Betts, but Alfred Fincher closes fast and tackles Betts at the 3-yard line.
Shaun Suisham and Dave Rayner both come in to try separate field goal attempts from 20 yards away. Both kickers converted.
It's Colt Brennan's turn under center. Ball placed at 35-yard line.
Brennan throws a slant pass to Marko Mitchell, who catches the ball and cuts across the field. DeAngelo Hall shoves him down to the ground.
Rock Cartwright runs up the middle for short yardage. Off to the left, Mitchell gets in a shoving match with Fred Smoot and a referee has to break it up.
Cartwright runs to the right, but picks up minimal yardage again.
Third down, there is a false start by Devin Clark that pushes the ball back five yards.
Third down again, Brennan drops back to pass and he is quickly pressured by Brian Orakpo. He throws across the middle of the field, but no one is open. The series comes to an end.
The ball is brought back to the 35-yard line and a new series for Colt Brennan begins.
Brennan fires a short pass to Marko Mitchell, Kareem Moore is there to trip him up.
Brennan throws another quick pass, this time to Trent Shelton, but the ball slips away from Shelton's grasp.
Third down, Brennan throws a sideline pass to Mitchell for a first down. Kevin Barnes comes up and levels a hard tackle on him.
Dominique Dorsey takes the handoff and after a short gain he is tackled by Anthony Montgomery and Rob Jackson.
Brennan drops back, but Lorenzo Alexander speeds around the end and bats the ball from his hand. Fumble. Play called dead.

Brennan throws a quick pass downfield to Robbie Agnone, but he is stopped short of the first down. Series comes to an end.
Jason Campbell heads back out on to the field for his second series. Ball placed at the 35-yard line.
Campbell drops back to pass and throws to the right sideline. Antwaan Randle El is on a comeback route and he appears to slip. Justin Tryon races up in front of Randle El and pulls in the interception, keeping both feet in bounds.
Another series for Campbell. Ball placed at the 35-yard line.
Campbell throws across the middle of the field to Fred Davis, quickly tackled by Byron Westbrook and Kareem Moore.
Campbell tosses a pass to Anthony Alridge across the middle. Alridge breaks a tackle by Chris Wilson. He speeds ahead, but several tacklers converge upon him. After a hard hit by Cody Glenn, Alridge fumbles. Moore is there for the recovery.
Coaches had made the decision not to play Todd Collins in the scrimmage, but because Jason Campbell's second series was abbreviated, Collins was called into duty.
Ball at the 35-yard line, he went up against the second-team defense.
Collins holds on to the ball too long and his first play results in a sack for a 5-yard loss.
Marcus Mason takes the handoff but he is shoved to the ground by Jeremy Jarmon for a short gain.
Next play, a false start is called on Scott Burley.
Collins throws a quick slant to Marques Hagans, but he is tackled short of the first down.
Time for Chase Daniel. The fresh-faced rookie comes to the line of scrimmage, at the 35-yard line, facing the Redskins' first-team defense.
Rock Cartwright takes the handoff from Daniel and turns left for a short gain.
Daniel throws to Robbie Agnone across the field. LaRon Landry read the play and raced to cover Agnone. Landry reached in front of Agnone to swat the ball away, but Agnone grabbed the ball and held on for the reception and a first down.
Cartwright takes another handoff and this time runs right for a short gain.
The pocket collapses quickly around Daniel, by Brian Orakpo and Renaldo Wynn approach. Daniel avoids them and scrambles up-field.
Third down, Daniel tosses a deep throw to Marko Mitchell down the right sideline. Justin Tryon gets in front of Mitchell and makes contact as they leap up for the ball. Flag for pass interference.
Dominique Dorsey slips through a hole and almost gets by Lorenzo Alexander, who grabs Dorsey's foot and pulls him down after a 6-yard gain.
Daniel throws a quick pass to D.J Hackett for a first down to the 8-yard line.
Daniel scrambles away from pressure and rolls right. Rob Jackson chases him. Daniel tosses to Keith Eloi near the goal line, but Kevin Barnes is there to break up a risky pass.
Daniel rolls right again and waits for a receiver to get open. He decides to make a run for it and dives toward the end zone. Touchdown!
The Redskins closed the hour-long scrimmage with some red zone work.
The ball was placed at the 15-yard line and the offense was given one play to score. If they didn't score, the ball moved back to the 15-yard line.
Here are some of the highlights (not a play by play):
Rock Cartwright breaks loose up the middle for a nice gain, following great blocking by Will Montgomery and Derrick Dockery.
Jeremy Jarmon gets in position to tackle Jason Campbell on a scramble up the middle.
Campbell throws to Trent Shelton at the 1-yard line, he dives into the end zone for a touchdown.
Todd Collins' first red zone play is a toss to Todd Yoder in the end zone for a touchdown.
Collins executes a screen pass to Keith Eloi, who breaks a tackle by Reed Doughty and slips down the sideline for a touchdown.
Marko Mitchell catches a Collins pass across the middle, but absorbs a hard hit by Darrel Young as he is stopped short of the goal line.
Doughty and Kareem Moore lay a hard hit on Fred Davis across the middle, and Davis cannot hold on to Collins' pass.