The Washington Redskins on Tuesday announced they have placed nose tackle Barry Cofield on the reserved/Injured (IR) designated for return list.
According to league rules, Cofield, who suffered a high ankle sprain in Sunday's 17-6 season-opening loss against the Texans in Houston, is eligible to return to practice in six weeks, and can return to the Redskins' lineup by Week 11, when Washington hosts the Tampa Bay Buccaneers at FedExField.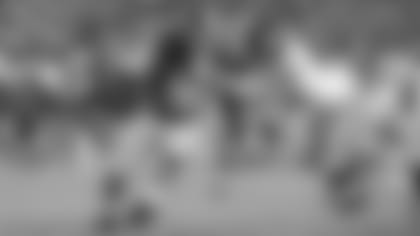 Tuesday's move means Cofield's streak of 81 consecutive starts – the longest-active streak among defensive tackles in the NFL – will come to an end.
"(Cofield's) a tough guy, and we need him," Redskins head coach Jay Gruden told reporters during training camp. "He is a good run stopper, but he has also got enough juice to rush the passer. He is one of those few defensive linemen that has the ability to do both."
On Monday, Gruden said Chris Baker – who started against the Texans at defensive end – will likely slide over to the nose tackle position, with Jarvis Jenkins being a candidate to fill in Baker's spot at defensive end.
The Redskins were already down a nose tackle after Chris Neild suffered a season-ending knee injury in the team's fourth preseason game against the Tampa Bay Buccaneers.
"Chris Baker can play nose," Gruden said. "He finished the game at nose and did a very good job at nose. So, our depth is being tested a little bit on defense line, and whether we get some of these guys back or not, we'll find out. But Chris Baker is a very good nose guard, so we will be OK there."
The Redskins, who gained a roster spot by placing Cofield on the IR designated for return list, also announced Tuesday they have promoted safety Akeem Davis from the practice squad.
Davis, a first-year Memphis product, spent the preseason with the Redskins and was signed to the practice squad Sept. 1.
Other roster movesIn other roster moves on Tuesday, the Redskins announced they have signed wide receiver Marvin McNutt, tight end Je'Ron Hamm and defensive lineman Derrick Hopkins to their practice squad.
In a corresponding practice squad moves, the team released wide receiver Nick Williams and cornerback Richard Crawford.
McNutt -- Iowa's all-time leader in receiving touchdowns -- was a sixth-round pick of the Philadelphia Eagles in the 2012 NFL Draft. The 6-foot-2 receiver played in four games with the Eagles in 2012 -- registering two tackles -- and played in one game with the Carolina Panthers last season. He also spent a portion of the 2013 offseason with the Miami Dolphins.
Hamm -- a 6-foot-3, 236-pound tight end out of Louisiana-Monroe -- signed with the New Orleans Saints May 14 after going undrafted, and was waived by the team in August.
He played in 46 career games at Louisana-Monroe, recording 111 receptions for 1,587 yards and 10 touchdowns.
Hopkins, a 6-foot, 321-pound Virginia Tech product, spent the offseason with the Baltimore Ravens. He was waived Aug. 29.
He had 165 career tackles, 13 sacks, 25.5 tackles for loss two forced fumbles and three fumble recoveries during his college career.