It's the talk of the NFL: Brett Favre makes his New York Jets debut this Saturday night against the Redskins.
Sure, it's a preseason game. Sure, Favre will likely play just a handful of series.
But there is sure to be plenty of media attention at the Meadowlands on Saturday night.
Favre un-retired last week...and then found himself unwanted in Green Bay, where he established himself as a Hall of Fame quarterback for 17 seasons.
Instead of accepting Favre back in the fold, the Packers traded him to the Jets on Aug. 7.
Now the Redskins find themselves a part of the New York media circus as Favre gets ready to start for his new team.
Earlier this week, Redskins head coach Jim Zorn thumbed through New York Jets media information and marveled at how long Favre has played in the league.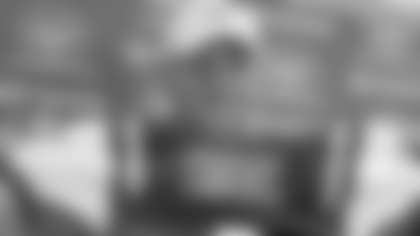 New No. 4 in New York. (AP Photo)
"All eyes will be on him [on Saturday night], and rightly so," Zorn said. "He's a tremendous athlete and this is his 18th season. That's some great experience there."

Zorn and Favre share a mentor of sorts in current Seattle Seahawks head coach Mike Holmgren.

Favre and Holmgren joined Green Bay together in 1992 and won a Super Bowl in 1996 before Holmgren left for Seattle following the 1998 season.

Holmgren was joined in Seattle by Zorn in 2001, where Zorn served as quarterbacks coach until 2007.

Given his 11 years of playing quarterback for three NFL teams, Zorn has an idea of what to expect when Favre is in the game on Saturday night.

"He'll have a package of plays and he'll tell the Jets [coaching] staff what he's comfortable with," Zorn said. "He'll have a separate script. When the next quarterback comes in--Kellen Clemens--he'll have a much broader play selection because he has been there all training camp.

"Now all the situations that come up, Brett is only going to know a little bit about each of those situations. I'm talking about goal-line runs, goal-line passes, red zone plays. It could be very difficult for him.

"Now he's a vet, and he'll maybe have a broader package than a rookie would. But still, it has to be limited."

Of course, before Favre-to-the-Jets, the Redskins had laid a claim to the NFL's biggest preseason trade.

The Redskins acquired six-time Pro Bowl defensive end Jason Taylor from the Miami Dolphins on July 20.

"I wish he would have [come out of retirement] earlier," Taylor said, jokingly. "It would have been an easier offseason for me."

Added Taylor: "Brett is all the hype and all the talk now, and that's fine. I can just go back to work and do what I do. But it'll be different to see him out there in a Jets uniform."

Favre or no Favre, Redskins players are approaching the game as just another step through the preseason.

"It is still just a preseason game for us," said Santana Moss, a former New York Jet. "I hope Brett Favre does well in New York. I wish him the best because I would like to see him have the success he has had in the past.

"For us, this is about us continuing to get better and get ready for the regular season."

Jason Campbell, expected to start for the Redskins on Saturday night, has a connection to Favre.

They both grew up in Mississippi. Favre, who is 12 years older than Campbell, grew up in Kiln, Miss. Campbell grew up in Taylorsville, Miss., about 100 miles from Kiln.

How did two guys from small towns in Mississippi make it to the NFL?

"You have nothing else to do but sit outside and throw a football at trees," Campbell laughed. "That's how you work on your accuracy, knocking loose bark off of trees."