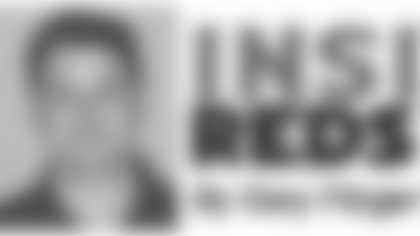 The Redskins have a history of aggressively pursuing free agents in the offseason--and this year promises to be no different.
Head coach Jim Zorn has said that he expects the team to be active when free agency begins at 12:01 a.m. ET on Friday.
"We will have some guys in," Zorn said during the NFL Scouting Combine last week.
Last year, the Redskins basically sat out the free agency signing period, adding a handful of minor players. It was a surprise departure from the team's aggressive approach to free agency earlier this decade.
Since the 2008 season ended with a 27-24 loss in San Francisco, the Redskins have had dozens of internal meetings to evaluate the roster and pinpoint needs.
Team officials remain tight-lipped about their plans.
Asked if the Redskins had enough salary cap space to be active in free agency, Zorn replied: "Yes. I don't know how much, but that plays a part in how active we can be. Some teams can be more active than others."
First and foremost, the Redskins are expected to negotiate with their own free agents, a group that includes cornerback DeAngelo Hall.
Hall, an unrestricted free agent, joined the Redskins midseason last year and posted 25 tackles, two interceptions and seven passes defended.
Coaches like Hall's playmaking ability. He is a 5-year veteran and a two-time Pro Bowler. At age 25, his best years may still be ahead of him.
Pete Kendall, Phillip Daniels, Demetric Evans and Khary Campbell headline the Redskins' other unrestricted free agents.
Restricted free agents Anthony Montgomery, Kedric Golston and Shaun Suisham were tendered contracts, so the Redskins can match any offer they receive from other teams.
It's uncertain if Reed Doughty and Justin Geisinger, also restricted free agents, were tendered contracts.
The Redskins could look to the defensive side of the ball in free agency.
Given that four of the club's defensive linemen are either unrestricted or restricted free agents, the team could need help at those positions this offseason.
The Redskins could pick up a strong-side linebacker to replace Marcus Washington, who was released on Feb. 20.
If the team cannot re-sign Hall, then cornerback could become a need as well.
The offense appears set at quarterback (led by Jason Campbell), running back (led by Clinton Portis) and tight end (led by Chris Cooley).
Zorn said last week that he expected most of his veteran offensive linemen to return for another season.
"I fully suspect they will be back to prepare themselves physically," Zorn said.
If Kendall signs elsewhere, then the Redskins could look to fill his position with a younger lineman on the roster.
Or they could look at bringing back Derrick Dockery, who was released by the Buffalo Bills on Thursday. Dockery played left guard for the Redskins from 2003-06 and has kept close ties with the organization while in Buffalo.
Coaches are also focused on getting Chad Rinehart, Devin Clark and others "up to speed" this offseason so they can compete for playing time, Zorn said.
The Redskins could add more depth at wide receiver, but coaches are hoping that second-year players Devin Thomas and Malcolm Kelly emerge next season. Thomas and Kelly were second-round draft picks in 2008.
On special teams, the Redskins could look to sign a punter.
With the release of Ryan Plackemeier on Feb. 12, the Redskins' only punter on the roster is untested Zac Atterberry, a first-year player.